What is unique for a Chinese wedding
Chinese wedding: mix of tradition and modernity
Image: © Daphne Chen Photography
On the one hand, Joyce and Alan had a rather traditional Chinese wedding, where the ceremony took place in the evening hours in a Chinese restaurant.
But in addition to the traditional aspects, the two Americans with Asian roots also wanted modern elements for their wedding. This is how a wonderful mix came about!
Since the Chinese wedding is only celebrated in the evening, it can take place any day of the week - as long as it is a "happy wedding day". Because in Asian culture it is a centuries-old tradition to only get married on happy days so that the fate of the marriage starts on a happy day.
Joyce's mother chose this happy wedding day for Joyce and Alan, July 8th.
The bridal couple dresses up
The traditional wedding color for Chinese weddings is red, as a symbol of everlasting happiness. For this purpose Joyce chose the color turquoise and designed some selected decorative elements, the guest favors and the bridesmaid dresses turquoise.
In addition to the typical red clothes for the Chinese wedding, the bride and groom also wore modern wedding clothes: a white wedding dress and a gray suit. At the Chinese wedding, it is common to change your clothes more often. Finally, extensive photo sessions are also inserted in between to capture the perfect bride and groom.

---
---
The Chinese wedding can begin
On the wedding day, the groom knocks on the door of the bride's parents and is given some tasks - here from the bridesmaids. Only then can he see his bride.
---
---
The tea ceremony
When the bride Joyce finally arrives at her parents' house, one of her bridesmaids holds a red umbrella over her head - this is supposed to protect the bride from evil spirits. Then the Chinese tea ceremony can begin, to which the newlyweds wear the traditional red Chinese wedding attire.
Then the bride puts on her white wedding dress and surprises her groom.
---
---
Chinese wedding in the restaurant
Then the closest wedding guests move on to the restaurant, where the actual wedding ceremony is celebrated. Often the Chinese wedding is also celebrated in hotels, where the guests can spend the night afterwards, as it is mostly humid and happy (the groom must ensure that empty glasses are filled again immediately).
The way to the hotel is then adorned with rose petals and a large archway with decorations. At this Chinese wedding, the bride and groom designed the decoration in red and turquoise.
A traditional Asian wedding is usually celebrated in a Chinese restaurant with a 10-course menu instead of in church. Many guests are invited to the Chinese wedding, often up to 800 people. For the groom, it is part of toasting each of the guests - until he can no longer ...
It is loud, the guests hoot and clap, toast and are happy with the bride and groom.
Wedding games are very popular in Chinese wedding. It is said that the more games are played, the happier the marriage. Money gifts for the wedding are presented in red envelopes called Hongbao. Sometimes a tree is set up for this and the envelopes are pinned to it.
Highlight of the Chinese wedding: A deafening fireworks display that does not only fill the wedding party with sound.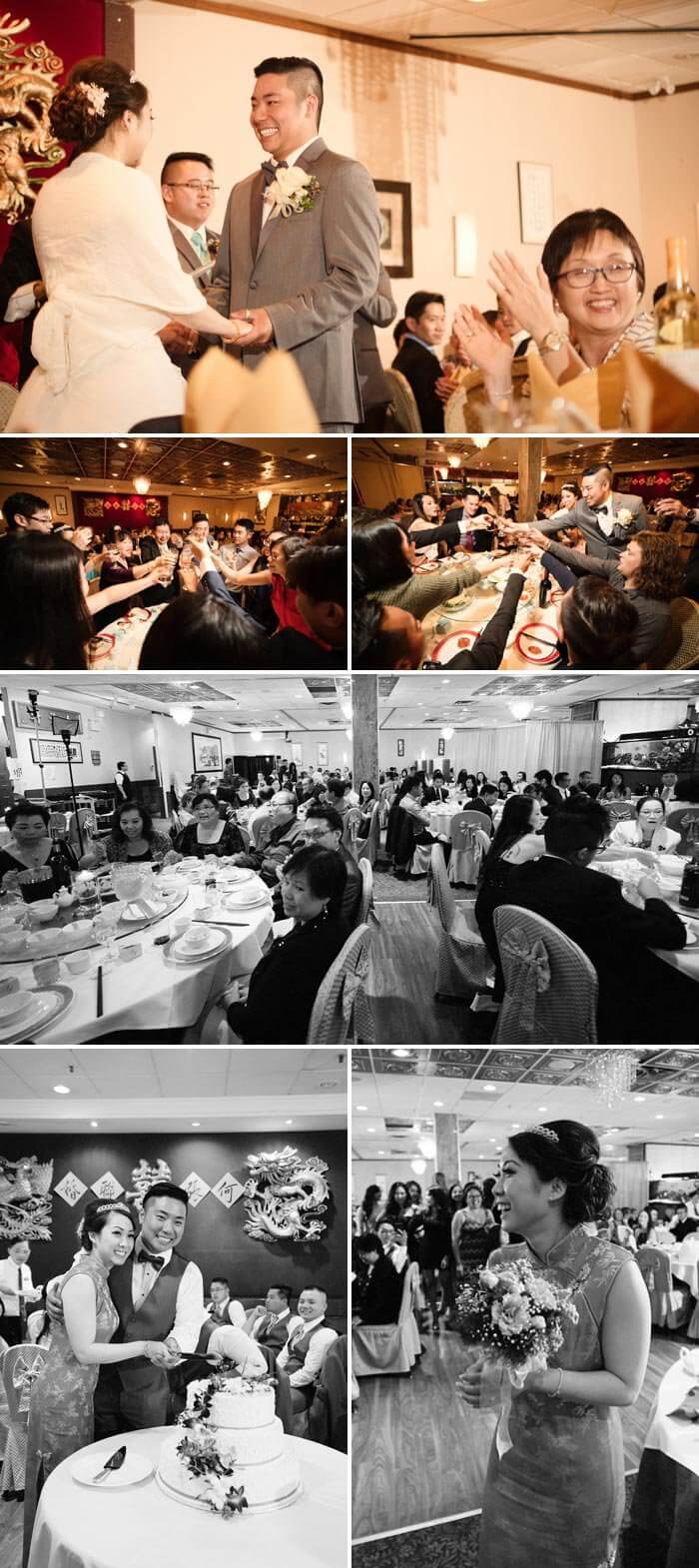 The parties: Photographer: Daphne Chen Photography // Men's outfitter: Derks Menswear // Flowers: floral valley // Location: Golden Rice Bowl // Bridal dress shop: The Bridal Boutique // Shoes: Valentino
---
---
More ideas about the Chinese wedding
Amazon bestsellers for Chinese weddings:
# 1 best seller
10 pieces red lantern festival decoration for wedding, New Year, Chinese Spring Festival, ...
Size open: 26 x 21 cm, set of 10 lanterns, unique shape and structure like a beehive, can be unfolded and folded up for storage.
Set of 10 lanterns that meet your decorative needs.
Perfect for festivals, parties or decorations in the home or office.
# 2 best seller
16 Pieces Colorful Paper Lanterns, BoloShine Round Ball Shape Lampshade Paper Lanterns, Chinese ...
🎐 Different sizes: 6 pieces for 4 inches, 4 pieces for 6 inches, 4 pieces for 8 inches, 2 pieces for 10 inches. Different sizes and quantities may have different requirements ...
🎐 Colorful lanterns: The lantern color includes pink, green, yellow, red, orange, blue, rose, purple. These beautiful bright colors can create an excellent backdrop or special atmosphere for your ...
🎐 Metal hook: There is a metal hook on the top of the lantern that you can hang anywhere, e.g. B. on the ceiling, on the top of the tent, on branches, on the balcony ...
# 3 best seller
URAQT Folding Fan Hand Fan Chinese Fan Style Vintage Fan for Wedding Party ...
Material: silk damask, bamboo [Cooling Tool]: Fits well in your handbag when the hand fan is closed. Convenient if you go everywhere with the hand fan on hot days ....
Folded size: approx. Length: 21 cm 38 cm long [DIY Unique Decoration]: Hang it on the wall to use it as a unique decoration in your living room or office (attachment by ...
Package includes: 1 x handheld folding fan with tassel pendant [wedding decor]: The handheld folding fan is handmade and packed with gift packaging, simple but elegant, the bride can ...
# 4 best seller
chiwanji hairpin, chinese wedding, hair accessories, red tassel, pearls, hair comb, bridal jewelry ...
It is inspired by ancient Chinese women's hair accessories and an absolutely elegant accessory for long hair.
Elegant design with exquisite craftsmanship, adorned with leaf beads and a flower tassel.
Suitable for weddings, engagements, balls, banquets, parties, beauty pageants, antique costume or any other occasion.
SaleBestseller No. 5
F Fityle Golden Wedding Hairpin Hair Accessories Bridal Costume Headdress Set Chinese
Elegant design with exquisite craftsmanship, decorated with leaf flowers and pearl tassels, elegant design with exquisite craftsmanship
Suitable for weddings, engagements, celebrations, banquets, parties, festivals, old costume photos or other occasions.
Color gold
---
---
Other interesting articles:
Nicole streets
She is pretty crazy about weddings and is out and about for you every day for wedding inspirations. With attention to detail, she always puts together new tips and information for bridal couples, answers every question on our Facebook page and looks forward to your suggestions. She enjoys her free time doing DIY with her small family, forgets the time reading and loves to make everything colorful. Nicole has been married since 2010 and has been with us since 2014.
Sonja Schulz
Author for the newsletter
You don't want to miss the latest tips and trends, ideas and inspiration for your dream wedding?
Then subscribe to our free newsletter here!
Copyright © 2021 Hochzeitsportal24.de