Can someone beat the Afghans
Several rockets hit Kabul
The rockets struck in the morning not far from the diplomatic quarter in Kabul. A spokesman for the interior ministry said a few floors fell near the presidential palace and embassy buildings. At least two people were injured. According to the spokesman, "terrorists" had occupied a building in the Reka Chana district and fired the rockets from there.
According to Afghan media reports, security forces cordoned off the area and fought for a good three hours with the insurgents who had holed up near the Idgah mosque. Combat helicopters were also used. So far, no group has taken responsibility for the attack.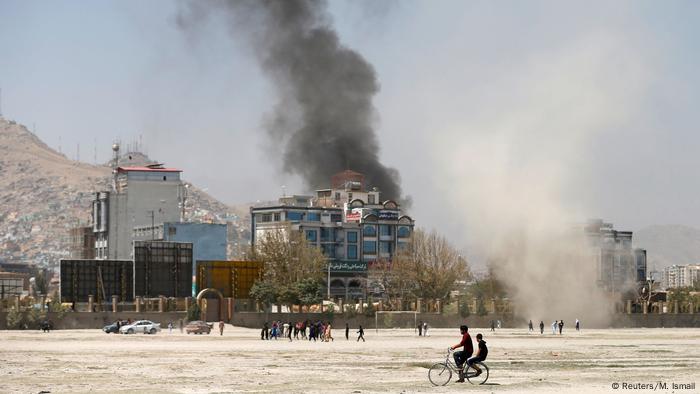 Smoke rises after the rocket strikes in Kabul
This occurred while President Ashraf Ghani was giving a speech at the beginning of the festival of sacrifice, Eis al-Adha. The rocket impact was heard live on television broadcast of the speech. Ghani briefly paused his speech and said, "If you think the missile attack is keeping the Afghans down, you are wrong."
Extremists kidnap three buses
President Ghani had only offered the radical Islamic Taliban a three-month ceasefire on Sunday. The offer has been valid since Monday. The Afghan security forces would only comply with this, however, if the Taliban also agreed, it said.
On Monday, according to various sources, Taliban fighters took control of up to 200 bus passengers. They were in three buses from Takhar Province on their way to the capital Kabul when they were attacked by the extremists. More than 150 civilians have now been released after being held hostage for a day, the local authorities said. At least 20 police officers and soldiers are still being held. They are said to have been abducted to an unknown location.
Two Taliban commanders confirmed the release. "We wanted to send a clear message to the government that we can launch many attacks and defeat them at any level," said one of the commanders.
Taliban reject ceasefire
As reported by the Reuters news agency, two Taliban commanders also said their leader, Haibatullah Achundsada, had rejected the offer of a three-month ceasefire because it would only help the US-led mission.
"Our leadership believes that if we now announce a ceasefire they will extend their stay in Afghanistan," said a senior Taliban commander who refused to be identified.
The Taliban have been fighting the West-backed government in Kabul for years. According to the military, the extremists control almost 14 percent of the country, another 30 percent are contested. The insurgents have intensified their attacks in the past few weeks. Last week they raided the eastern provincial capital of Gasni and took parts of the city for several days.
rk / fab (rtre, ap, afp, dpa, epd)