Slack is Slack app a battery hog
Slack on your smartphone: 5 tips for mobile working
Slack is the team messenger of the moment. Since mobile working has increasingly displaced the office, hardly anyone has been able to avoid the application. So that you too can make optimal use of real-time chat on your smartphone, our editorial team presents you with their 5 favorite tips.
Slack on the smartphone instead of e-mail in the office: Mobile working is now the trend. And hardly any other application has contributed more to this than Messenger. Up to 8 million people currently use the virtual workplace. Teams organize themselves with Slack in Chanels, exchange ideas directly or make important appointments. The result is a flood of messages on your smartphone. Our editorial team will show you how you can still keep track of things and stay productive. Here you will find 5 tips to make your day-to-day work easier.
1. Editing texts: The most important shortcuts
Because with Slack you not only send short messages, but also larger texts via smartphones, clarity is the order of the day.
Slack: the team messenger
The Messenger has shortcuts ready to highlight passages. You can say words fat by framing them with asterisks (* word *). Underscores (_word_) mark terms as italic and three Single quotes ('" Word "') give them a gray frame. A Greater sign (
2. Search words: Filters at a glance
So that you can find your messages or files straight away, Slack offers you a search function with numerous filters. One click on the search window and you're there Search modifier. Here you can narrow down your selection and for example sender (of:), Period (to:), Chanel (in :) or even after Emoji (has :) filter. Or you can simply combine your inquiries.
Slack - The search function
You can also search for words and phrases. A quotation marks ("Word"), for example, provides you with exactly the term you are looking for. Via star you can also find partial words: If you enter Smart *, for example, you get results such as smartphone, smart home, etc. Minus sign (-) before your request excludes words. Here you can find an overview of the search tricks at Slack.
3. Bringing order: the little helpers
Anyone who uses Slack on their smartphone depends on structure. Because mostly the incoming messages roll over. A cleverly used slack bot can be of great help here. Linked to the Google calendar, it reminds you of appointments and can automatically answer repeatedly asked questions. For this you should only define key points in advance. Whether it's passwords, meetings or links - the bot learns to give your colleagues the right answer. Here are more tips on custom answering.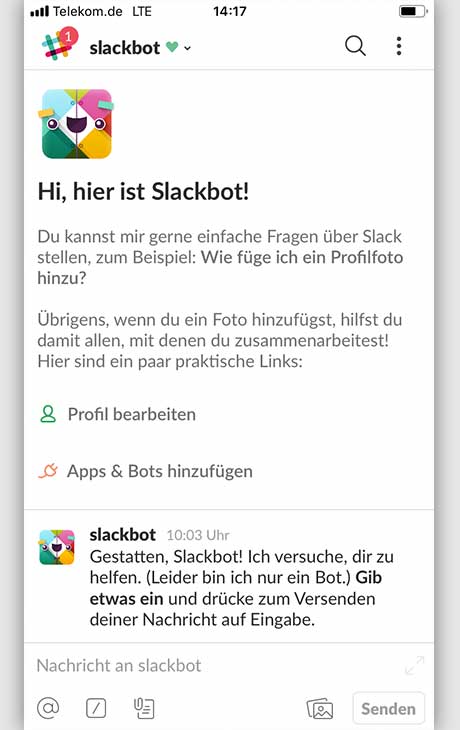 Slack - Help comes from the Slack bot
Another tool for creating order is the favorites function. With a favorite star, you can easily mark important messages that you can easily find again if necessary. Such messages can easily be combined into a to-do list.
4. Set notifications: The end of the working day once 1
Messages via Slack sometimes arrive every 24 hours. It is therefore important to be able to switch off from time to time. That's what the messenger does Do not disturb and the Set status Functions provided. A click on the menu (three points next to the search function) is sufficient to define periods for rest phases, for example.
Slack: your notifications
To stay productive and enjoy the evening, you should also have your Notifications set correctly. Slack informs you about a direct mention in a Chanel, about personal direct messages and when your keywords are mentioned. It is therefore advisable to define your own keywords precisely. You do that over Settings and Notifications. Here you can also mute entire Chanels.
5. Slack's surprise box: apps and extensions
The real-time chat provides a lot of practical helpers for those who enjoy gaming and those who are tech savvy. over Apps and extensions you can easily combine your own application with Slack. This means you have everything you need for your day-to-day work in one place. Be it Twitter or the Google calendar - one click in Slack's app directory is enough and the time-consuming switch between tools is a thing of the past.
Slack: Apps Directory
If you want team communication to be more creative, the messenger offers you various Extensions. With Simple polls, Polly or Subscription For example, you have survey tools at hand to easily plan your Christmas party. In this way, you can simply let your colleagues vote on the location, date or the right meal instead of writing sprawling emails.
[banner-switch image_id = "23509 ″ url_de =" https://fotoaward.deinhandy.de/ "url_ch =" https://www.deinhandy.ch/aklamio?source=teaserhp "]