Who's in the Indian government
Opinion: India's government is to blame for the corona crisis
The images that came from India in the past few days are staggering - and I don't just mean that metaphorically. Pyres as far as the eye can see, tons of people dying in front of hospitals, family members desperately looking for oxygen bottles for their loved ones. India looks like a war zone with people dying en masse from the enemy. Things would have turned out differently if one hadn't underestimated the potential of the enemy.
Just a few months ago, India had started to return to normal. People were convinced that the deadly coronavirus had been overcome. While some claimed the Indians had particularly great immunity, others scoffed at Western countries for being unable to contain something as small as a virus. That was the end of the first wave. It was time to take a deep breath again. But it would have been time to prepare for the second wave. It would have been time to learn from countries that had already been hit by the next wave of infections. Instead, Prime Minister Narendra Modi saw this phase as an opportunity to start his election campaign.
Politics over everything else
While major events like the Tokyo Olympics were canceled elsewhere, India was preparing for the country's largest religious gathering, the Maha Kumbh, and regional elections. As with every other election, Modi's Hindu nationalist party BJP wanted to leave no stone unturned. The BJP made sure that it organized larger rallies than any of the other parties.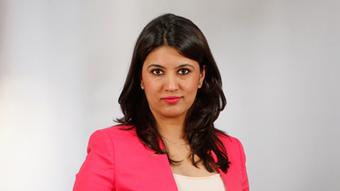 Isha Bhatia is the editor of DW's Hindi service
In fact, at one of his rallies in West Bengal, Modi thanked him by saying he had "never seen such large crowds at a rally." These huge crowds should have been cause for concern. And experts also sounded the alarm.
But India's Interior Minister Amit Shah was quick to respond that there was no link between the rising number of coronavirus infections and the election campaign, as "cases have soared even in non-electoral states."
Denial of reality
It wasn't just the Home Secretary who denied reality. Yogi Adityanath, the prime minister of India's most populous state, Uttar Pradesh, recently claimed that there is no oxygen shortage and that hospitals who spread such rumors will be dealt with. And this at a time when hospitals have to turn people away due to lack of oxygen !.
In Yogi's state, workers in the crematoria complain that they have run out of space as they receive at least ten times more corpses than normal. In most cases, the sick died before they reached the hospital, so the cause of death was never established.
According to official figures, the virus has claimed more than 200,000 lives in India so far. However, due to the spotty coverage of cases, it is evident that the actual numbers are much higher.
Waiting for the 'Messiah'
India's middle class sees Narendra Modi as a messiah. Someone who is destined to put their misery to rest. With this hope the people of India voted for him in large numbers - not just once, but twice. The slogan "Modi hai to mumkin hai" ("If there is Modi, anything is possible") still resonates in the Indian middle class.
And so last year when Modi urged people to light diyas and beat Thalis, the excitement was unprecedented. People were convinced that Modi knew how to guarantee their safety. He asked them to come out on their balconies and clap for nine minutes, and they followed. He asked them to hold a burning candle and they followed. He asked them to come to the election rallies and they followed.
Censorship is not a way out
In democracies, governments are expected to take responsibility when things go wrong. But the Modi government has taken a different route by censoring criticism on social media. Twitter deleted dozens of posts demonstrating the mismanagement of the situation. It can be assumed that Facebook and Instagram will follow this course.
In times when people are losing faith in the government, social media often remains their only hope. WhatsApp groups, Facebook pages and Twitter feeds are used to organize help. But if this is taken from them even in the name of saving the country's "sovereignty and integrity", what other options remain?
It is time for the Indian government to end the denial and take responsibility for the chaos. For the people of the country it is becoming clearer every day that their Messiah has abandoned them.
This text was adapted from the English by Felix Steiner.