What percentage of voters are registered Republicans?
How is the electorate made up?
Any US citizen aged 18 or over can vote on November 3rd. In some states, however, criminals are deprived of this right. In comparison to other industrialized nations, voter turnout in the USA is low. In 2016, around 56 percent of the voting age population cast their votes. In 2008 it was 64 percent - a record.
Because each party is courting different audiences, origins or ethnicity are key factors in the election campaign. According to a report by the The US Election Assistance Commission registered more than 211 million voters in the 2018 mid-term elections. In the end, 122 million ballot papers were submitted. The largest ethnic bloc were whites: 57 percent of the white electorate voted.
But the composition of the population in the US is changing, and over the past few decades the white majority has continuously shrunk. The group of the non-white population now makes up a third of the electorate. In 2016 it was just over a quarter.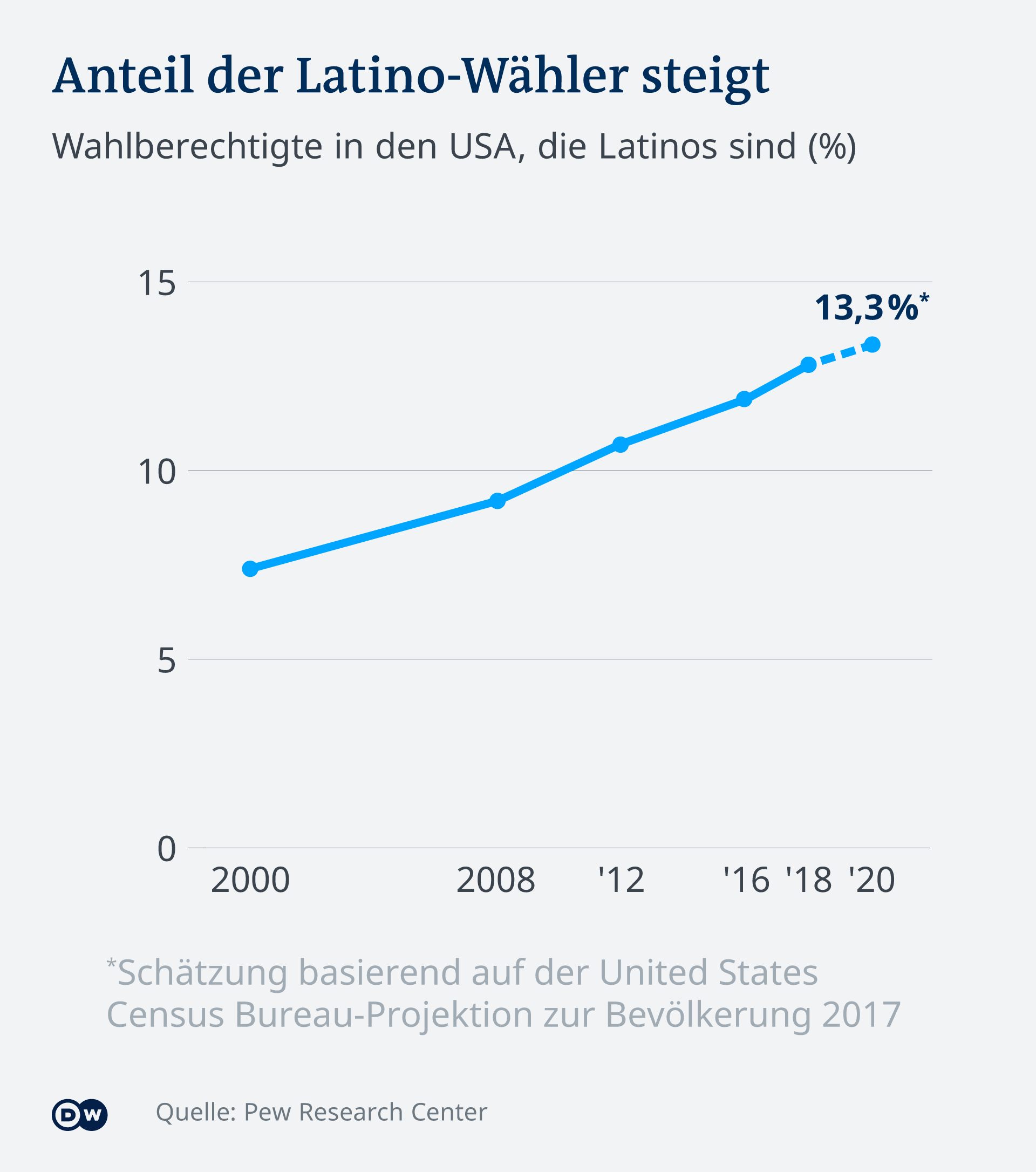 Currently, Hispanic or Latino-Americans make up the largest group within the bloc of non-white voters, with 32 million eligible voters - 13 percent of the total eligible voters. Blacks follow closely behind, with 30 million eligible voters or around 12.5 percent of all potential voters. In addition, around eleven million Asian Americans are called to vote - around 4.7 percent.
The Latino electoral bloc is often referred to as the "sleeping giant" with the power to influence US politics for decades to come. But neither the Republicans nor the Democrats have so far succeeded in realizing the potential of this group, which is known for its low turnout in US elections.
Hope harris
The corona pandemic has hit African-Americans, Latinos, indigenous and Asian communities particularly hard in the United States. The Democrats hope to turn the election into a referendum on Donald Trump's handling of the virus and are targeting underrepresented groups of voters. Republicans, they argue, wanted to take health care away from them at a time when people needed it most.
Voting in pandemic times: This is what the ballot box looked like in the July primary in Philadelphia
It remains to be seen whether as many minority groups will vote for Joe Biden as they did for Barack Obama in 2008 and 2012. In 2016, voter turnout among minorities fell. Biden has emphasized his attachment to marginalized groups and signaled to them that he takes them seriously by electing Kamala Harris as potential Vice President, whose father came to the United States from Jamaica and whose mother was from India.
Fight for young voters ...
According to the Pew Research Center, 40 percent of eligible voters will be 56 years of age or older this year. In 2016 it was 44 percent. Of these, 53 percent voted for Trump in 2016 - and thus helped him to victory in important swing states in industrial regions, but also in states in the so-called Sun Belt such as Florida and North Carolina.
Young "Black Lives Matter" protesters: "Enough is enough"

Nathan (16), Sammy (17), Matthew (15), Noel (18)

The students are "part of a great movement" for the first time, as Noel describes it. "Before we were too young. But now that we understand what is happening, we are here to do what we can for our community." Sammy says, "We want to make America a better place for black people."

Young "Black Lives Matter" protesters: "Enough is enough"

Celeste, 21

"Black lives count," calls the student - Black lives matter. "But they don't count here." She wants police officers to be more strictly controlled: "Police the police", as it says on her poster. "The demonstrators were treated terribly, it was police violence," says Celeste.

Young "Black Lives Matter" protesters: "Enough is enough"

Deborah, 18th

"I want justice for George Floyd, Breonna Taylor and for everyone who is killed by the police every day. There are no consequences, nothing happens," says the student. Can she and the other protesters make a change? "We have to! We have no other choice."

Young Black Lives Matter Demonstrators: "Enough is Enough"

Addie (23), Mary (24)

"We stand up for human rights all over the world, but we can't when we have so many human rights abuses in our own country," says Addie, who works for a think tank. "It's not enough to be neutral," adds Mary, a legal intern. "Silence is treason."

Young "Black Lives Matter" protesters: "Enough is enough"

West, 12

"I'm here to represent George Floyd, my country and my culture," says the student, who is demonstrating with his father. What happened to Floyd "was really sad."

Young Black Lives Matter Demonstrators: "Enough is Enough"

Mya, 21

"This form of oppression, the murder of black people, has existed in our society for more than 400 years," says the student. "Enough is enough. We are tired. But we were already tired with Trayvon Martin, and with Eric Garner. Now I'm finally at an age at which I can get involved. I have to make sure that my voice counts."

Young Black Lives Matter Demonstrators: "Enough is Enough"

Kayla, 21

"History repeats itself and it is time for a change," says the student. "We deserve to be heard at last, we've waited long enough. The military shouldn't be here - the government should make us feel safer. Instead, we have to take matters into our own hands."

Young Black Lives Matter Demonstrators: "Enough is Enough"

Bryan, 25

"I've had enough of seeing my people die. It makes me sick," said the student, who also works in the House of Representatives, tearfully. "The first thing we have to do is vote Trump out. There is no reason for a president to encourage violence and the killing of his own citizens."

Author: Carla Bleiker (Washington DC)
In 2020, young voters, who will be between 18 and 23 years old on election day, will make up around ten percent of the population of voting age. The "Generation-Z" is ethnically much more diverse than the members of the so-called baby boomer generation. Both parties are courting young voters.
... and women
In all presidential elections since 1984, the turnout among women has been higher than that among men. In 2016, 63 percent of women eligible to vote cast their vote, compared to 59 percent for men.
White women led in turnout ahead of white men (67 to 64 percent), followed by black women and black men (64 to 54 percent) and Latinas and Latinos (50 to 45 percent).
Education also plays a key role in voter turnout: people with a higher level of education vote more often than those without. The gender is also reflected in the party affiliation. The most extreme examples are white men, 58 percent of whom see themselves as Republicans, and black women, 87 percent of whom see themselves as Democrats.
While Biden has tried to present himself as a campaigner for women's rights, underscoring this with the election of a woman as Vice President, Trump and his Republicans are going the opposite way: they have signaled that they want to end legal abortions and the fears of whites Taking advantage of women in the suburbs to secure their support.
Trump's base is shrinking
Voter behavior is also determined by factors such as income, education, religion, sexual orientation and identity. Biden follows his party's traditional approach to expanding the electoral base. The aim is to build a broad coalition of supporters that includes as many minority voters as possible while losing as few white voters as possible. In the past, women and young voters helped the Democrats win. Biden and Harris try to use this again for themselves.
For Trump, ethnicity is one of the most important aspects of this campaign. His base is predominantly white, and it is not only when he communicates with his supporters that he is accused of open racism.
In 2016, Trump won the election with fewer black and Latino votes than any other president in the past 40 years. Yet despite his clearly anti-immigrant stance, Trump has targeted conservative Hispanics in the Sun Belt, particularly in Florida, in hopes of winning votes in key southern states.
Trump has claimed to have done more for African Americans than any other president since Abraham Lincoln. But his open hostility to groups like Black Lives Matter, California Congressman Maxine Waters, and public figures like American football player Colin Kaepernick have hampered his efforts to win black voters.
Rather than aim to expand his base, Trump has tried to convince even more whites without a college degree - the voters who helped him win in 2016. This group is not growing demographically, but since whites without a university degree made up half of all non-voters in 2016, there could still be some votes to be won. According to observers, Trump will have a harder time in this election because his demographic base has shrunk over the past four years.