What is Paid Search Marketing
SEO and SEA: With organic and paid reach to success
SEO or SEA - online marketers often ask themselves the either-or question. This decision does not make sense at all. The two disciplines are not mutually exclusive, but can complement each other perfectly. Hence: SEO and SEA. How exactly? You can find out in my post.
As already explained in my first article, search engine optimization (SEO) and search engine advertising (SEA) together form search engine marketing (SEM), so the following applies:
SEO + SEA = SEM
SEM, in turn, is a sub-discipline of online marketing and aims to position your website as prominently as possible in the results of the search systems.
SEO and SEA can be summarized as follows:
1. SEO - the organic search
This area includes all measures with which you try to be as high as possible in the organic results of the SEPRs (Search Engine Results Pages). You can find more about this in my article "SEO Basics: Search Engine Optimization for Beginners".
2. SEA - the paid search
SEA includes all paid advertisements and thus the inorganic results that can be found in the SERPs. They are marked with the word "Advertisement" on Google and can be bought at different prices. For this you need a Google Ad Account.
The structure of the search results pages and the click behavior of the users
In the search results pages (in short: SERPs) the results of a search query are listed in descending order of relevance. The structure of the SERPs is constantly changing. Here is an example of the keyword "search engine marketing".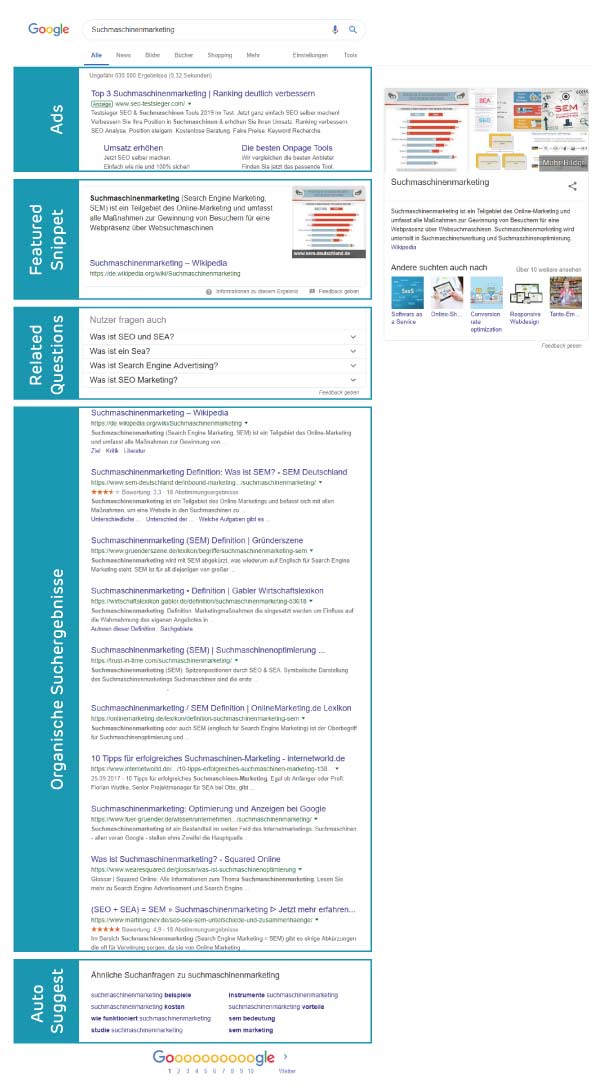 Significantly more clicks on organic results than on paid results
In order to find out how many clicks in the SERPs fall on organic or paid results, SISTRIX evaluated over a billion clicks. The result: only around 6.8 percent of the total clicks go to paid ads and around 93.2 percent to the organic results.
One reason for this is certainly that many users generally ignore the ad area. Another is that ads are not shown for all keywords. In the longtail search, for example, there are usually no AdWords ads.
The distribution of organic clicks also clearly shows how important it is to be in the top positions of search engines.
With 60 percent on desktop and 53 percent on mobile, the clear majority of total clicks came from the first organic search result.
The second organic result still receives around 15 percent of the clicks on the desktop and around 22 percent of the clicks on mobile. And the third organic search result only accounts for 8 percent of the clicks for both devices.
What SEO and SEA have in common: the goal
Both disciplines aim to generate traffic for your website. From the user's point of view, it basically makes no difference whether a paid (SEA) or organic (SEO) search result is clicked:
The user is looking for content that satisfies his search intention.
Search results are suggested to him.
The user decides on a result.
In addition, SEO and SEA have in common that both are keyword-based and lead to success based on keyword optimization.
The synergy effects of the two disciplines are also based on this idea. Make use of these synergies in order to have long-term success with your online marketing measures.
Understand SEO and SEA as a team
What is better now? SEO or SEA? Many online marketers ask themselves this question again and again. You don't have to decide for or against one of the two areas.
The answer is: SEO and SEA are not mutually exclusive, but often complement each other well in achieving your goals.
Of course, it is particularly obvious that two click options take up more space in the SERPS, lead to more clicks and thus achieve higher sales. But there are other ways that SEO and SEA can help you achieve success:
1. Use SEO for long-term visibility
SEO consists of many, extensive measures. It is not enough just to optimize the content of your site and neglect the site performance or backlinks. The overall package of your SEO measures has to be right.
In addition, SEO is a continuous process consisting of several correction loops and precise monitoring.
One-off measures, on the other hand, are usually not helpful for SEO, and success often takes some time. On the other hand, the successes of SEO are more sustainable than those of SEA.
So you have a constant budget and resources, but you get more traffic every month. This will reduce your customer acquisition costs (CAC) over time. No paid channel can do that.
2. Use SEA for short-term success
SEA, on the other hand, can lead to success after a short period of time. Therefore, SEA is also suitable for short-term boosts, for example if you want to draw attention to a campaign or product for a certain period of time.
3. SEA to support SEO
SEA has no direct Influence on the success of SEO measures. Nevertheless, SEA can support search engine optimization well.
For example, SEA can be helpful if the long-term SEO measures are not yet bearing fruit, your competitors have stepped up at this point or there have been traffic changes due to a major Google update.
Especially when high-turnover sites are affected, this can have a negative impact on your performance. And this can be very painful for companies.
Targeted advertising can then be used to generate targeted traffic in order to at least absorb impending losses or to generate initial successes at all.
You can also learn from SEA. Because a well-run AdWords account provides you with a lot of helpful information. For example, you can see which keywords have a high click or conversion rate and thus identify relevant keywords for your OnPage measures.
Long-tail keywords that work well are also helpful for your SEO measures and should be taken into account when optimizing your content.
And you can also learn from the snippets of your SEA campaigns: Which ad texts are clicked particularly often and generate high sales? Which CTAs work well?
Based on this knowledge, you should optimize your organic snippets and thus make them more successful.
4. SEO in support of SEA
On the other hand, SEO can also help your SEA campaigns. In principle, a landing page that was specially set up for SEA is advisable. But a page that is optimized for the search engines can give you important information.
Because it mostly fulfills the search needs of the users and a page that ranks well organically often meets many quality standards for a successful Google ad landing page.
Whether SEO or SEA: The more a page can have excellent user guidance, the more visitors it will turn into customers and fans.
In addition, a comprehensive keyword research is the basis of a successful onpage optimization. Relevant keywords are researched, rated and clustered. You can use the entire keyword list not only for your SEO measures on your site, but also as a basis for your advertisements.
The advantages of SEO and SEA at a glance
| | |
| --- | --- |
| SEO | SEA |
| free clicks | Positioning in the visible area |
| sustainable success | sustainable success |
| higher user trust | precise targeting possible |
| higher average click rate | easy ROI calculation |
The tips at a glance
Use SEO for long-term success and SEA for short-term boosts.
Researches relevant keywords with tools such as Answer the Public, KWFinder or gutefrage.net and uses them for SEO and SEA.
Link your Google Ads account with your Search Console to display KPIs from Google Analytics down to the keyword level. Compares the success of paid and unpaid search queries.
Prioritize your actions with your Google Ads account.
Use the information about organic search queries from Google Analytics to optimize your ads.
Use successful keywords and keyword combinations from the ad placement via Google Ads to optimize your landing pages. You can use key figures such as the conversion rate or the number of clicks for this.
Use your SEA experience to better assess the value of the keywords in the SEO keyword set.
Are there any problems too?
The question that now arises: Are the paid and organic results in competition with one another? Problems can also arise when SEO and SEA work together, but this concern is unfounded.
The reason for this is that users have different click behavior. Some click directly on the ads in the SERPs, others skip them and click on the organic search results.
Using both SEO and SEA increases the likelihood of reaching every user. In addition, the competition is displaced and the click probability is increased.
However, there is a difference in lead quality between SEO and SEA measures. Leads generated through ads are often of a lower quality than leads generated through organic search.
Leads from SEO are usually a lot more valuable. Make sure to check whether this is also the case with you.
Make sure that you don't buy traffic that is too expensive, and that you would get almost the same amount of traffic for free. This can happen, for example, when bidding on your own brand, even if the click prices are usually much cheaper than with relevant non-brand keywords.
Free LinkedIn guide!
Register now for our weekly BT compact newsletter. As a thank you we give you ours LinkedIn guide.
Conclusion
A holistic approach in which you consider both SEO and SEA can definitely pay off. Through the well thought-out use of both disciplines, you can use synergy effects and thus make your work more efficient.
However, always keep in mind whether you are aiming for quick or long-term success.
Also interesting: