What makes digital marketing more important
Survey: content marketing has become even more important due to the pandemic
For over 64% of marketing decision-makers, digital content marketing is more important than it was before the start of the corona pandemic. That is the central result of a recent survey.
The Berlin-based contentbird GmbH, developer of the content operations software of the same name, has asked around 240 marketing decision-makers about current assessments and challenges relating to digital content in the past few months.
Request the complete study now:

By clicking the download button, you consent to your company email address and your company name from contentmanager.de (Digital Diamant GmbH) and contentbird GmbH for advertising purposes also by email and for market and opinion research may be used. With your consent, you will also automatically receive the contentmanager.de newsletter. The declaration can be revoked at any time via a link in every email.
Leads and traffic are the primary goals in content marketing
In the study, 35.7% stated that leads and buyers and 25.2% that visitors and traffic were the overall goal. On a scale from 1 to 10, the importance of SEO is also rated as high to very high with 7.7. The goal of achieving a positive ROI is given with 6 out of 10 points and is therefore rather mediocre.
Resource situation challenging
While the corona pandemic made it clear how important digital visibility is, around 53% of decision-makers are still faced with the challenge of not being able to fall back on sufficiently qualified resources for the production of high-quality content - and at the same time state that 50, 4% of the time resource and 46% of the budget go into creation. Overall, those responsible rate themselves with 6.9 out of 10 points for being prepared for the challenges only "mediocre" - nevertheless only 1.7% of the respondents want to outsource.
It is also difficult for a third (25.1%) of marketers to provide reliable evidence that the investment in content pays off. For 20.4%, building up additional reach and for 17.4% finding ideas with potential is the biggest barrier.
When it comes to organizational structures, there is a lot of catching up to do: 64.3% would like to "set up processes" in the next step, for 36% the search for specialists is "difficult" and 62% do not yet rely on support from software solutions for transparency, collaboration and Improve measurability.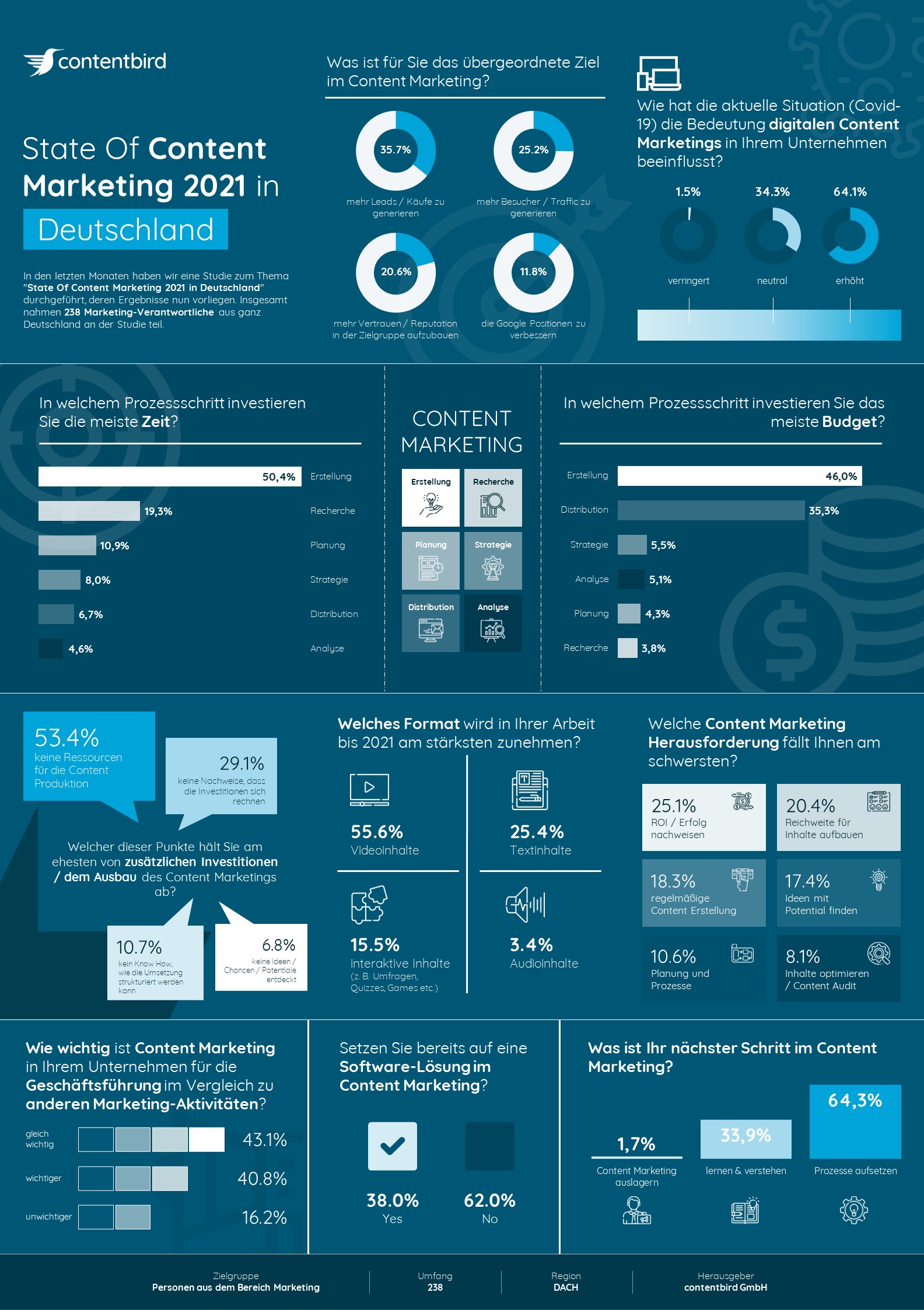 Source: contentbird GmbH
Which formats and channels are gaining momentum?
In our industry, everyone probably remembers the "clubhouse" hype that started the year. While the audio app is very popular, only 3.4% of the participants see an expansion of their audio activities, whereas 55.6% would like to integrate video content more into their content marketing strategy. At around 25%, text content continues to provide the solid basis for content work; In addition, 66.4% of marketers primarily produce content for the website, 57% for social media and 27.7% for their own newsletter.
Overall, the results clearly show that the importance of digital content as well as digital content marketing continues to increase - also in management, where 69% rate content activities as equally important or more important compared to other marketing disciplines. However, the challenges and requirements for marketers and companies also remain high and will tend to increase in the future due to the high requirements for measurability, quality and channel diversity.
Image sources
contentbird GmbH - State of Content 2021: contentbird GmbH
pexels-lumn-316465: Photo by Lum3n from Pexels