Why do flat earth dwellers care
Why the Germans can't get away from plastic
Bananas, cheese slices, dishwasher tabs and many, many other products are often in useless plastic packaging. That makes it almost impossible to go shopping in a typical German supermarket and get out of the store without plastic.
The country has a very green image. It may be true in many respects, but it is put to the test when it comes to petroleum-based packaging. No country in Europe uses more plastic than Germany. According to Eurostat statisticians, the demand is even increasing because society is getting used to shopping on the Internet, consuming groceries "to-go" and more and more people are living in single households.
Continue reading:What to do with Germany's packaging?
The fact that we rely so much on the versatile but problematic material has a huge catch. Plastic finds its way into drinking water via synthetic textiles or reaches our food chains via fish and other marine animals.
The Ellen MacArthur Foundation has determined that eight million tons of plastic end up in the world's oceans every year. This is a tremendous threat to marine life and human health.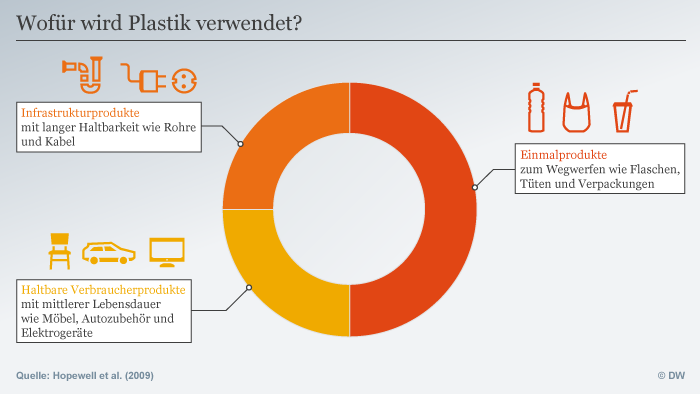 Plastic is a flexible and durable material that is used in all types of products, including single-use products
If you keep in mind that plastic can never be completely broken down, our legacy of broken flip-flops, plastic bottles and microscopic particles (microplastics) will be preserved for future generations, say scientists.
Continue reading: Study - Microplastics pollute all of our drinking water
German consumers also seem to be slowly becoming aware of this, says Tom Ohlendorf from WWF. The project manager for packaging issues sees signs of change. Both buyers and sellers are increasingly relying on packaging-free alternatives. "Let's just take a look at the initiatives of various supermarkets that have recently taken place in a number of German cities."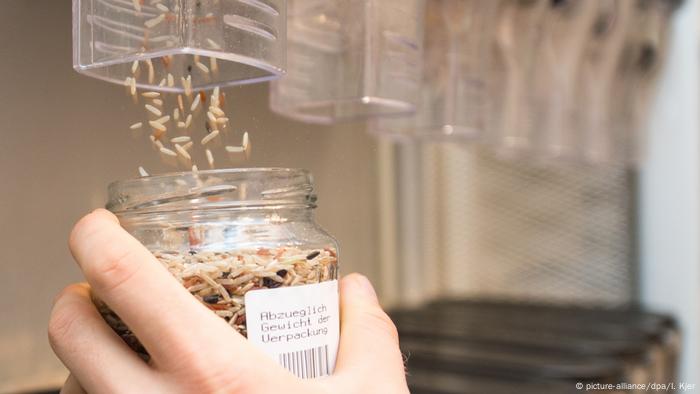 There are niche businesses that promote packaging without plastic - but experts say that we need macroeconomic action
Away with the plastic
One of the pioneers of this movement is a small shop in the Berlin district of Kreuzberg. In "Original Unverpackt", which opened three years ago, customers can fill their own packaging with everyday goods. Be it cereals, legumes or shampoo.
In addition to fresh goods, the shop also sells bamboo toothbrushes, sustainably produced condoms and cloth bags with the shop's credo: "There is no planet B."
Even if this and similar businesses continue to exist in niches, there are more and more of them. Customers need to be convinced to pay higher prices and turn off their bargain-hunting gene. Then the change goes into the mainstream and even large supermarket chains start thinking out loud about reducing their plastic footprint.
Edeka, for example, or Denns' organic supermarkets allow customers to bring their own packaging so that they can carry cheese or meat home with them. In doing so, they are following the example of various coffee shops in Berlin that are increasingly relying on reusable coffee mugs.
Germany's second largest supermarket chain Rewe has passed a test phase with packaging for organic apples made from dried grass and wood. The company is currently evaluating whether the attempt actually led to customers in the shops accepting the alternative and leaving the plastic bags behind.
It is still unclear when a result will be available, Rewe told DW. It is also not yet possible to say whether the test could be extended to other markets.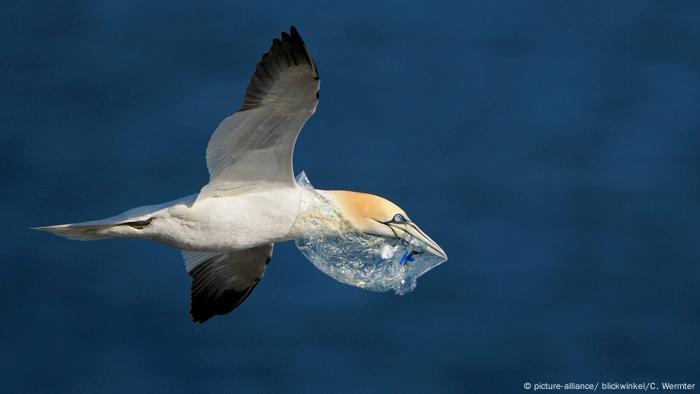 Birds and other animals can consume plastic - this leads to injury and sometimes death
Its a lot to do
For Tobias Quast from the environmental protection group Friends of the Earth, these concepts represent a positive first step, but by no means a turning point on the part of consumers.
"The pilot projects show that it is absolutely possible to expand the environmental idea to include reusable packaging," he says. "But what politics in Germany and the retail sector are planning does not go far enough."
The success seems moderate. Despite an ecological conscience, new rules and taxes, the amount of packaging waste that is produced in Germany is not decreasing. According to the latest figures from the Statistical Office of the European Union (Eurostat), the amount of packaging waste, especially plastic, has increased in Germany in recent years. By 2015, 18.1 million tons were generated, a figure that has grown by half a million tons per year for three years in a row.
Environmentalists also criticize that new packaging regulations, which come into force in January 2019, do not go far enough. The law wants to promote recycling and curb the use of one-way bottles and packaging as a whole.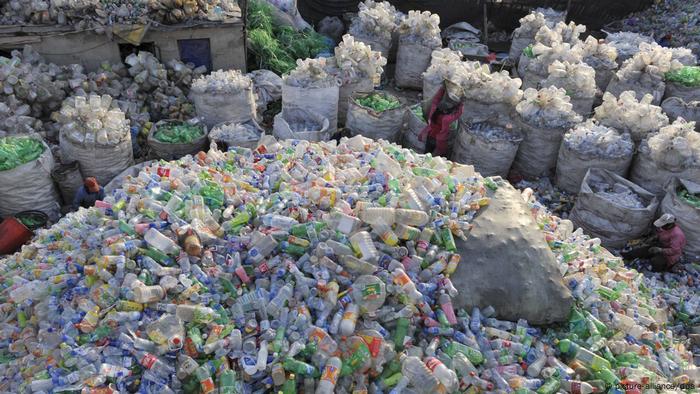 The EU announced a new plastic strategy to reduce plastic waste after China banned the import of foreign waste
The EU is tightening the rules
And Germany could soon get pressure from the EU. The international community is reacting to the pressure that plastic exerts on the oceans and their inhabitants. Brussels therefore wants to make all plastic packaging in the Union recyclable by 2030, at least 25 million tons per year. Less than a third of it is even recycled.
According to observers, the EU move follows China's plans not to let any plastic waste into the country from Europe. The EU would be forced to take care of its rubbish itself, to burn it or to dispose of it.
Continue reading:
EU plans to make all plastic waste recyclable
China wants to export less garbage
Europe is declaring war on plastic waste
The European startup scene is also experimenting with solutions to the packaging problem. Miwa, for example, a Prague-based company, wants to use refillable containers to bring food from producers to consumers with as little waste as possible. For this purpose, own stores are to be opened, tests are currently being carried out to establish the connection between producers and sales outlets. The company recently received an innovation award for this approach. "You have to be aware of the negative effects of single-use packaging," says its founder Petr Baca. Technology could be part of the solution to "lead to a rethink among people in terms of disposable packaging, which is largely responsible for the garbage problem in our world."

Gallery: What is the risk of microplastics?


Microplastics: how great is the danger?

As small as sand

Microplastics are small plastic particles. They are smaller than five millimeters and are added to products. Microplastics are also created when plastic waste breaks down and through abrasion, when washing clothes and driving a car.

Microplastics: how great is the danger?

Toothpaste with micoplasty

Some manufacturers don't care, many people don't know: The little blue dots are tiny plastic balls. They chafe when you brush your teeth and are supposed to help with cleaning. Later on, these globules are very likely to end up in the sea. Sewage treatment plants can usually not filter out microplastics.

Microplastics: how great is the danger?

Cosmetics with a lot of plastic

Plastic beads in peelings or shower gel, microplastics as opacifiers. Consumers are not properly informed by manufacturers whether there are plastic and synthetic plastics in their cosmetics. Environmentalists and authorities are calling for small plastics to be banned.

Microplastics: how great is the danger?

Synthetic fibers are turned into microplastics

Most of the world's microplastics are released through synthetic textiles. Around 60 percent of clothes contain synthetic fibers, and the trend towards using inexpensive yarn is steeply increasing. Washing a fleece jacket releases up to a million fibers. According to an EU study, around 30,000 tons of synthetic fibers end up in wastewater in Europe every year.

Microplastics: how great is the danger?

Plastic in drinking water

Microplastics not only pollute rivers and oceans - millions of people ingest invisible plastic fibers every day with their tap water. US researchers examined over 150 tap water samples in cities on five continents and found microscopic plastic fibers in 83 percent of the samples.

Microplastics: how great is the danger?

Microplastics in the sea

The abrasion of plastics turns into microplastics. Part of it ends up in the sea. The largest amounts come from synthetic textiles, followed by car tires, city dust and road markings. The proportion of microplastics from personal care products is low in comparison.

Microplastics: how great is the danger?

Ticking time bomb

Plastic waste also turns into microplastic: a bag takes up to 20 years, a plastic bottle up to 450 years. Every inhabitant of the world "consumes" an average of around 60 kg of plastic per year, North Americans and Western Europeans even more than 100 kg. Around two percent of the plastics produced worldwide end up in the sea.

Microplastics: how great is the danger?

Trapped in plastic

The flood of plastic hits animals and humans, we don't yet know how exactly. Research is still in its infancy. It is clear, however, that plastic and microplastics end up in all stomachs. Some animals therefore starve to death. According to the current state of knowledge, there is no known health hazard for humans.

Microplastics: how great is the danger?

Less plastic?

Plastic is cheap to manufacture and is often practical in everyday life. But worldwide there is also increasing thought about what politics can do: banning bags, disposable cups and microplastics in cosmetics, introducing an obligation to recycle or a plastic tax? The best thing, however, is to choose environmentally friendly alternatives yourself.

Author: Gero Rueter