What do ladies have in their handbags
10 things every woman should have in her purse
1. Cash
Why carry cash around with you? The little plastic card is more than enough ... Yes and no. Sometimes a card payment is actually only possible above a certain amount. Then it's time to go to the ATM. But whenever you urgently need something - everyone has probably already experienced it - there is suddenly no source of money in sight. Annoying! And there are even more situations in which an emergency egg is not bad at all: Who would want to pay for their chewing gum at the kiosk or their bread rolls at the bakery with a card? Not all parking machines can be fed with plastic money and the dealers at the flea market, for example, only take cash.
2. handkerchiefs
The nose is running ... quickly a handkerchief. This situation is arguably a classic. It's good to have the rectangular pieces of paper with you. Bad if not ... Aside from that, handkerchiefs are little all-rounders. It is not only used in the nose. Dirty hands, sticky fingers, food stains on clothes, dirty shoes - the white paper is the perfect first aid.
3. Lipstick or lip gloss
Only chicks have something like that in their pockets ... Could be. But that doesn't mean that this is necessarily a bad thing. Please do it yourself! Because just a little color on your lips ensures that you look a lot fresher straight away. And let's be honest, 'painting' lips really only takes a few seconds ...
4. Mini brush
One time they are knotted and disheveled by the wind. The other time they just don't lie so nicely. If the hairstyle is not right, it can really spoil your mood. The helper in need: a mini brush! It can be brought out of the dark pocket to the light very quickly and the hair is brought back into shape in just a few seconds. So practical!
5. Smartphone
Call someone, take a quick picture, check emails or google something - what were you doing when there weren't any smartphones? The rule is: what you don't know cannot be missed. For us that means: too late! Without a smartphone, many today somehow feel 'naked'. It belongs to the long-term tenant in the handbag. We think: rightly.
Ten cool handbags for this summer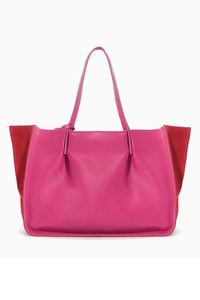 © ZARA
6. Hand disinfection
Is that an exaggeration? No Absolutely not. The mini vials with the transparent gel are sometimes real saviors in an emergency. When you are out and about, you come into contact with so many objects that can transmit bacteria - from the handrail in the train to the handles on the department store door to the shopping cart in the supermarket. Washing hands is not always possible. So hand sanitizer is worth its weight in gold. Especially if you plan to get a 'snack to go'.
7. Tampons / pads
You actually have an eye on when you get your days. Actually. That means: sometimes not. Be it due to stress, forgetfulness, or any other reason. And it is precisely for such cases that it is good if the handbag also serves as a storage location for tampons or sanitary towels. In an emergency, you save yourself the sheer panic and do not have to storm the nearest drugstore immediately, but can relax and fall back on the hygiene product from your pocket.
8. Powder
During the day it can happen that the complexion becomes blotchy and greasy. Stupid. Refreshing is the magic word. And this can be done quickly and easily with covering powder. It mattifies and immediately makes the whole face appear much more even. But be careful: Before you apply another layer of powder to the skin, you should remove excess sebum from your face. Which brings us back to point two ... It's good to have a handkerchief with you.
9. Nail file
Can actually happen: a nail breaks! Okay, that's no reason to burst into tears or head home right away. Of course it doesn't look nice - but you can live with that. The only annoying thing is that a torn fingernail can be extremely annoying. For example, you run the risk of getting stuck on textiles. The problem can be eliminated in no time with a nail file. SOS filing also prevents the nail from tearing even more.
10. Painkillers
A headache? And they seem to be getting worse and worse? Sometimes only a painkiller can help. All the better if there is one in your handbag. Because at home in the drawer, she would now easily sleep through her mission. Of course, you can also buy ... probably with a plastic card ... But: First you have to go to the pharmacy and then you get a whole box. And you don't really need that at all.
Discover our newsletter!
We have so much to tell you: news, trends, tips and much more.
I register
Do you want to read more from us? Follow us on Facebook!