Will diamonds increase in value
Diamonds as an investment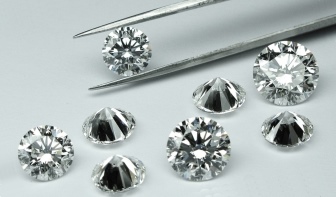 Diamonds are timeless
For millennia, people have valued diamonds as one of the most valuable products on earth. The rare natural gemstones embody a large fortune with a small volume and represent an invaluable gift to your heirs. More and more of our customers are looking at them Diamonds as an investment.
Diamonds as an investment
Over the past 20 years, according to the annual analysis reports of the diamond market (e.g. the Rapaport Diamond Price Statistics Annual Report, or the Global Diamond Report published annually by Bain & Company), the diamonds with the highest color grades (D, E, F) and the highest grades of purity (IF, VVS1, VVS2), and sizes from 1 to 10 carats, gained in value with significantly high and steady growth rates, with a much lower price volatility than other assets. Since 2015 the market has been relatively stable for the respective categories of stones. In particular, investment grade diamonds are to be classified as "Triple-Ex" (excellent cut "Cut", Excellent polish"Polish", Excellent symmetry) and are free of fluorescence and defects. Bain & Company emphasizes in its Global Diamond Report 2014 that the demand for diamonds as an investment now represents around 5% of the market for cut diamonds.
The diamonds as an investment represent advantages in the area of ​​asset management:
A price system that is accepted worldwide.
Well-organized wholesalers and diamond exchanges offer considerable liquidity.
A single gemological laboratory is the world market leader for the grading of diamonds (GIA), which allows an objective and reproducible evaluation according to precisely defined criteria.
The added value can be specifically proven, because it is captured in the precious stone by the material.
Bain & Co signals that the prices of cut diamonds are 3 times less volatile than silver and 1.5 times less than gold.
A gemstone embodies great value with a small volume.
Its owner has direct and unrestricted control over his investment, as it is neither tied to structured products nor dependent on other people.
Gemstones can be used as a supplementary investment, in wealth management, as a donation or as an inheritance investment.
The facility is not burdened with additional management fees.
Such an investment is not subject to a negative interest rate, which has been used in Switzerland since January 2015.
It is a discreet investment.
There is no dependency on the stability of the banking sector.
And finally, systems that are bound in precious stones can be worn as jewelry.
Diamonds are therefore seen by many as a "safe haven".
In their global diamond report 2013, Bain & Company presented a development that identified growing pressure on the price development of cut diamonds:
Cut diamond prices have increased at an average growth rate of 6% since 2008 (until the time of the study).
Worldwide diamond reserves are in decline, declining 10% between 2000 and 2010.
Over the next 10 years, Bain & Company expects the supply and demand for rough diamonds to increase by 2.0% and 5.1%, respectively, annually. It is therefore assumed that increasing demand will exceed the estimated growth in supply.
The above factors explain the increasing demand from our customers for diamonds as an investment.
Wholesale market
DiamAlps offers its customers direct access to the diamond wholesale market. When you buy diamonds, the prices in Switzerland are therefore much more attractive at DiamAlps than in the luxury and retail stores, which is a necessary requirement if you want to invest in diamonds.
Risks
Investment diamonds, as defined in the diamond sector (Rapaport Investment Diamond criteria), are not stocks or bonds and do not offer an inherent return. Diamonds do not distribute interest or dividends. This is not a financial investment product, for the purpose of a cut diamond is still to be set in jewelry. But their value changes over time. Jewelry retail sales are subject to trends that affect wholesale demand. When reselling the diamond, its value will depend on the supply and demand in the diamond market at the time for the prevailing category of diamond, with a risk of falling prices that should not be ignored. Reselling can also incur costs in some cases, for example when you hire a broker to restore it to the market. We will be happy to inform you about the mechanisms of the diamond market, by appointment, and on the resale possibilities of a particular diamond based on its detailed categorization.
Meet us
We would be happy to receive you by appointment. Contact us to make an appointment with our diamond dealer in Switzerland or with one of our representatives abroad.
DiamAlps is a brand of Yazam GmBH, managed by Raoul Beck.