What are Chinese immigrants aiming for?
The Chinese dream is to emigrate
Gu Xuan (all names changed) from Beijing still picks up her seven-year-old daughter from school punctually at 3 p.m. every day. "To let the child go to school alone and come home is just too dangerous," Gu told DW. Exactly what the danger is remains unclear. But it is clear to the parents that their daughter will continue her schooling in the USA in the not too distant future.
The girl knows what plans her parents have for her - somehow. Even her mother doesn't know whether she really understands it. Not only Chinese millionaires send their children to expensive private schools abroad, preferably to British ones, as the US edition of "China Daily" recently reported. Members of the high-earning middle class are also increasingly turning to other countries when it comes to the education of their children.
North America destination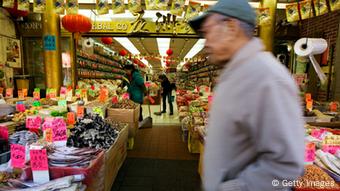 Canada (here Chinatown in Vancouver) has massively scaled back its program for Chinese investors willing to immigrate due to the large number of visitors
Schools in the United States, Canada, Australia, and New Zealand are high on these parents' wish lists. These four countries are also at the top of the list of the most important emigration countries for Chinese in recent years. In 2012 almost 150,000 Chinese emigrated to the USA, Canada, Australia and New Zealand, according to a recent study by the Beijing Center for China and Globalization. Five times as many Chinese are currently emigrating to the United States each year as in the 1980s. According to the study, most of the emigrants belong - which is not surprising - to the affluent middle class and are between 35 and 55 years old.
Cai Jing's son was born in the United States and lives with his family in Beijing. He is one year old and can just say "Mama" and "Papa." As soon as he has a better command of Chinese, we will emigrate to the USA. Since he was born there, I don't see any difficulty in getting a green card, "says the young mother happily.
Not in the mood for Chinese drill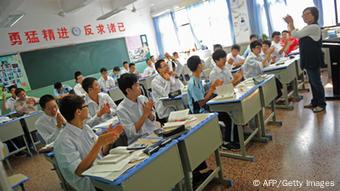 The Chinese model of success in the classroom no longer seems so tempting to everyone
Cai Jing's husband, Xue Jian, works as a senior executive in a private company. Even before his son was born, he and his wife had planned their future carefully. "We want our child to have a good life. The children in China have too much stress and pressure in schools. We all experienced that ourselves. I didn't want my child to have to go through that too," Xue Jian told DW .
Better educational opportunities for the children are one of the main reasons for the growing number of Chinese emigrants. In addition, there are concerns about unhealthy food, smog and other environmental pollution. Xue Jian gives further reasons: "In China we simply lack the feeling of security. The government claims to strive for the rule of law. But in reality I have often seen how individual rights have been violated. We are also afraid of a possible one Mass movement in the future, "adds Xue, referring to a violent overthrow or a revolution in view of the growing prosperity gap in China.
Quality of life rediscovered
Does the whole family want to live in an American city in the future? Xue Jian says no: "I will not live long-term in the US. Maybe I will stay there for a month or two every year. If you want to make money, there are much better opportunities in China than abroad. But my wife and child will enjoy the fresh air and the best education in the world all the time. "
Many families are prepared to accept long periods of separation in order to know that their wife and child are abroad. Because not everyone is lucky enough to find a well paid job. A friend of Cai Jing's doctorate in China. In Canada he only found a job as a cashier in a supermarket.