What do Australians think of Tony Abbott?
Australia's new anti-terrorist initiative: two passes to risk
Binational extremists should be deprived of their citizenship. The government says the country is in a new phase of terrorist threat.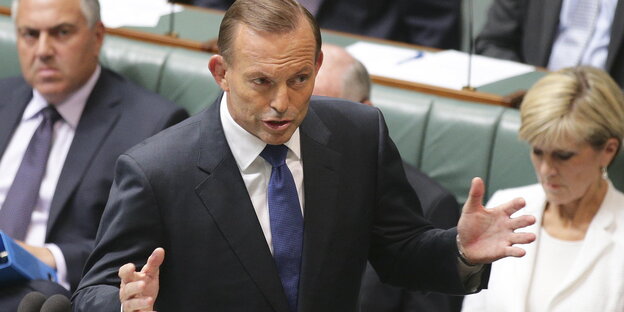 Prime Minister Tony Abbott believes that living in Australia is a privilege. Image: ap
For Australian Prime Minister Tony Abbott, one thing is clear: immigrants must "be as tolerant of us as we are of them". It is "a privilege" to be able to live in Australia. With these words, the head of government presented a package of measures on Monday with which the Australian government wants to take up the fight against what it believes is an increased threat of terrorism.
Australia is in a "new long-term phase of heightened terrorist threat," said Abbott. This situation requires special measures. For example, people with dual citizenship should lose their Australian citizenship if they support terrorism - both domestically and as fighters for extremist organizations abroad.
Almost one in three Australians was either born abroad or descended from parents who were born in a third country. Thousands of these immigrants still have passports from their old homeland. But other Australians are also at risk of losing their rights if they support terrorism. They are said to be denied consular protection abroad and access to social assistance. In addition, "it is intended to make it difficult for them to leave Australia or return to the country."
A change in the law is already being planned. The opposition Labor Party is expected to approve the Conservative government's proposals. Commentator Russell Marks said Monday that Abbott's "attack" on civil rights reminded him of George Orwell's "Eternal War in the Book '1984".
Warnings were not taken seriously
One of the main reasons for the anti-terrorist initiative was apparently the hostage-taking in the Lindt Café in Sydney in December last year. The perpetrator, Man Haron Monis, a self-appointed Islamic clergyman, came to Australia in 1996 as a refugee from Iran. Two hostages and the perpetrator died in the act of violence.
An investigation published over the weekend concluded that a number of circumstances had led to the crime and that the crime was not the result of a single failure in office. The violent criminal, with several criminal records, was at large despite an ongoing trial, was considered mentally disturbed and was still able to obtain a weapon. Warnings from the public had apparently not been taken seriously by the secret services.
Although Monis had lived in Australia for 18 years and was subjected to the usual security checks upon arrival, Abbott emphasized his immigrant background. Australia has been ready for too long to give those who are "a danger to our country a bonus of trust".
Islam as a religion of peace
Standing in front of six Australian flags, the head of government announced that the country would never sacrifice its freedoms, but "neither will we allow our enemies to take advantage of our decency." He called on Islamic clergy to spread the message of Islam as a religion of peace better and to believe in it themselves.
Around half a million Muslims live in Australians. Representatives of the Islamic community were disappointed with the remarks. Last week, the highest Muslim cleric, Ibrahim Abu Mohammed, withdrew his confidence in the head of government. He will "not make the mistake of choosing Abbott again." The prime minister would be better advised to "work in a different field than politics".
100 Muslim clergy had previously complained in an open letter that the Abbott government was using the Islamic religion and an alleged terrorist threat to strengthen its weak position and spread its political agenda. The prime minister is doing worse than any of his predecessors as a result of numerous broken promises in opinion polls, among other things.