Large-scale raid against militant Islamists in Bangladesh
Representatives of the security forces spoke of a success after the nationwide action in Bangladesh. Of the 37 particularly suspects, 27 belonged to the banned Islamist group JMB, a police spokesman said. In addition, five JMB activists were shot. Nine of those arrested were captured in Rajshahi, in the north-west of the country. There in April, the fourth lecturer at the University of Rajshahi, the English professor Rezaul Karim Siddique, was murdered.
For the past three years, Bangladesh has been rocked by a wave of Islamist attacks on secular activists and members of religious minorities. Almost 50 people have since been murdered in the most gruesome way. These attacks have recently increased. Last week a Hindu priest was beheaded, a Christian greengrocer was killed and the wife of an anti-terrorist officer was stabbed to death. The government in Dhaka under Prime Minister Sheikh Hasina Wajed then announced an unprecedented crackdown on militant Islamists by the security forces.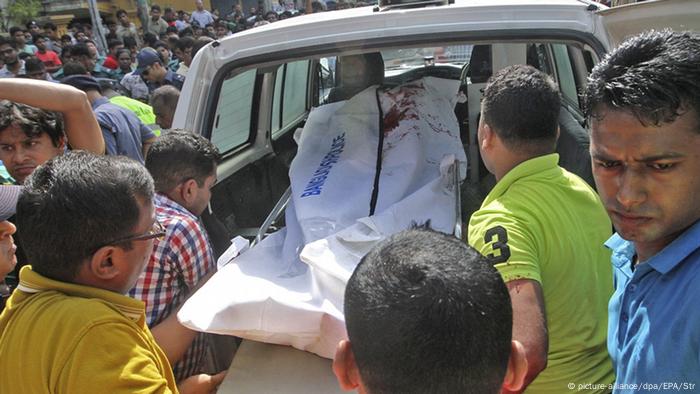 A week ago, militant Islamists murdered the wife of an anti-terrorist officer in Chittagong
IS is involved
The terrorist militia "Islamic State" claimed responsibility for the latest attacks and for the murder of a worker at a Hindu monastery on Friday. According to the police, the 62-year-old was killed by strangers with machetes during a morning walk.
According to the US-based company SITE Intelligence Group, which is monitoring the terror scene online, IS has announced further attacks. The terrorists let it be spread on the Internet that the Muslim country was to be "cleansed of the filth of polytheism and apostates."
Bangladesh is officially secular, but the majority of the population is Muslim. The government denies that the IS militia is active in the Southeast Asian country and attributes the acts of violence to national radical groups such as the JMB. According to international terror experts, however, there are close contacts between the JMB and IS. JMB activists are seen as masterminds of the series of attacks on liberal Muslim bloggers in Bangladesh.
se / kle (afp, rtr, kna)