Who was the first fashion designer
Fashion designer Kenzo Takada is dead
Kenzo Takada was born in 1939 and grew up with six siblings in a village near Himeji. Even as a young boy, Kenzo, who was gifted in drawing, was fascinated by fashion - inspired by the fashion magazines that his sisters read. He gained his first experience as a designer by designing and tailoring models for dolls.
Parents weren't thrilled at first
According to his parents' wishes, he took up a foreign language course after school at the University of Kobe, which he broke off when he was given the opportunity to study at the renowned Bunka Gakuen fashion school in Tokyo. It had only recently accepted male applicants for the first time.
The first years were full of privation, Kenzo financed his studies and a living by doing odd jobs. It was only when his mother realized that her son would not let himself be dissuaded from his path that he received support from home. At this time, the example of the great Parisian fashion designers began to establish itself in Japan and created a new professional profile alongside the traditional seamstress. As top of the class and awarded with prizes, Kenzo completed his training.
First a simple stylist, then a fashion designer known worldwide
Kenzo began his career as a stylist at a Tokyo department store chain, for which he designed an average of forty models a month. In 1965, when he was 26, he came to Marseille on a cargo ship. He actually only wanted to stay in France for a few weeks, but the Parisian fashion world cast a spell over him. In 1970 he had his first major success with his "Jungle Jap" collection. He bought the fabrics for the creations for a ridiculous price on the Paris Saint-Pierre market.
A fashion empire by the 90s at the latest
In 1983, Kenzo expanded its empire in the men's fashion division, followed by fashion shows from New York to Tokyo and the expansion of the Kenzo brand into a globally successful fashion empire. From 1988 the Japanese also created perfumes such as "Kenzo" and "Jungle".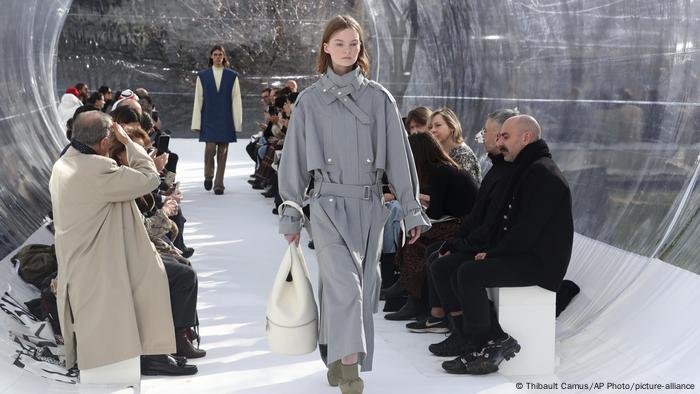 Kenzo fashion, presented in Paris this February
Kenzo's fashion was young, open to motifs from all over the world and seemed more European than anything that had ever been designed by a non-European. In 1993 the luxury group took over Louis Vuitton, Moët et Chandon and Hennessy Kenzo's group for the equivalent of around 70 million euros. In 1999, much to the chagrin of his fans and the Parisian fashion world, Kenzo announced his retirement.
Kenzo Takada was the first Japanese fashion designer to settle in Paris and achieve success there. He has now died at the age of 81 in a hospital in Neuilly-sur-Seine near Paris.
rbr / haz (with afp, dpa, rtr, Munzinger)