How do you deal with setbacks
How do you deal with setbacks?
The question "How do you deal with setbacks?"is asked in job interviews, though Recruiters get a fuller picture of the Applicant personality want to procure.
Here you can many aspects be examined in more detail.
Has the Applicant something from their professional Learned setbacks?

How is it with them Ability to self-reflect?

Is the applicant authentic and believable?

Will with Problems and Setbacks rather constructive or rather indifferent handled?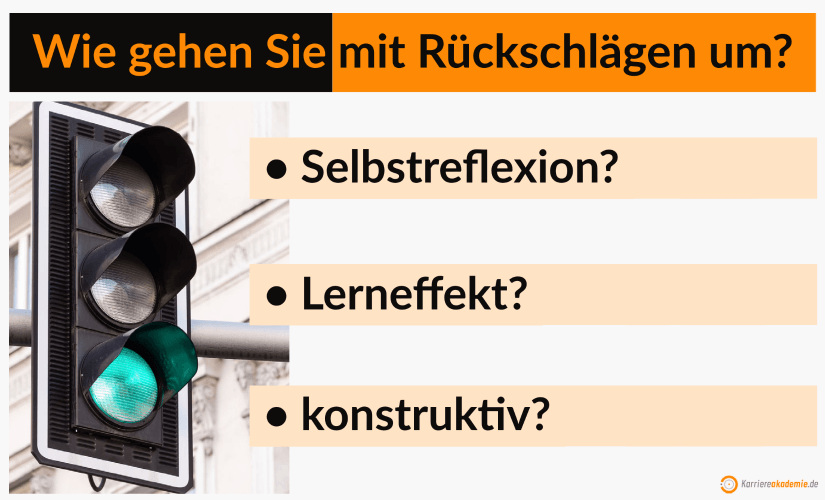 What setbacks call?
Basically, questions of this kind have to be answered tactically. Nowadays we are looking for the "authentic applicant".
This means that not only strengths, results, results and successes are discussed in job interviews. But also setbacks, problems and difficulties.
Besides those at the center of the question difficulties it is also always about personal ones Strengthen and Competencies of the new employees to be hired.
How did you carry out an error analysis afterwards? What was your part in the problem? And what was learned from the setback for the future and similar problems?
Examples of professional setbacks
Strategic mistake: A Head of Marketing took a big risk in order to conquer a new market with a lot of effort. The manager's assessment of the opportunities ultimately turned out to be incorrect.

Too expensive: The switch to a new IT system in the company has gotten completely out of hand financially. The costs rose so much that the conversion had to be canceled.

Incorrect KPI: A controlling expert should present the management with a new KPI system. In fact, the informative value of the KPI is completely inadequate.

No project success: After twelve months and a number of meetings, a project group still has no project results to show. Instead, other important tasks are increasingly left behind.

Quality problems: Despite the certification, the parts of a supposedly "cheap" supplier from Asia are of such poor quality that an entire product group had to be recalled at the company's expense. The reputation in the market is clearly damaged.
It goes without saying that the setbacks in job interviews that cast serious doubts on the suitability of the applicant should certainly not be brought up.
Be honest with yourself and think about professional situations in which you have made gross mistakes and mistakes.
Would you really want to mention all of these negative examples in job interviews?
Telephone interview

Video interview

Self-presentation

10 most common interview questions

structured job interview

competency-based interview

own questions to new employers
Answers: I'll do it differently now!
When we prepare customers for competence-based job interviews, job interviews and assessment centers in our application coaching, dealing with foreseeable questions about professional setbacks is part of it.
Convince yourself in discussions with future superiors, HR employees or headhunters. Prepare a good selection of problems, negative experiences, and difficulties.
It is important that you always address the associated error analyzes, countermeasures and solutions.
Why were there such massive deviations and problems in the project?

How did I find out about the setback?

Which methods did I use to analyze the error?

What short-term measures did I take to make the first improvements?

Which specialists did I involve immediately?

Who did I inform myself?

What medium-term activities have I started?

Have I implemented a better control system?

What would I do differently in a similar situation?

And when did I actually benefit from my negative experiences in a similar project?
Your strengths also help after defeat
When it comes to setbacks and undesirable developments, your strengths always come into play.
For example, analytical thinking helps in researching the cause. Good communication skills are important in order to inform everyone involved in a timely and appropriate manner. And good process management certainly helps to improve internal company processes.
Make it clear that you know your personal strengths, competencies, characteristics, business skills and leadership skills. And use it especially in crisis situations.
analytical thinking

Communication skills

Process management

Problem solving skills

Creative will

discernment

Decision-making ability

Enthusiasm

Assertiveness

Culture of innovation

efficient delegation

complex thinking

strategic thinking

entrepreneurial thinking

quick decision-making

Willingness to take risks

Willingness to change

Hands-on mentality

More questions about success and setbacks
Overall, job interviews have become more realistic in many companies.
This has the advantage that you don't have to play a role to impress in the conversation. You can and should address difficult professional situations, conflicts, crises and defeats in the appropriate place.
Nevertheless, it is essential to consider where you set information limits. Why should you unnecessarily jeopardize your chances of getting the new job?
Prepare yourself in the manner described for the question "How do you deal with setbacks?" and other questions.
Our will help you with this E-learning interview. With pleasure to advise so do you by phone or personally.
What was your biggest failure?

What are critical incidents?

Which professional successes are you particularly proud of?

What is your contribution to future corporate success?

Why did you apply to us?

Tell us a little about yourself!

Why do you want to work for us so badly?

Why did you choose this particular job?