Are Sweden and Finland America father
13 contemporary Finnish authors you have to read
In recent years, more books by Finnish women authors have been published worldwide than ever before.
We consulted with librarians and literary societies in order to be able to compile a list of important contemporary writers from Finland. Some of their careers have spanned many decades, while others have only recently made a name for themselves with best-selling debuts.
We list at least one book for each author. In order to narrow down the list of female authors, we have restricted ourselves to books that have been published since the mid-2000s and are already available at least in English. Many of them have appeared in other languages ​​as well. With one exception, the originals are all in Finnish or Swedish, both official languages ​​in Finland.
Inger-Mari Aikio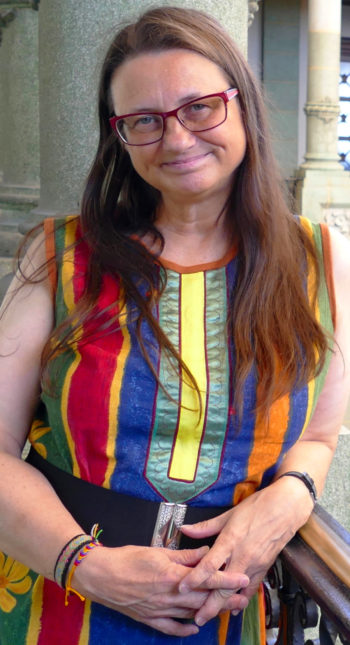 Photo: Jaime Mejía
Inger-Mari Aikio is a writer and translator who writes in North Sami, one of the languages ​​of the indigenous Sami whose homeland extends across northern Finland, Sweden, Norway and a corner of Russia. (Three Sami languages ​​are spoken in northern Finland and have official status there.)
Aikio's literature sifts through her ideas of authentic Sami identity and addresses cultural otherness and gender. Her bilingual collection of poems, published in 2014 in North Sami and Finnish under the title "Beaivváš čuohká gaba" and "Aurinko Juo Kermaa", respectively, contains the languages ​​side by side in a collection of haiku-like verses inspired by nature. So that readers can experience a similar interplay between two languages, it was translated into German and English ("Sahne für die Sonne" / "Cream for the Sun", 2018).
An accompanying album, co-created with musician Miro Mantere, is available on Spotify. Aikio reads a selection of poems in Northern Sami and Mantere sings in Finnish to the accompaniment of instrumental music and sounds from nature.
Monika Fagerholm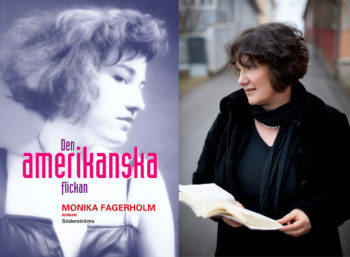 Cover: Schildts & Söderströms; Photo: Stefan Bremer / Teos
Monika Fagerholm is an award-winning Swedish-speaking Finnish writer. Her third novel "The American Girl" (2008; Swedish: "Den amerikanska flickan", 2004) tells the story of a girl from Coney Island who disappeared after arriving in Helsinki in the 1970s. The thriller, which is also sensitive brooding about female friendship, won the Swedish August Prize in 2005. "The Glitter Scene" (2011; transl. Die Glitterszene, Swedish: "Glitterscenen", 2009) is the second volume in this series.
Elina Hirvonen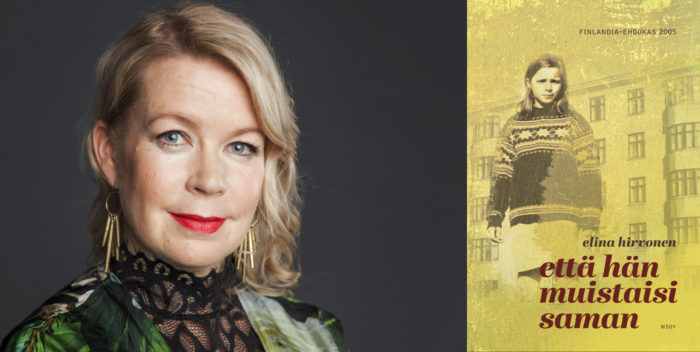 Photo: Jarkko Virtanen / Teos; Cover: Teos
The debut novel "Erinnere dich" (2008; Finnish: "Että hän muistaisi saman", 2005) by the journalist, author and documentary filmmaker, Elina Hirvonen, is about a journalist who, after the 9/11 attacks, about her life and that of her brother meditates. A tremendously thought-provoking book. It reveals the process a woman goes through when she chooses to explore her own memories. Hirvonen has since published more novels and made documentaries.
Emmi Itäranta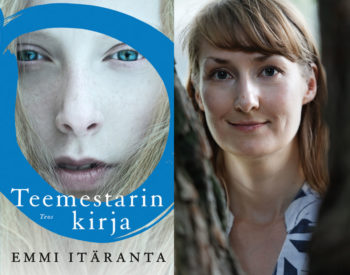 Cover: Teos; Photo: Heini Lehväslaiho / Teos
Emmi Itäranta finished her first novel "The Taste of Water" (2014; Finnish: "Teemestarin kirja", 2012) when she was still studying for an MA in creative writing at the UK University of Kent. She first wrote the novel in English and then translated it into Finnish. In this way, she completed the book in Finnish and English at the same time. "The Taste of Water" is a story of growing up. It takes place in a future world in which fresh water is scarce. Reviewers have compared Itäranta to Margaret Atwood, and The Taste of Water won her the 2013 Kalevi Jäntti Literature Prize for Young Authors and the 2012 Young Aleksis Kivi Prize.
Katja Kettu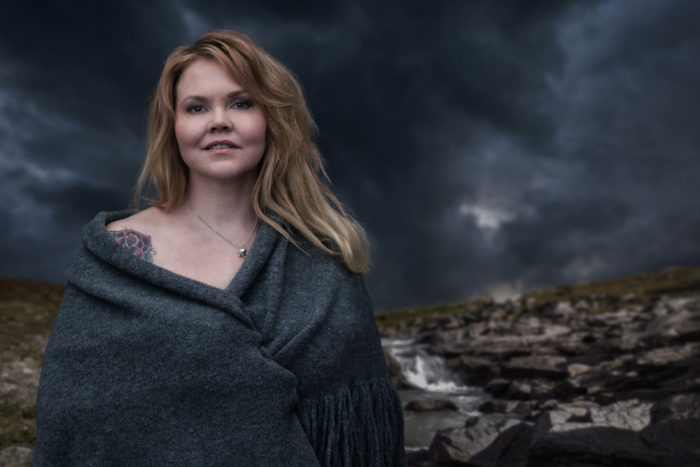 Photo: Ofer Amir / WSOY
Katja Kettu is a columnist, animation film director and author of "Wildauge" (2014; Finnish: "Kätilö", 2011). Inspired by the stories of his grandparents taken from real life, Kettu's historical novel tells the wild love story of a midwife working in remote Lapland and a German officer during World War II.
Rosa Liksom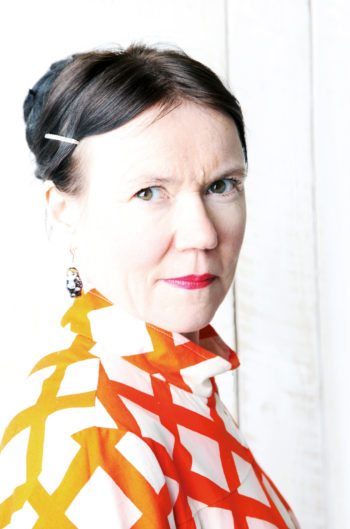 Photo: Pekka Mustonen / WSOY
The visual artist, illustrator and writer, Rosa Liksom, won the prestigious Finlandia Prize in 2011 with "Compartment No. 6" (2013; Finnish: "Hytti nro 6", 2011). Liksom's literature often focuses on the differences between urban life and seclusion. "Compartment No. 6" is an ode to the languishing Soviet Union.
Laura Lindstedt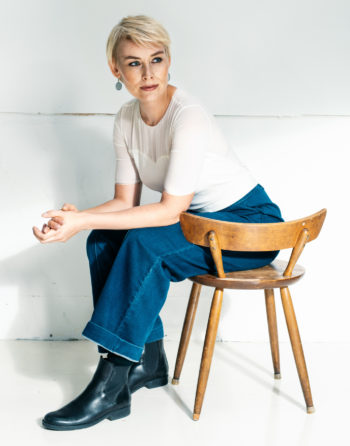 Photo: Jarkko Mikkonen / Teos
Laura Lindstedt's second novel "Oneiron" (2015; English: "Oneiron", 2018), which has not yet been translated into German, won the 2015 Finlandia Prize. In the book, Lindstedt experiments with combining various literary genres, including poetry and essays, to explore the concept of life after death. She tells the story of seven women who do not know each other and who meet in a room where there is no time. Together they reconstruct their lives in order to track down the events that led to their death. Lindstedt worked eight years on the complex story, which received praise from reviewers from all over the world.
Ulla-Lena Lundberg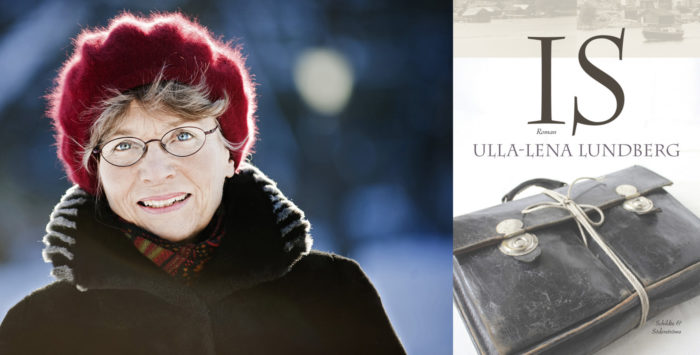 Photo: Cata Portin / Schildts & Söderströms; Cover: Schildts & Söderströms
At the age of 15, Ulla-Lena Lundberg published her first collection of poems. Since then, the Swedish-speaking Finn has written prose about places where she has lived. She was born on Kökar in the autonomous Finnish Åland archipelago between Finland and Sweden. Other locations are Botswana, Zambia, Kenya, Tanzania and Siberia. Her novel "Eis" (2014; Swedish: "Is", 2012) won the Finlandia Prize in 2012. "Ice Cream" is set on the Åland Islands after World War II and tells the story of a pastor who falls in love with remote island life. The Finnish National Opera edited the book for the stage. The opera premiered in January 2019.
Sofi Oksanen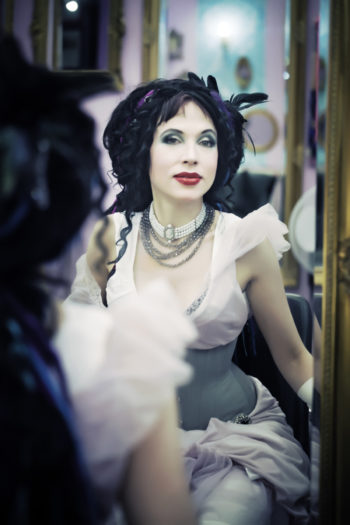 Photo: Toni Härkönen
Born in Finland to a Finnish father and an Estonian mother, author Sofi Oksanen is a cultural commentator who has written extensively on women's rights, freedom of speech and immigration. With translations in more than 40 languages, Oksanen is Finland's best-selling living writer. Her best-known novel, "Purgatory" (2010; Finnish: "Puhdistus", 2008), tells the life of women in an Estonian family from the 1930s to the 1990s. "The thing with Norma" (2017; Finnish: "Norma", 2015) is about a mother who struggles to keep her daughter's supernatural secret.
Riikka Pulkkinen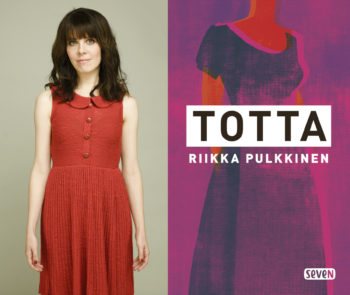 Photo: Jouni Harala; Cover: Otava
Riikka Pulkkinen is a former athlete with novels that have been translated into around 20 languages. Her second novel "True" (2012; Finnish: "Totta", 2010) revolves around three generations of women, the oldest of whom is diagnosed with terminal cancer. The elegantly written story is full of sharp statements about families, gender, and death.
Salla Simukka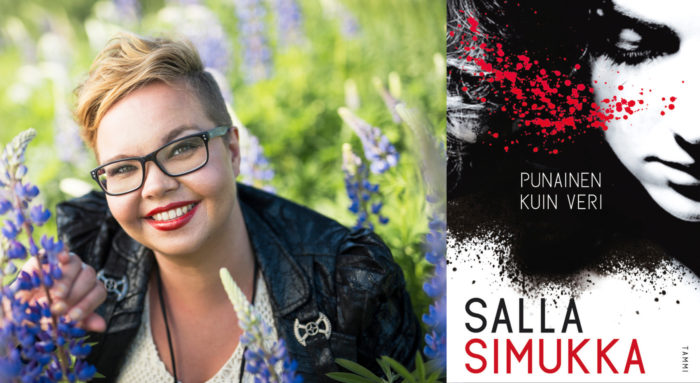 Photo: Hanna Poropudas; Cover: Tammi
The translator, literary critic and author, Salla Simukka, is best known for her youth crime trilogy, "As red as blood" (2014; Finnish: "Punainen Kuin Veri", 2013), "As white as snow" (2015; Finnish: Valkea kuin lumi, 2013) and "As black as ebony" (2015; Finnish: "Musta kuin eebenpuu", 2014). The books follow the life of a young girl who escapes her home in the central western Finnish city of Tampere after being pursued by someone involved in the international drug trade. Simukka's writing style has led to comparisons with Jo Nesbø and Stieg Larsson.
Anja Snellman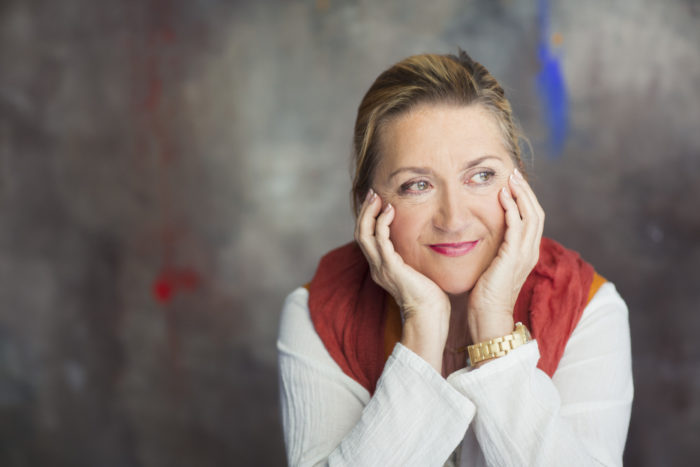 Photo: Jouni Harala / New Terrain Press
Anja Snellman is a columnist and television presenter. Her writing career spanned three decades in which she wrote 24 novels. Her books have been translated into 20 languages. "Pet Shop Girls" (2013; transl. Die Mädchen der Tierhandlung, Finnish: "Lemmikkikaupan tytöt", 2007) is the first Snellman book to be translated into English. The suspenseful novel about a missing young person takes up the topic of mother-daughter relationships in particular.
Maria Turtschaninoff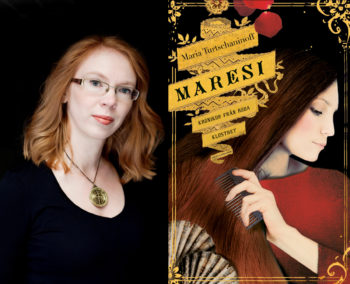 Photo: Karin Lindroos / Schildts & Söderströms; Cover: Schildts & Söderströms
Maria Turtschaninoff writes fantasy novels such as the book series "The Red Abbey Chronicles" (The Chronicles of the Red Monastery), about the "Maresi: the song of the island" (2016; Swedish: "Maresi", 2014) and "Naondel" (2017 ; Swedish: "Naondel", 2016). Feminism is combined with mythology in an isolated abbey inhabited only by women. Turtschaninoff won the Finlandia Junior Prize for youth and children's literature in 2014 with "Maresi: the song of the island". At the time of writing, this book is being turned into a film by British Film4.
International Women's Day is celebrated every year on March 8th.
By Tabatha Leggett, February 2019
We thank the Seed Council; the Society of Swedish Literature in Finland; the Finnish Center for Literature Export; and ask a librarian, service from Libraries.fifor their recommendations.
Left
Related posts
Ideas for a better life: Millennium Technology Prize in livestream and online innovation forum
Continue reading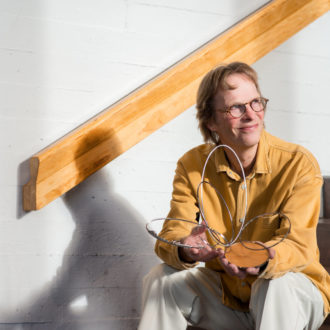 Ideas for a better life: Millennium Technology Prize in livestream and online innovation forum
The 2020 Millennium Technology Prize winner will be announced in a live-streamed ceremony on May 18. Following the ceremony, a virtual event will take place online on May 19, the Millennium Innovation Forum.
Exhibition in Helsinki shows the development of an ancient Finnish art form
Continue reading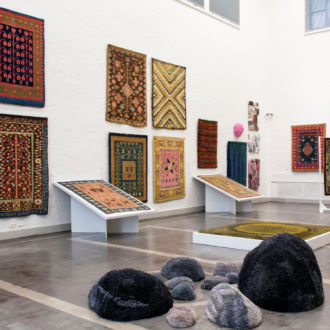 Exhibition in Helsinki shows the development of an ancient Finnish art form
It's a difficult word to pronounce for many, but the technique and designs of the Ryijy tapestries hold a special place in Finnish culture. We visit an extensive Ryijy exhibition in the Helsinki Art Hall to see a traditional, still vital artistic expression.
Finnish footprints
Continue reading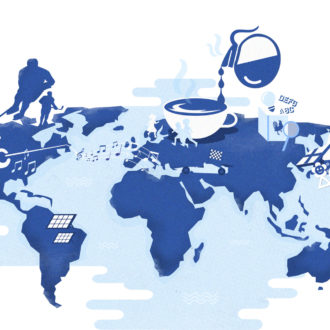 Finnish footprints
The blue-white impact force is encountered everywhere. And with surprising frequency.
Finnish company produces competitive esports games for mobile phones
Continue reading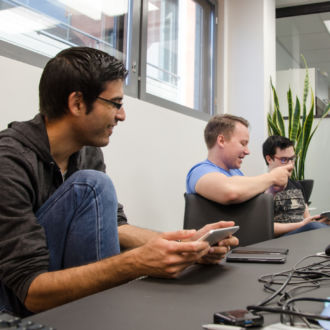 Finnish company produces competitive esports games for mobile phones
Founded in 2012 in Kajaani, Critical Force is one of the few companies in the world that develops electronic sports games for mobile devices.