How many allies are there for the USA?
USA and Germany: 500 more soldiers
It is a clear departure from the policy of his predecessor: On his first visit to Germany since taking office, US Secretary of Defense Lloyd Austin announced that he would station another 500 soldiers in Germany. He said that after a meeting with his colleague Annegret Kramp-Karrenbauer in Berlin. The soldiers are to be stationed in the Wiesbaden area. "These troops will strengthen deterrence and defense in Europe," Austin said.
The previous US administration under Donald Trump announced the withdrawal of 12,000 soldiers from Germany last summer. That should now have finally been done.
Regain trust
Secretary of Defense Lloyd Austin's visit is part of a four-stop tour of key allies. It is one of several recent virtual or face-to-face meetings between members of the Biden administration and their European counterparts. They are part of a broad diplomatic effort to re-establish the United States as the leader in global stability and to reassure nervous allies shaken by the often dismissive, sometimes harassing, tone of the previous Trump administration.
The visit comes at a time when pressure is palpable on several fronts. Russian troops seem to be gathering on the border with Ukraine. Israel is suspected of sabotaging an Iranian uranium enrichment facility. The deadline for withdrawal from Afghanistan is expiring.
Easy solutions to these and other global security problems are in short supply, and partners remain divided on some of these issues. Still, both sides say they have an obligation to work together.
"German and American soldiers stand side by side in a number of operations," said a spokesman for the German Defense Ministry in a DW statement prior to Austin's visit, describing the German-American partnership as "strong and growing".
Austin's meeting with Defense Minister Annegret Kramp-Karrenbauer and other German defense and security officials was intended to "reaffirm the value that the United States attaches to bilateral defense relations with one of our closest NATO allies," according to a statement by the US Defense Department.
Disagreement with Russia
The US also wanted Germany to "fight the ominous influence of our mutual strategic rivals" - an allusion to Russia and a point of contention between the two sides.
Like Trump, incumbent US President Joe Biden is against Nord Stream 2, an underwater gas pipeline that could double Russian natural gas sales to Germany. Biden called it "bad business" for Germany and is likely to continue the sanctions policy from the Trump era.
The German government defends the project as a commercial deal that is detached from geopolitics. The USA and many of Germany's European allies consider this to be naive and fear that it will undermine climate goals and endanger both German and European security. Critics want to cut off Russian state coffers, which can finance the saber rattling in Ukraine and elsewhere, from a potentially lucrative source of income.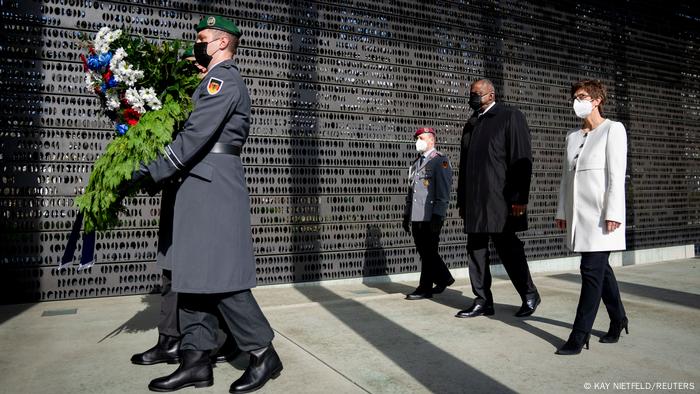 Austin and Kramp-Karrenbauer remembered soldiers who died at the Bundeswehr Memorial in the Bendler Block
In Berlin, Kramp-Karrenbauer has now signaled to her colleague that she is accommodating on the subject. She said that if the pipeline was to be completed, the amount of gas transported would also have to be made dependent on Russia's behavior. Foreign ministers Heiko Maas and Antony Blinken had already recently agreed at their first meeting in Brussels to remain in talks about a solution to the conflict.
Defense spending is another holdover from the Trump years and the Obama years before that, when Joe Biden was Vice President. According to NATO figures, Germany has increased its defense budget by around a third since 2013, but will have to spend even more in order to achieve the agreed two percent of gross domestic product by 2024.
Among the NATO members, Germany ranks below average when it comes to defense spending. It's also one of the few members who doesn't hit a lesser-known metric - namely, that 20% of spending is spent on equipment.
The question of the Greens
After his visit to Berlin, Austin plans to travel on to southern Germany, where the European and African commandos of the US military are located. Germany hosts one of the largest contingents of US troops outside of the US, and their decades-long presence is widely supported for symbolic, security, and economic reasons.
However, not everything is perfect. In German post-war history there has always been a strong anti-war and anti-nuclear power movement that is closely linked to the up-and-coming party "Bündnis 90 / Die Grünen", as well as to the Left Party. The Greens are currently in a strong position to join or possibly lead the next government after the general election in September.
Hosting US troops in one's own country also means toloning operations such as B. drone attacks carried out by US forces on German soil, which causes many Green members a deep discomfort.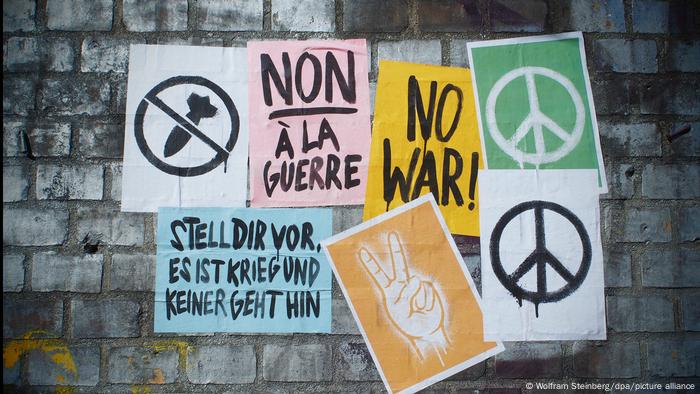 The peace movement has many supporters in Germany
The election manifesto of the Greens broadly supports NATO and transatlantic relations, but at the same time calls for a Germany free of nuclear weapons. That would thwart US military planning and contradict NATO's policy of nuclear participation.
The party program of the Greens also rejects the 2% spending guideline as "arbitrary". Instead, the party calls for a "fair burden-sharing".
The Greens are skeptical of Germany's future role in Afghanistan. In March the Bundestag voted to extend NATO's mission in Afghanistan. The majority of the Greens group voted against or abstained.
Speaking at a press conference last month, Biden said the U.S. does indeed plan to withdraw its own troops at some point, but likely not by May 1.
This text has been translated from English.