Typical Indonesia: You should get used to this when traveling through Indonesia
For a long time I thought everyone should go Indonesia to travel! The country had grabbed me so much that even today, a few years later, I can't stop raving about it all the time. However, it is also becoming increasingly clear to me that you have to and should get used to a few things in Indonesia if you want to immerse yourself in the country and soak it up completely (which I can basically still advise everyone). Things that are simply "Typical Indonesia" are.
---
1) Typical Indonesia: The small talk
One reason why it is not that difficult and takes a long time to learn Indonesian is the same small talk over and over again.
You shouldn't be disrespectful in Indonesia and ignore it, and most importantly, you shouldn't see it as meddling in your personal world.
Be in Indonesian small talk especially the following questions every time you meet someone new:
Where are you from?
Where do you want to go
How old are you?
How long have you been in Indonesia?
Can you speak Indonesian yet?
Are you married?
If not, do you have a boyfriend?
Do you have children?
If yes, how many?
In travel guides you sometimes read that the question of whether you can already eat rice is more common. I was asked this question exactly once in 3 months.
---
2) Typical Indonesia: rice
Which brings us to the next topic: The rice.
The Indonesians mainly eat rice, for breakfast, at noon, for dinner and as a snack in between.
Although from a European point of view rice is omnipresent in other Asian countries and has long since found its way into our own kitchen, Indonesians do not yet fully trust that we know what rice is sensible and how to eat it.
There are also alternatives to rice, for example Tofu or tempeh, when you travel through Indonesia you will still not get past various rice dishes.
By the way, I could add a lot to the list of typical Indonesian food - that must be in a separate article ;-).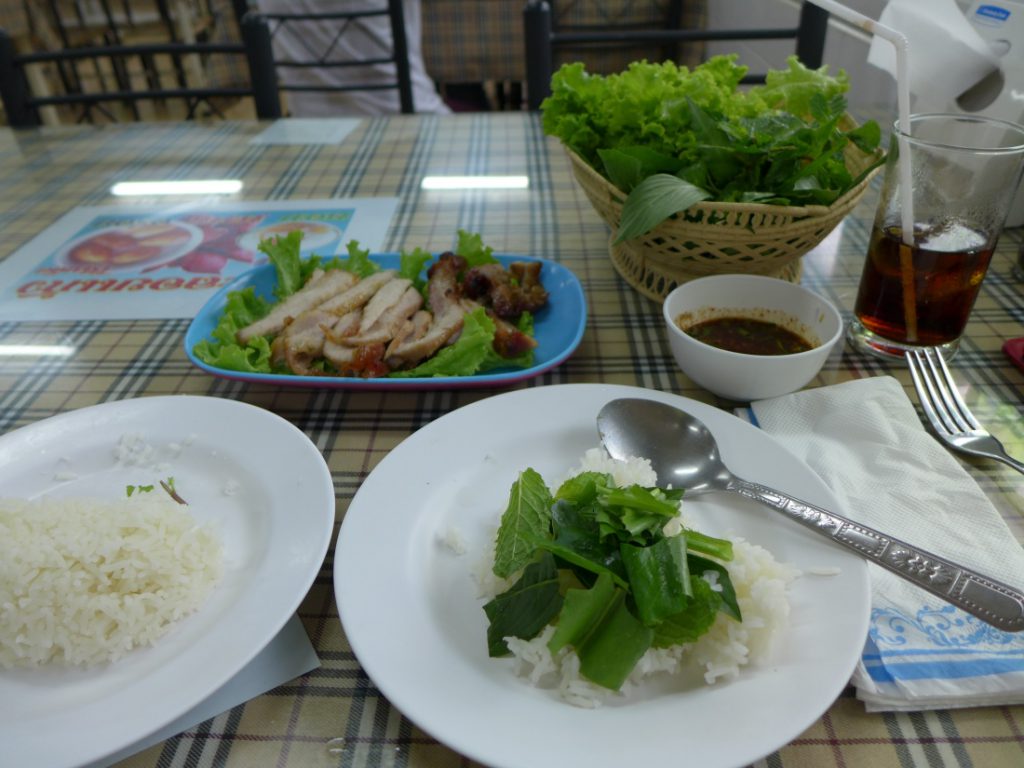 ---
3) Typical Indonesia: chaotic traffic
The main modes of transport in Indonesia are motorcycles. Which makes sense, after all, you can still get past and through with them somehow and everywhere.
Sometimes there are two lane roads. The strip in the middle actually only serves to drive on it and to overtake other vehicles over it in the slalom or to be overtaken. And then there are also the sandy strips next to the streets to avoid.
LoudHonk Of course you shouldn't forget. This has no acute "warning function" in Indonesia, but rather a signal that one exists. * Huup Huup * - I'm overtaking you. * Huup Huup * - I come around the corner. * Huup Huup * - Hello everyone!
Kind of nice.
At the same time also quite nice chaotic and also not entirely harmless. Every day around 8 people die in traffic in Bali. Often tourists who are not used to the traffic and almost always motorcyclists.
The funny thing about it: As a passenger, you get used to the wild frenzy so quickly that with one meter of space to the next car you would like to tell the whole world about this miracle in Indonesian traffic. Somehow everything is not so dramatic anymore.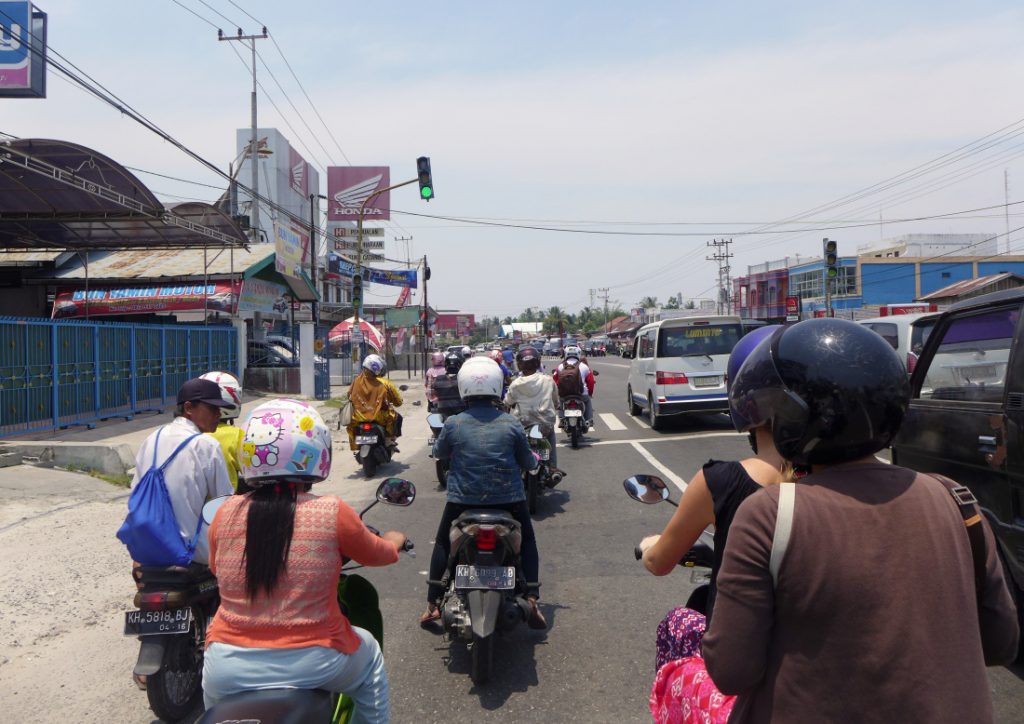 ---
4) Typical Indonesia: You are a star
There is one thing you can always rely on in Indonesia: You are as Westerners pretty interesting. If you also have blonde hair and light skin, you are the star par excellence.
Well, I'll pretty much kill it ...
Conversely, however, this also means that you are constantly around photos are asked. After 3 months in Indonesia, a couple of dozen pictures of me surely circulated on Facebook, in WhatsApp conversations or on cell phone memory cards.
I have never experienced the question of the snapshot as impolite, but in the long run it can sometimes be annoying. If in doubt, simply refuse in a friendly manner.
---
5) Typically Indonesia: traveling by bus is an adventure
And for various reasons.
First of all, little consideration is given to passenger transport speed taken. Then it goes up or down various mountains and whoops, the first one picks up the bag. It then just flies out of the window. Well, at least the bus doesn't smell that bad.
The Indonesians are apparently always well prepared for such cases - there was never a shortage of bags on the buses, but there was always a great need for them.
Second are the buses in Indonesia really comfortable. And I'm not talking about some legroom or a monitor in the front seat (which unfortunately doesn't exist). I'm talking about the seats that you can fold out completely and stretch your legs.
This is how you can really endure hours of journeys on thick, soft upholstery.
Thirdly, it's time to cool down properly here. While in the humid heat in Indonesia you sometimes don't want to leave your accommodation at all or just lie by the sea, you sometimes almost want them to be there on the buses. The Air conditioners work just great in Indonesia.
A thick sweater, scarf and possibly even socks are recommended in any case.
And last but not least, the Indonesian buses always have the honor of Indonesian music to listen. If you want or not. Yes, the loudspeakers in the buses also work extremely well.
After all, you never forget which country you are in (as if you could otherwise), and to be honest you don't even want to drive the bus without the music at some point.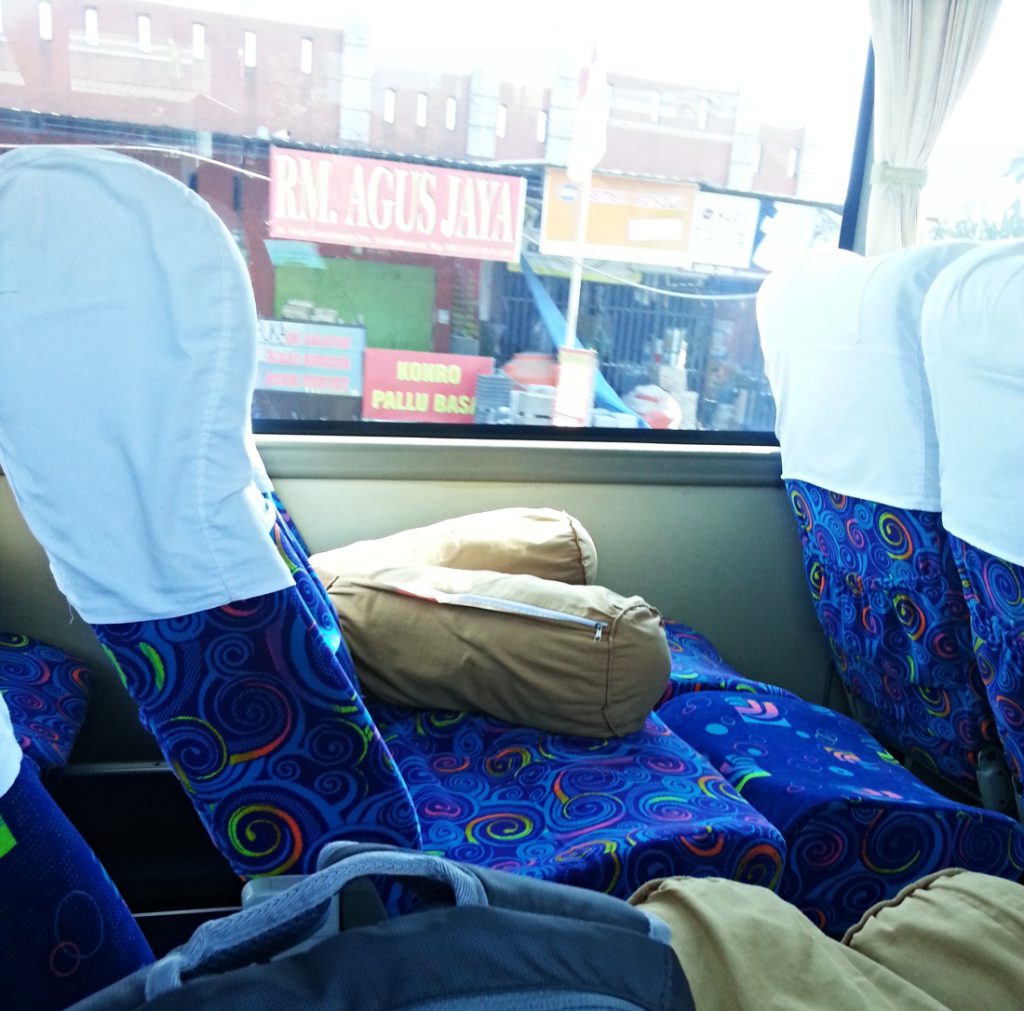 ---
6) Typical Indonesia: A "no" is considered impolite
Indonesians don't like to say No. There are regional and cultural differences, but in general you should expect that you will hardly ever hear a no.
This can lead to confusion when you ask for directions or ask a yes / no question. The Indonesians often dig for theirs Paraphrasing skills or they will just organize someone for you who can give you a correct answer to your question.
---
7) Typically Indonesia: The sanitation-saving measure
Indonesia is big and huge, diverse and different everywhere. However, if you want to experience the real Indonesia, you will recognize that the Sanitary facilities often not quite what we find in the bathroom in our German homeland.
And even if you don't want to experience that, you will probably encounter it sooner or later.
On the one hand there are those Squat toilets. If you are unlucky even more likely to have a hole in the floor than something that looks like "squatting" or "toilet".
Soft, fluffy toilet paper is usually searched in vain. Instead, there are large buckets of water and ladles and your own hands. Or something like that.
A tube is therefore essential for the sensitive Disinfectant gel in the luggage
On toilet paper You should do without it in Indonesia anyway, because it not only clogs the squat toilets, but also the toilet pipes. The sewage system in Indonesia cannot do that at all. If so, it should Toilet paper in the trash can land. After all, they are also regularly taught in the accommodations, there is no unpleasant smell.
For all the critics, the "Oh God, how disgusting" -sayers, those who can literally see bacteria: The squat toilets are not only healthier, but also more hygienic than our western toilets!
Sometimes you can also find "real" toilets, but without flushing. A strange mean thing.
In addition to the toilets, you should get used to the Indonesian showers: The Mandis.
Again: a big one Ton of water under the tap and one ladle or a small bucket are used for personal hygiene. Needless to say, the water is natural cold is not true?
At the beginning it was a big effort, you quickly get used to the basement shower once you have got used to the temperatures in Indonesia.
Yes, you even come to love her. You are in no time at all awake, a little cooled down, well supplied with blood and feels fresh all around. And you get clean with it too - don't worry.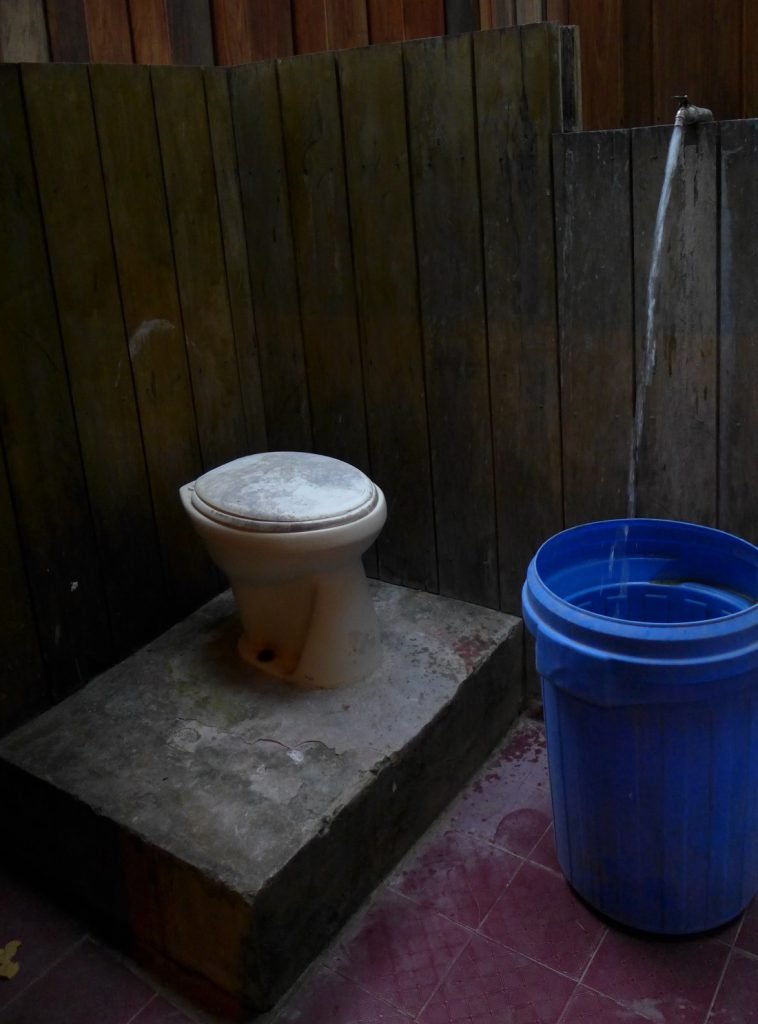 ---
8) Typical Indonesia: negotiating
The prices are flying. 120 - no, 80, - for 110 you get it - I'll give you 90! We're talking about thousands - IDR 120,000 (Indonesian rupees), IDR 80,000, and so on. With prices like this, it is usually about bigger items, maybe a pair of pants or a sun hat.
But also with bananas in Indonesia negotiated, or when riding the becak, the Indonesian rickshaw. It can really be about cents. Whether you pay IDR 10,000 or IDR 6,000 for a bunch of bananas doesn't really matter to us, but it is part of shopping in Indonesia.
Indonesians love to negotiate.
Very important: Try to be fair. Don't think that you can get everything for ridiculous prices - the Indonesians will put a stop to that too. You are allowed to participate 40-50% Start under the first price mentioned, then ultimately you meet somewhere in the middle.
If you travel longer through Indonesia, you will quickly get a feeling for how much money what should cost. And treat yourself to 5,000 to 10,000 IDR more, it doesn't hurt at all and the seller is happy.
---
9) Typical Indonesia: street stalls
Anyone in Indonesia eat authentically would like, should adhere to the numerous Street stalls and open, simple restaurants do.
Restaurants as we know them are geared towards tourists and really often taste less good. If there's pizza or noodles with tomato sauce, or a "juicy burger", you know that you can't expect good Indonesian quality here. And you still pay double.
So, the tastiest food in Indonesia - and it's really delicious - is on the streets. Where you sit on stools, at long tables with plastic tablecloths and a jug of water on the table, often without cutlery. Napkins must have been invented for this.
You can then get something to eat Sambal Oelek indulge or Kecap maniswho have favourited Sweet Soy Sauce.
By the way, I had the only stomach upset in 3 months in Indonesia after a meal in a restaurant. The street stalls have all let me go unharmed.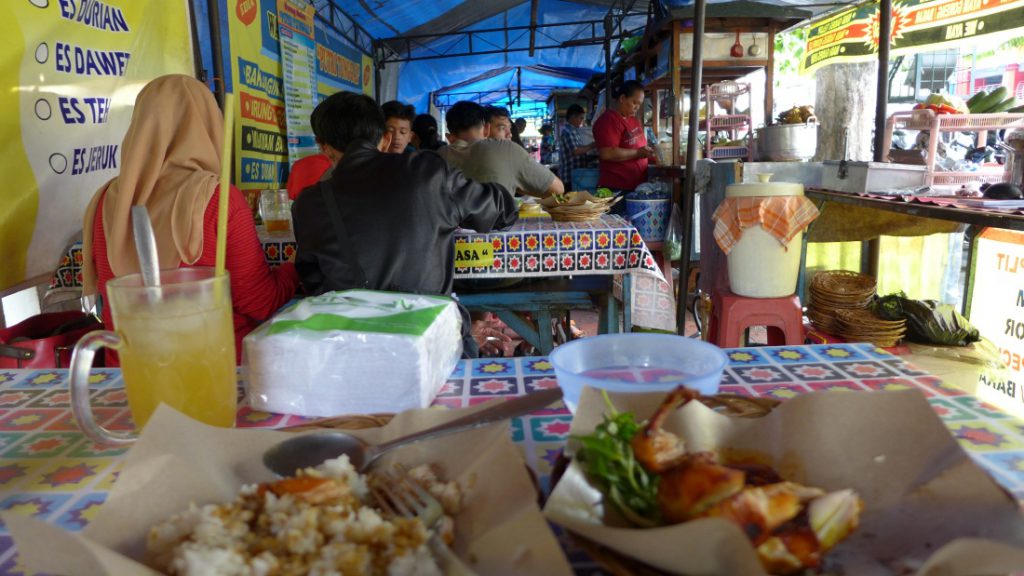 ---
10) Typical Indonesia: Spicy food
Sharpness is just as much a part of Indonesian food as the rice mentioned above. At the beginning of a trip to Indonesia you should be careful what you order and rather ask again how or whether the food is spicy.
I had my highlight in hotness after a month in Indonesia. I had avoided spicy food for 4 weeks because I always thought I didn't like it at all.
Then I was with a couch surfing family and there were small, crispy fish in the evening. "A bit spicy," announced my hostess. I bravely dared to try the snack (which was of course served with rice).
I just had the fish in my MOUTH when it almost heated my tongue away. Even the smallest sweat pore on the body opened, the blood circulation switched to maximum performance. Man, that was uncomfortable. Although afterwards I often went to spicy food, including what was declared as "very spicy" in Thailand, my body never got into such a crisis again. Don't worry: Absolute extreme example.
Otherwise, the Indonesian hot is namely delicious. It is one tasty sharpness, usually well dosed rather than one that just hurts.
---
11) Typical Indonesia: (sultry) heat
Indonesia is in tropical climatewhich means it's there mostly hot and humid is. This can be a bit exhausting at the beginning, if you are not at the sea, where you can cool off wonderfully in the water.
Beverages containing electrolytes (for example Procari sweat, which can be found almost everywhere in Indo) help immensely against general and circulatory weaknesses.
After 3 months in Indonesia I can say that you get used to the climate and really learn to appreciate the humid warmth.
In Borneo, for example, it can be in summer at the same time be so dry that there are numerous Fires gives. Some of these begin purposefully as a deforestation measure to instead Palm oil plantations However, due to the drought, they then spread in an uncontrolled manner.
Air pollution then rises to extremely critical levels, so that some elderly, young mothers with children or the sick leave the island to protect themselves from the worse. As long as they can afford it, of course.
Unfortunately, you have to be prepared for this side of the climate as well.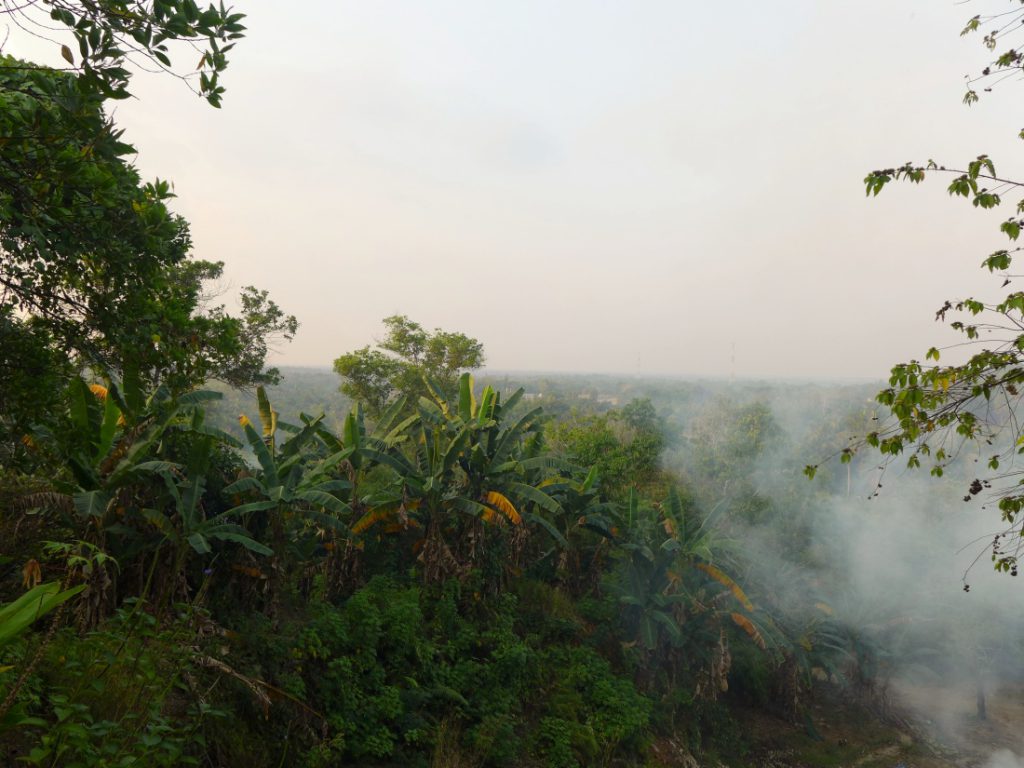 ---
12) Typical Indonesia: smile
The Indonesians can shine, I'll tell you! Sincere, warm and warm. Often you don't have to do a lot for it, it is enough for your eyes to meet.
When that happens, smile back. Or just sweeten your day yourself by starting with a smile and enjoying all the many smiling faces that answer you.
Almost anything in Indonesia can be solved with a friendly smile.
---
13) Final words
Sounds like I'm warning of Indonesia? Not even close! The country is Great, especially because of the people, the versatility, the food, everyday life, the spirituality, oh, just great. Only you should not too naive and with excessive luxury claims go on a trip to Indonesia. Especially not as Backpacker. However, if you realize this, Indonesia will blow you away - for sure!
More articles on Indonesia:
♦ Malaria in Indonesia: How you can protect yourself from it
♦ The fascination of the volcanoes: Gunung Ijen and Gunung Bromo on Java
♦ My 5 personal Bali highlights
♦ Which clothes you should (not) pack for Indonesia
♦ My dream island number 1 - The Togian Islands in Indonesia
♦ Indonesia: The country that took my heart by storm
What else is "Typical Indonesia" for you? What do you think you have to get used to in Indonesia, what was strange for you at first? What is the other way round for you that stands out positively? I look forward to your comment!
Marked with heat, squat toilet, indonesia, smile, mandi, motorbikes, rice, sultry, small talk, street restaurants, typical indonesia, negotiation, traffic