Ex-US Secretary of State Shultz dies at 100
Shultz, who was the chief diplomat of the United States under then-US President Ronald Reagan, died at the age of 100. This was announced by the Hoover Institution - a think tank of the renowned Stanford University, to which Shultz belonged.
For several decades, George Shultz was one of the most prominent Republican presidents in the United States. Under Richard Nixon, a graduate of Princeton University and the Massachusetts Institute of Technology (MIT), he became Secretary of Labor in 1969. He later moved to the White House as an influential budget director and then worked as Treasury Secretary.
Escape from Watergate
In March 1974 Shultz resigned to avoid falling into the quagmire of the Watergate affair - the scandal surrounding the break-in of the Democratic Party headquarters that forced Nixon to resign in August 1974. In 1982 Shultz became Secretary of State under Ronald Reagan.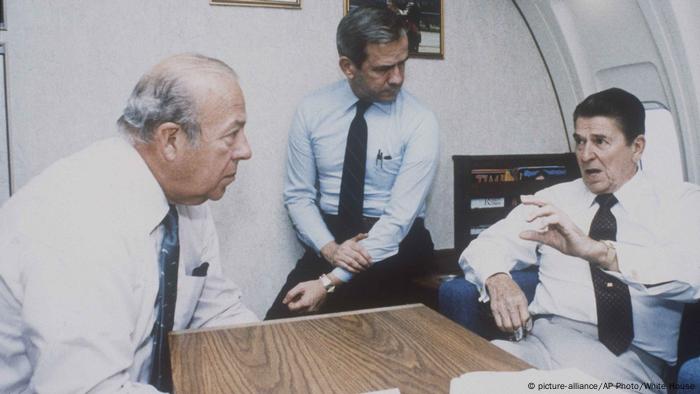 George Shultz (left) with Security Advisor Robert McFarlane and President Ronald Reagan on Air Force One in 1983
In 1989, Shultz left the government but remained a Republican Party strategist. He also taught international economics at Stanford University.
Shultz's major accomplishments as Secretary of State include his diplomatic achievements, which helped bring the Cold War to an end. Former Republican Secretary of State Condoleezza Rice praised Shultz as a "great American statesman" and a "true patriot" who "made the world a better place".
haz / ehl (afp, dpa)