What does allantoin do to the skin
Allantoin

Drug groups

Dermatics / Keratolytics Allantoin is an active ingredient from the group of dermatics and keratolytics. It occurs in plant and animal organisms as the end product of the purine metabolism and is formed from uric acid. Allantoin is used externally for skin and scar care, for wound treatment, against skin diseases and as a cosmetic. It is often found in medicinal products to promote the penetration of active ingredients through the skin.
synonym: AllantoinumPhEur
Products
Allantoin is found in creams and ointments for external use and in numerous cosmetics and body care products.
Structure and properties
Allantoin (C.4H6N4O3, Mr = 158.12 g / mol) is a racemate and belongs to the group of imidazolidines. It is a white, crystalline powder and is odorless and tasteless. It is sparingly soluble in water.
Allantoin is an end product of the purine metabolism in plant and animal organisms and is formed by the uricase enzyme during the oxidative breakdown of uric acid. It occurs naturally, for example, in wallwort, maple, salsify, beets, horse chestnuts and in wheat germ.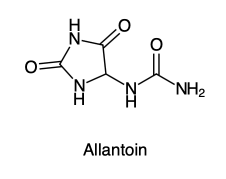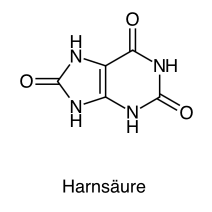 Effects
Allantoin promotes cell proliferation, epithelial formation and removes necrotic tissue. It has anabolic, antioxidant, moisturizing, smoothing, keratolytic, penetration-promoting and antimutagenic properties.
Indications
Allantoin is used externally for wound treatment (cuts and burns, ulcers, eczema, etc.), for skin care, against skin diseases and for scar care. It is often found in medicinal products to loosen up the skin and make it easier for the active ingredients to penetrate.
dosage
According to the package insert.
Contraindications
Allantoin is contraindicated in case of hypersensitivity. The complete precautionary measures and information on interactions can be found in the product information sheet.
unwanted effects
Possible adverse effects include hypersensitivity reactions.
see also
Scar ointments
literature
Medicinal product information (CH)
Araújo L.U., Grabe-Guimarães A., Mosqueira V.C., Carneiro C.M., Silva-Barcellos N.M. Profile of wound healing process induced by allantoin. Acta Cir Bras, 2010, 25 (5), 460-6 Pubmed
Campanati A., Savelli A., Sandroni L., Marconi B., Giuliano A., Giuliodori K., Ganzetti G., Offidani A. Effect of Allium Cepa-Allantoin-Pentaglycan Gel on Skin Hypertrophic Scars: Clinical and Video-Capillaroscopic Results of an Open-Label, Controlled, Nonrandomized Clinical Trial. Dermacol Surg, 2010, 8 Pubmed
Cosmetics textbooks
swell
Römpp Thieme online
Shestopalov A.V., Shkurat T.P., Mikashinovich Z.I., Kryzhanovskaia I.O., Bogacheva M.A., Lomteva S.V., Prokof'ev V.P., Gus'kov E.P. Biological functions of allantoin. Izv Akad Nauk Ser Biol, 2006, 5, 541-5 Pubmed
Author and Review
Conflicts of Interest: None / Independent. The author (SR) has no relationships with the manufacturers and is not involved in the sale of the products mentioned. Review: AV
additional Information
Online advice
Our online advice service PharmaWiki Answers will be happy to answer your questions about medication.
Support PharmaWiki with a donation!
© PharmaWiki 2007-2021 - PharmaWiki provides independent and reliable information about medication and health.
This article was last changed on 1/30/2020.
Imprint and data protection declaration
Show products for this page