Bangalore school kids go to class
School closings and lockdowns in India The psychological consequences for children are serious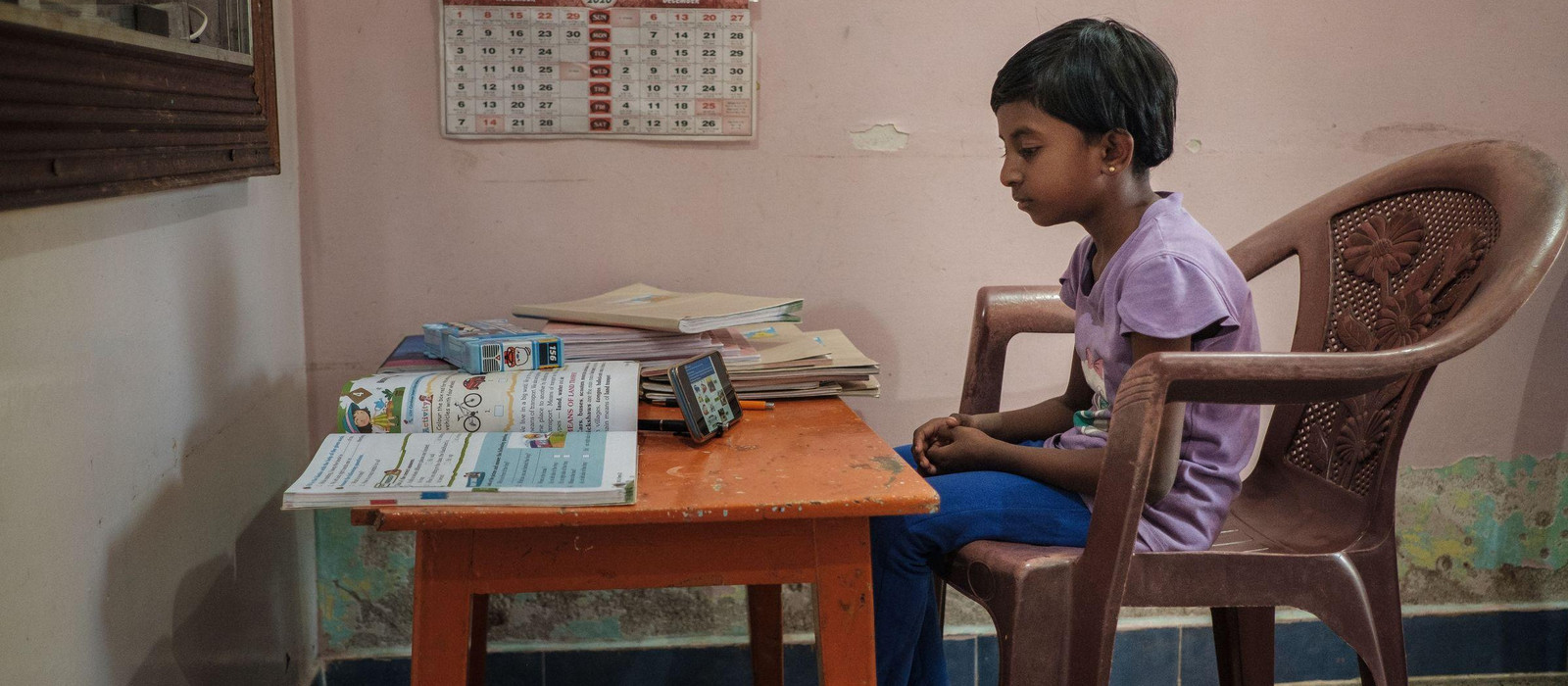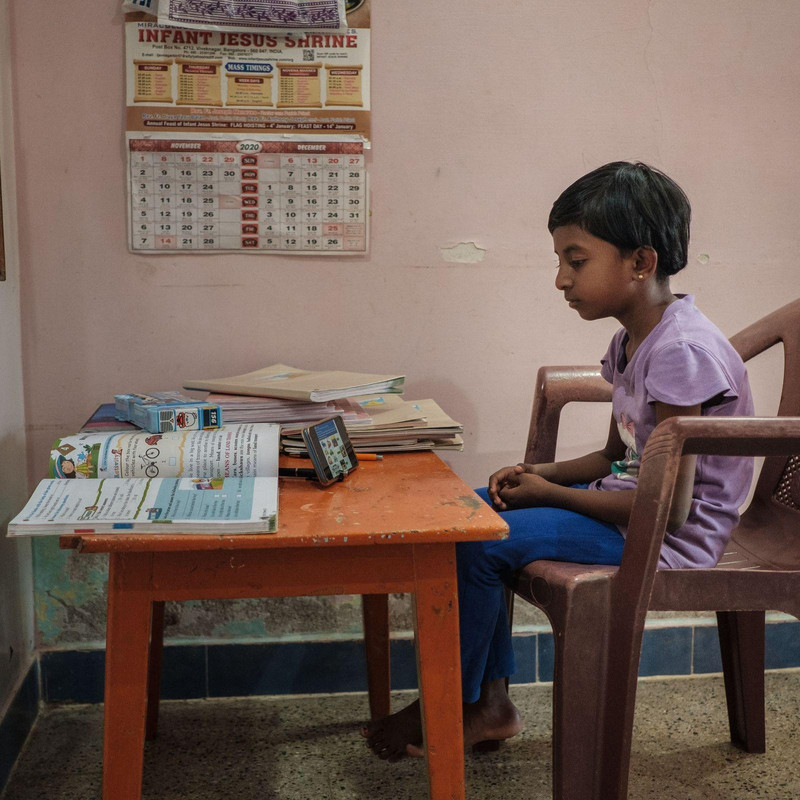 In focus:
Schools in India have been closed for almost a year due to the corona pandemic. Don Bosco Mission Bonn commemorates the fate of these children and young people on the occasion of the UN Education Day on January 24th.
Since March 2020, the state schools in India have been closed due to Corona. Some schools offer digital lessons. Online teaching is likely to widen the educational gap in the country. Less than ten percent of families with school children have a computer and the Internet at home. But not only is the educational gap widening, but also the psychological disorders in children and adolescents, such as depression, threaten to increase.
The shattered dream of educationSampath * 13 years from India
No smartphone - no lessons - no future?
Sampath * cannot take part in online classes. There is only one cell phone in his family and his oldest brother needs that. When the brother leaves the house early in the morning, he takes the cell phone with him. He needs the cell phone for his work. He doesn't return home until late in the evening. For his two younger brothers, this means that they have no way of taking part in digital lessons or watching educational videos.
The brothers spend the day at home, in a one-room apartment. There they live with their mother and grandmother. Sampath is depressed because he had big plans. The 13 year old wanted to become a computer scientist. Now he's already lost a whole school year. The future without access to education is uncertain.
* Name changed
Socially dependent
For a large number of children in India, digital teaching is no alternative to face-to-face teaching, as they neither have a smartphone nor a computer or a stable internet connection at home. These children feel socially dependent and are extremely stressed psychologically. There are also financial problems as many parents have lost their jobs.
Empower children
The Salesians of Don Bosco and the Don Bosco Sisters know how difficult the situation is for young people. That is why they stand even closer by the side of the children and young people in these difficult times. The Don Bosco sisters in Bangalore support the so-called children's parliaments. "The boys and girls should learn how democracy and parliamentary structures work. Then they can also claim their rights and belong to the political leaders of tomorrow," says Sister Rosy Lopez FMA with certainty.
Further background information on the topic: Interviews & Stories
"The children feel lost"
Interview with Sister Rosy
Due to school closings in India, most children and teenagers have to stay at home all day. Don Bosco's sister Rosy Lopez from Bangalore explains what the consequences are.
"I want to go back to school"
Tanya from India
In the lockdown, some schools in India are offering digital lessons. This is a challenge for many families. Tanya and her sister only have one smartphone that they have to share.
Your contact person:
Kirsten Prestin Public Relations Officer
Write e-mail
0228-53965-70

To ask?
The Order of the Salesians of Don Bosco and the Don Bosco Sisters have set themselves the goal of helping disadvantaged young people in risk situations around the world. You are committed to a better world with more future opportunities for children and young people in socially disadvantaged areas. Don Bosco's work is considered to be the greatest ecclesiastical creation of the 19th and 20th centuries. Today around 15,000 Salesians from Don Bosco are mainly active in youth work in over 1,800 branches in 132 countries.
Don Bosco is the name of the Italian priest and pastor Johannes Bosco, who campaigned for the youth more than 150 years ago. The young people of Don Bosco's time lived under different circumstances than today's youth, but many problems and challenges have remained the same. Even today, many young people still live on the margins of society. It is difficult for them to participate in society and to build a future for themselves. That is why the name Don Bosco today stands for a global network with a successful and proven pedagogical approach that supports the concerns of children and young people.
Don Bosco Mission Bonn supports projects by the Salesians Don Bosco and the Don Bosco Sisters in around 80 countries. Priority countries are:
Africa: Democratic Republic of the Congo, Ghana, Ivory Coast, Kenya, Madagascar, Rwanda, Zambia, Sierra Leone, South Africa, South Sudan, Uganda.
Asia: India, Myanmar, Philippines, Vietnam
Oceania: Papua New Guinea, Solomon Islands
Latin America: Argentina, Bolivia, Haiti, Colombia, Peru
Middle East: Egypt, Jordan, Lebanon, Syria, Turkey
Eastern Europe: Albania, Moldova, Romania
You can find an overview in our Country map.
In our projects we support children and young people around the world who live on the fringes of society or are at risk of being marginalized. There are many reasons for this: physical, mental or emotional impairments, a broken family of origin, drug experience, superstition, living in a slum, belonging to an excluded population group or based on ethnic or religious affiliation.
We are committed to helping young people in need - regardless of their ethnicity, gender, social origin or worldview.
So that the lives of these young people succeed!
Don Bosco Mission Bonn publishes its annual reports on the Internet. They can also be sent on request. The annual report provides information about the structure of Don Bosco Mission Bonn, the employees, the use of funds, as well as income and expenditure. If you have any additional questions, the donor service will be happy to provide you with information in a personal conversation on 0228-53965-20 or by e-mail to info (at) donboscomission.de.