Why do boxers wear gloves
Boxing gloves - you have to pay attention to this when buying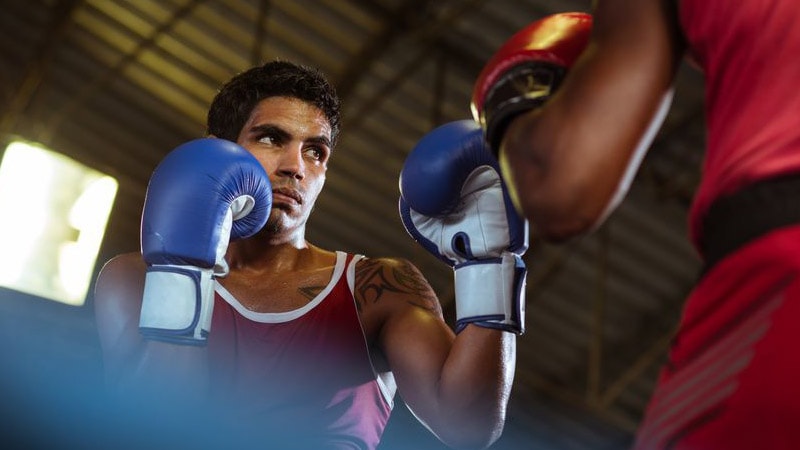 Boxing gloves are designed to protect both athletes from injuries in competition and when training on the punching bag.
Boxing is an interesting sport that trains both strength and endurance. This not only stresses the arms, shoulders and chest, but also the entire body, which has to undertake compensatory work. An important part of boxing are the boxing gloves, which are intended to protect both athletes in competition. They are also important when training, as their weight has a direct influence on the development of speed strength and endurance. Before you buy your boxing gloves, you should think about what you want to wear your new hand protection for. After all, simple gloves for light punching bag training or even heavy weight training gloves are not the same as a pair of boxing gloves for competition.
Boxing gloves in this article that we can recommend to you.
Top ten women boxing glove
Paffen Sport Allround ECO
Buy boxing gloves - what should be considered?
When buying boxing gloves, as with all other sporting goods, there are a few important things to consider. Ideally, you should think about what and how you want to use the gloves before you start your search. The general processing quality should ideally of course be as high as possible so that you can wear the gloves for a long time without them wearing out quickly. So the outer material is an important choice as it is naturally exposed to direct impacts during impacts. Real leather is a very high-quality material, but it is not inexpensive either. As an alternative, for example, artificial leather could be selected, which also looks chic, but can be a little cheaper. Of course, the inner material is also important, as this provides for the padding of your hands.
The wearing comfort should also be as high as possible so that you like to wear the gloves. In addition to the inner material, the size of the gloves is important and decisive for the wearing comfort. The gloves should be tight enough not to slip. Boxing gloves that are too large can be worn with bandages without them slipping. Boxing gloves are primarily specified or categorized according to their weight. Depending on the intended use, models with different weights are required, so this weight is one of the most important aspects when buying boxing gloves - we will go into this point in more detail in the next section. Other important details are the closure, i.e. whether the hand protection is laced or closed with Velcro, and the segment above and around the wrist, which is intended to give it additional stability.

By loading the video, you accept YouTube's privacy policy.
Learn more
Load video
Coach and amateur boxer Jochen Schmidt gives compact tips on buying boxing gloves in this video.
Boxing gloves what size should I buy?
There are two important pieces of information about boxing gloves:
the size (XS-XXL)
the ounce number (oz)
You can find out more about the count in the next section. As with normal gloves, the actual size of the gloves is given in sizes XS-XXL. The best thing to do is to try out which size fits you best.
Another point that is particularly important for women when choosing the right boxing glove is the shape of the cut. For many women, men's boxing gloves are too far. Below we describe what women should look out for when buying boxing gloves.
Boxing gloves - what does the "oz" indication mean?
One of the most important pieces of information about boxing gloves is their "oz" specification. This represents the weight of the gloves in ounces. The volume doesn't change too much in many models with different ounces. The information is therefore not only decisive for the weight, but also for the density of the materials used. The "oz" specification defines how dense and resilient a glove is. The higher this value, the stronger your own hands and your opponent will be protected from the blows. It therefore seems logical that training gloves have a higher "oz" value than competition gloves. On the one hand, this protects your training partner, and on the other hand, the greater weight puts more stress on your arms and you can train better and more intensively.
Boxing gloves 10 oz
Boxing gloves 10 oz are the most important gloves in Europe. These boxing gloves are used for competitions and are therefore the choice which boxers should be able to master best. Of course, if you only box for fun and occasionally do a little sparring with friends and training partners, you can opt for heavier models to be on the safe side.
Boxing gloves 12 oz
12 oz boxing gloves are slightly softer and heavier than competition gloves. They are therefore a good choice for training and also suitable for sparring. Here they are not too hard, but allow noticeable hits that toughen up for competitions. They are a great choice if you want to get used to real hits.
Boxing gloves 14 oz
The 14 oz boxing gloves are even softer and more cushioning than the 12 oz boxing gloves. These are primarily intended for training and, due to their higher weight, place greater strain on the arm muscles. They have been developed for intensive training and reliably protect your hand bones. Of course, you can also wear 14 oz boxing gloves for sparring.
Boxing gloves 16 oz
The 16 oz boxing gloves are the ideal choice to train your strength endurance. The heavy gloves strain your arms and ensure that you can permanently increase your striking speed while wearing them. You will notice this difference especially when you wear lighter boxing gloves again at a later point in time. These gloves are the safest choice for sparring because they are the strongest at weakening blows.
Boxing gloves made of leather - original oldschool
Boxing gloves made of leather are the classic boxing gloves and older models in particular were usually still made from real leather. Nowadays, many copies are made of synthetic leather, which looks no less bad and has some advantages during production. Of course, synthetic leather is cheaper, so you want to expect higher costs if you get real leather boxing gloves. Leather boxing gloves are usually harder than models made of other materials, so that your opponent will feel your blows more strongly. But if you want to rely on original boxing gloves, you will find good models made of leather. It should be mentioned here that many professional boxers and boxers with many years of experience rely on leather gloves, as these can last longer and do not differ too much from synthetic leather boxing gloves in terms of their possible hardness.
Professional boxing gloves - Klitschko and Co. box with them
For committed boxers, there are many high-quality models that are made in a convincing quality in the specialist sports trade. These specimens usually last a long time and have a good fit. Of course, when wearing professional boxing gloves, you have to pay attention to the correct size and a suitable bandaging of the hands. Real top boxing gloves cost a few hundred euros. For example, they are made of goatskin and filled with materials that have a dampening effect, but have a high knockout potential. It is rather questionable whether amateur athletes and recreational boxers need such gloves.
For competition boxers, however, these models can be a great opportunity to further improve their equipment in addition to targeted training. For professional boxing gloves, a lacing is absolutely essential because it lasts longer and is better in competition than a Velcro fastener. Here you have to keep in mind that you cannot put on a laced boxing glove on your own, but need someone to do the lacing.
Boxing gloves women - this is what women should consider when choosing boxing gloves
In principle, women do not need extra boxing gloves and could wear any suitable model. Here, however, the problem often arises that many normal specimens or specimens intended for men are too broad. The resulting imperfect fit is a disadvantage and not ideal for boxing. Boxing gloves for women, on the other hand, are made a little narrower so that they fit a little better. In theory, women can also see if they can find a suitable boxing glove for teenagers that fits them well. In this way you can sometimes even save some money, even if the right seat should of course have top priority next to quality. However, if you want to take boxing more seriously, you should be aware that women boxing is always boxed with 10 ounce boxing gloves in competitions and sparring.
Our recommendations - the best boxing gloves
Twins boxing gloves real leather
PER:
+ real cowhide leather
+ high quality material
+ very well processed
+ good durability
+ comfortable to wear - great fit
CONTRA:
- Typical leather is quite "heavy"
Exercises at home Test verdict: A typical boxing glove made of leather - very well made.
Product description:
The company "Twins Special" is particularly active in Muay Thai and is very experienced with over 60 years of company history.
With these boxing gloves, Twins offers a classic: This boxing glove is made from genuine - carefully selected - cowhide. It is available in 10oz, 12oz, 14oz and 16oz sizes. Due to the robust, heavy leather material, the Twins boxing gloves are very suitable for training on the sandbag.
---
Top ten boxing glove Ultimate Women Fight
PER:
+ 10 oz (ounces) = competition glove for women
+ special cut for women's hands
+ very well processed
+ good durability
+ comfortable to wear - great fit
+ many colors
CONTRA:
–
Exercises home test verdict: One of the few high quality boxing gloves for women.
Product description:
In parallel to the Superfight series, Top Ten also offers a model that is specially cut for women's hands. The boxing glove is very high quality processed. The fit is very good and the padding is perfectly coordinated. Definitely a recommendation for women who don't just occasionally box.
---
adidas boxing gloves Power 100
PER:
+ good fit
+ Material adapts well to the hand
+ good Velcro fastener
+ cheap / price / performance is very good
CONTRA:
- not particularly well made (for the
Price but OK)
- Material and seams quickly suffer from internal
sive training.
Exercises at home Test verdict: inexpensive boxing glove made of synthetic material, very good P / L ratio
Product description:
The "Power 100" model from Adidas is made of synthetic material. It hugs your hands right from the start and feels very comfortable. On the other hand, this makes the material much more "spongy", which is likely to bother experienced boxers in particular. For beginners and everyone who occasionally includes boxing in their training program, the Power 100 boxing glove from Adidas is an option that offers a top price / performance ratio.
---
BENLEE Rocky Marciano Boxing Gloves Training Gloves Rodney
PER:
+ available in 6,8,10,12,14 and 16 ounces
+ well processed
+ reasonable shelf life
+ comfortable to wear - very good fit
+ 6 different colors
CONTRA:
–
Exercises at home Test verdict: Inexpensive boxing glove that should not only convince Marciano fans.
Product description:
Boxing legend Rocky Marciano gives his name to this series of boxing gloves. The "Rodney" model is a good training glove for beginners and anyone who occasionally works on a punching bag. We like the fit very much. The processing is reasonable. As with almost all boxing gloves in the middle class with a good price / performance ratio, Marciano's "Rodney" model also has weaknesses in terms of durability when used intensively. If you regularly box intensively several times a week, you might be better off using the Twins boxing glove.
---
Paffen Sport Allround ECO boxing gloves for training and sparring
PER:
+ available in 10.14 and 16 ounces
+ well processed
+ Mix of leather (outside) and synthetic leather (inside)
+ Material mix ensures good durability
+ comfortable to wear - very good fit
CONTRA:
–
Exercises at home Test verdict: Inexpensive, durable boxing glove made of leather and synthetic leather mix, which is ideal for sparring and training on the claws.
Product description:
Paffen Sport works with a mix of leather and synthetic leather for the Allround ECO boxing glove. Real leather is used on the outside and synthetic leather on the inside. This makes the ECO relatively flexible and guarantees a good fit. At the same time, the real leather on the outer hand ensures good durability. The ECO boxing glove from Paffen Sport is designed for sparring and training with claws. You shouldn't use it for pure sandbag work.
---
KWON boxing gloves KO Champ
PER:
+ well processed
+ good fit
+ Price / performance in order
+ not too much and not too little foam
CONTRA:
–
Exercises at home Test verdict: good, inexpensive boxing glove made of leather.
Product description:
The manufacturer KWON is also very well represented in Muay Thai and in many other martial arts. The "KO Champ" model is sensibly processed and the upholstery feels neither too soft nor too firm.
---
BAY® TOTENKOPF (sweet skull) kids boxing gloves 4 6 8 10 oz
PER:
+ well processed
+ good fit
+ good Velcro fastener
+ Price / performance good
CONTRA:
–
Exercises at home Test verdict: solid boxing glove for children.
Product description:
The children's boxing glove from BAY is well made. The material is not too tight and the glove fits well. With children's boxing gloves, care should always be taken to ensure that the Velcro fastener is sensible, as the Velcro fastener helps to stabilize the wrist.
The sizes 4, 6, 8 and 10 ounces are usually available for children's boxing gloves. The manufacturer gives the following guidance:
4 ounces (approx. 3 - 5 years)
6 ounces (approx. 6 - 7 years)
8 ounces (approx. 8-12 years)
10 ounces (approx. 8-12 years)
---
More boxing equipment
In addition to boxing gloves, sportswear and matching boxing shoes, other boxing accessories are important for boxing. This can not only make training and competition easier, but also support the athlete's health. Boxing bandages help to fill out the boxing glove and protect the hand bones from injuries. Hand pads and punching bags are important for training. And of course there are completely different boxing gloves for other martial arts that involve punching.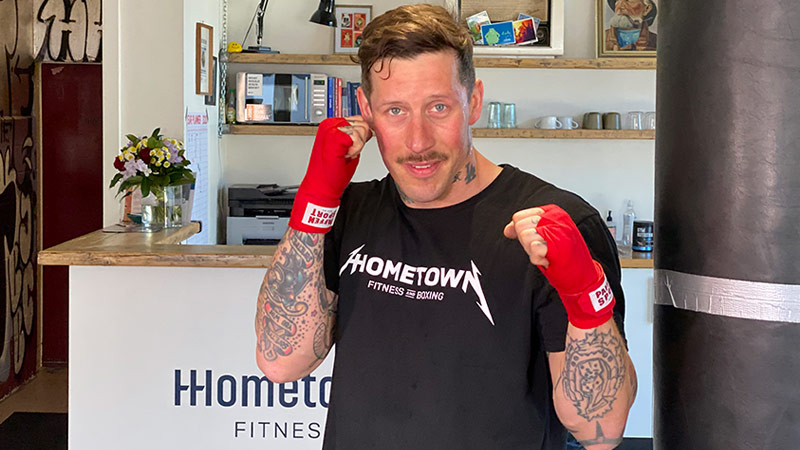 Boxing bandages protect the wrist and finger joints of one hand and also support the metacarpal area.
Boxing bandages
You wrap your hands and sometimes your fingers with boxing bandages to protect your ankles and metacarpal bones from fractures and sprains. In addition, the bandages should help to bring hardness into your punches. At the same time, they fill empty spaces in your boxing gloves so that they sit more firmly and non-slip.
Punching bag set
A punching bag is a central element of boxing training as you train your punches and your strength. The big advantage of a punching bag is that you can train alone without a partner. Beginners can also start well with a punching bag, as simple hits are sufficient for training and no more advanced techniques are necessary. You can also hang a punching bag at home if your blanket meets the requirements. A punching bag set is particularly interesting for beginners who want to buy all the things they need for boxing training. In addition to the punching bag, the punching bag set often contains suitable gloves, possibly a skipping rope for endurance training and sometimes other accessories.
Hand claws
Hand claws are striking objects that offer the trainee an open striking surface. The hand claws are held in the hands of a training partner and raised for the boxer's blows. The advantage is that the hand claws can be moved and thus simulate a real opponent or their moving target surfaces. This accessory is essential for advanced training.
Kickboxing gloves
Basically, kickboxing gloves are quite similar to boxing models. Finally, punches and kicks are performed in kickboxing. In general, conventional boxing gloves are often simply put on when kickboxing.
MMA boxing gloves
MMA boxing gloves are used in "Mixed Martial Arts" competitions, in which certain rules apply, but as the name suggests, different martial arts and styles are used. In addition to kicks and punches, throws and levers can also be used to defeat the opponent. With MMA boxing gloves you can grab your opponents, for example to survive in a ground fight. The fingertips are exposed in these gloves and the fingers are divided separately. At the same time, the ankles are particularly well padded in order to protect you adequately despite the comparatively light construction.
Conclusion
Boxing gloves protect your hands and your opponent
the "oz" figure indicates how many ounces the glove has
oz / ounces indicate the weight and density of the material, not the size (which is indicated in S, M, L, XL etc.)
Special women's boxing gloves make sense because women have finer and narrower hands and men's boxing gloves slip quickly
Other boxing equipment is boxing bandages, punching bags and claws