What is the life of American teenagers like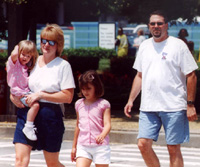 Photo by Lloyd Wolf for the U.S. Census Bureau
Belonging to a family is a bond that almost everyone around the world shares, but family structures vary greatly from country to country. There are many different types of families in the United States, but the traditional structure of the American family - mother, father, and children - remains largely intact as the new century begins. But in the past few decades American society has seen changes in family composition and in many other aspects of daily life due to a variety of factors ranging from new advances in science to workplace design. Single parents, adoptive families, step-parents, fathers who look after the children at home, grandparents who raise children, these are just some of the new stones in the American family mosaic.
What is everyday life like for children or young people in the USA?
A normal American child spends about six hours a day, five days a week, 180 days a year in school. In the United States, children start in preschool when they are four years old or younger, followed by kindergarten at around five years of age. School offers American children much more than just academic education. More than 80 percent of all students take part in extracurricular activities at the school, e.g. sports, school newspapers, theater groups, discussion groups, choirs and school orchestras.

American children spend a lot of their free time watching TV, listening to music, or playing computer games, but many also work after school. A recent survey showed that nine out of ten teenagers surveyed either had a job or would like to have a job. Child labor laws place restrictions on the types of work that a young person under the age of 16 can do. Many young people work by the hour on weekends or after school in fast food restaurants, take care of neighbors' children as "babysitters", work as delivery drivers or in shops.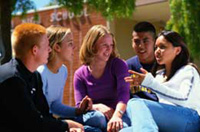 Teenagers chat in front of their school
Many young people are also involved in charitable community organizations or in the church and other religious communities. Still others belong to youth groups, such as Girl Scouts or Boy Scouts, where they can learn civics, acquire craft and art skills, and learn about camping and other outdoor activities. Thousands of young Americans volunteer to help care for the elderly, the disabled, and patients in hospitals or to help protect the environment. While the lives of most American children and adolescents are free from serious conflict, young people are exposed to many types of stress. Peer pressure, changes in family relationships, moving house, unemployment and school problems can lead to alcohol or drug use, refusal to go to school, run away from home, teenage pregnancy or juvenile delinquency.
See also
About the USA> Society> Demographics
About the USA> Society> Education


PBS Documentaries Looks at 'Generation Next "
The 42 million 16- to 25-year-olds in the United States - roughly 14 percent of the population - will have a major impact on American society as they rise into adulthood. In a series of profiles on NPR's Morning Edition and PBS's NewsHour with Jim Lehrer, Judy Woodruff looks at what makes Generation Next different from its predecessors.
As a follow-up to the first documentary on the challenges facing Americans 16-to-25 years old, Judy Woodruff and the team have put together another hour of reporting. This new documentary, called "Generation Next 2.0," profiles seven young people, their views on society and outlook for the future.
American teenagers. eJournal July 2005 (America.gov)
What do American teenagers have to say about their lives, values, hopes and dreams? The essays and reflections in this e-journal give a glimpse into some of the many ways a teenager's day might unfold in the United States, as well as an insight into his or her goals, ambitions, and concerns.
Photo Gallery: Rite of Passage
Images from graduation week at a high school in the state of Virginia reflect activities common to high schools throughout the United States. Graduation week brings with it a mix of feelings and emotions for those who are about to depart school.