Are engineering students really unemployed?
Lack of engineers in Germany - yes or no?
For a number of years it has been heard time and again that there are not enough skilled workers or a lack of engineers in Germany. This topic is often discussed controversially in the media. It is not always easy to interpret the many different numbers.
The job market shows: Engineers are wanted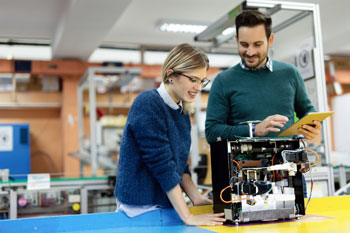 Modern industrial society needs qualified engineers as much as air is necessary to breathe. The technology has become so complex in its diversity and individual construction that it requires a lot of experts who know what is behind things. Engineers are still being sought even in difficult economic times. The unemployment rate among engineers has long been consistently low: it is often only half the average overall unemployment rate.
A few years ago everyone agreed: Germany suffers from a shortage of engineers. Today the statements about it have been put into perspective. But engineers are still urgently needed: In the last quarter of 2017, over 80,000 engineering positions were vacant in Germany, but there were only 24,000 engineers looking for a job. The following graphic shows in which areas the labor market is particularly looking for skilled workers: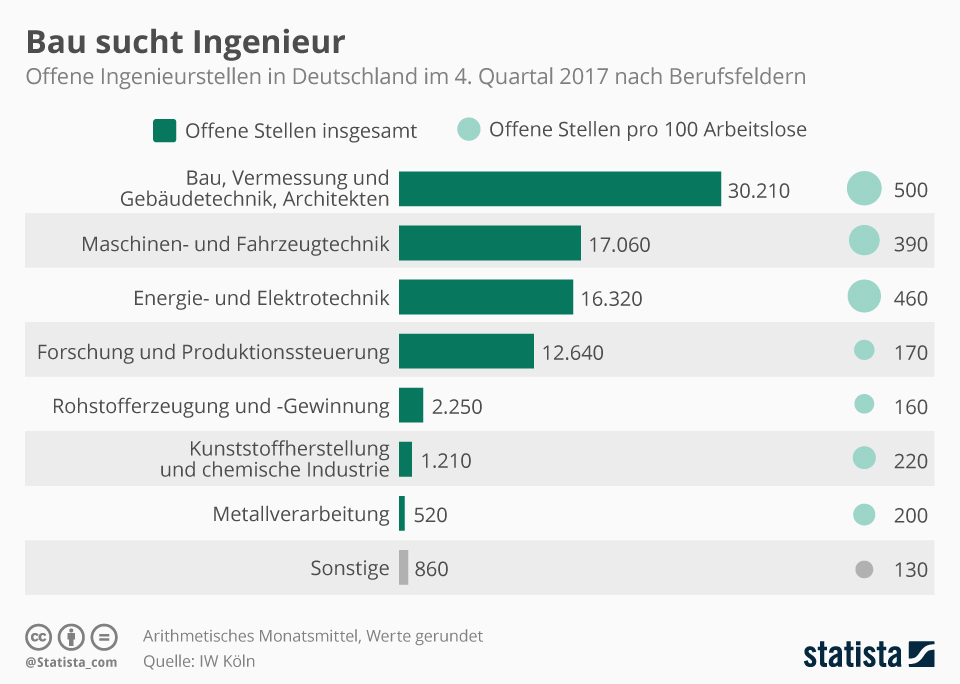 Although some media say that the engineering shortage is over, these figures suggest that the engineering profession is still rewarding and crisis-proof.
The number of engineering graduates is increasing
Not only are more and more school leavers choosing to study, many of them are getting enthusiastic about technology. The number of graduates has increased many times over in the last ten years. While just under 40,000 students graduated in engineering in 2005, the number was almost 127,000 in 2016.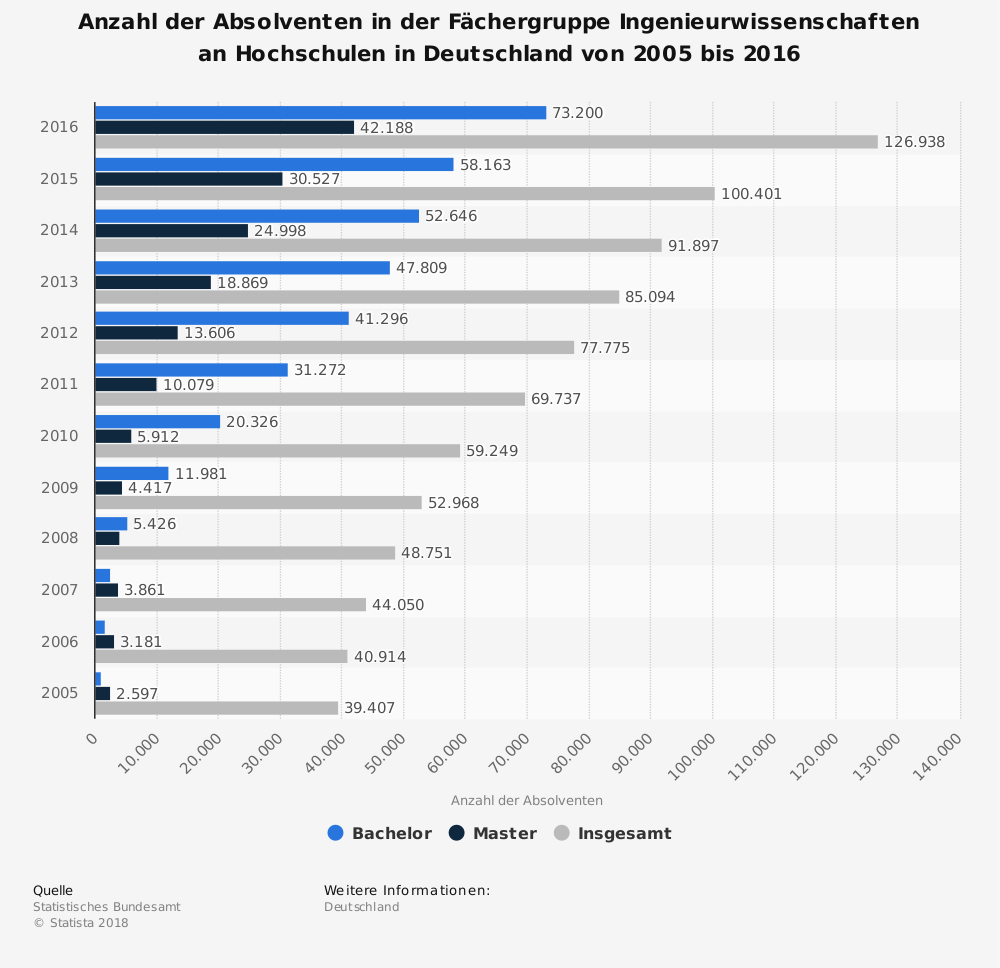 Of course, the switch from diploma to bachelor's and master's degree also has something to do with these numbers. But even if you only look at the Bachelor's graduates, the number of graduates has almost doubled.
If there are more and more engineering graduates, will there still be enough positions in the future?
Demographic development
Yes, of course. The demographic development in Germany will further intensify the shortage of skilled workers. The average age of engineers in Germany is currently 46 years. In the next few years, many engineers will retire from their careers. This alone will result in a replacement requirement of around 470,000 engineers by 2020.
We live in a technology society
Furthermore, it should not be forgotten that digitization and technology are advancing in all areas of life and are far from over. Today we rely on technology everywhere: in the household, in communication, in industrial production, in agriculture, in medicine and health, as well as in sport and leisure - so specialist knowledge is more in demand than ever.
High dropout rate
The problem is that an above-average number of prospective engineers do not finish their studies. On average, 20 percent of all university students drop out of their studies, compared to a full 25 percent for engineers. Mechanical and electrical engineers are particularly likely to give up their studies. The drop-out rate for them is around a third.
The reasons given by the students very often are the high demands in the natural sciences and mathematics. Above all, the study reform has made starting studies more challenging. There is less time for the students to catch up on missing school knowledge. The universities also report that almost half of the students in a year are now taking up a degree and that a screening process is therefore necessary during their basic studies. However, those who have successfully completed this section usually finish their studies.
Anyone who decides to study engineering can count on good career prospects. Even if many no longer speak of a shortage of skilled workers, the statistics show that engineers are being sought across Germany. Just a look at current job advertisements shows the great need.
However, the study requirements are very high and it is advisable to find out in detail before starting your studies whether you meet the relevant study requirements. The universities offer special introductory and information events for this purpose.