The head of government of Delhi resigns: the "common man" no longer wants
After a surprisingly successful election, the anti-corruption party AAP formed the government of Delhi in India. After only 50 days, her boss gives up again.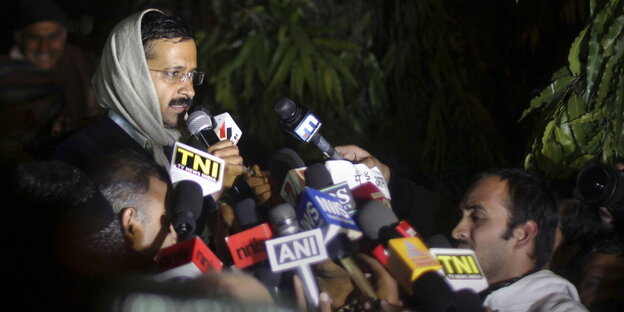 Wants to dissolve the Delhi regional parliament: AAP politician Arvind Kejriwal. Image: ap
NEW DELHI afp | After less than fifty days, the anti-corruption fighter Arvind Kejriwal announced his resignation from the post of Prime Minister of India's capital region. "My cabinet decided that we would resign. Here is my resignation ", said Kejriwal on Friday to the applause of the supporters of his newly founded Aam Aadmi party. Kejriwal, who only took office as prime minister of the region around the capital New Delhi on December 28, announced that he would request the dissolution of the regional parliament.
Shortly before, the regional parliament had rejected a draft by Kejriwal's party for an anti-corruption law. The left-wing Congress Party, which had supported Kejriwal's government since the December election, had refused to vote for what it considered to be unconstitutional. The Aam Aadmi party ("party of the common people"), whose surprising electoral success had alarmed India's political elite and was welcomed by many observers, had recently come under fire for a number of controversial actions.
Kejriwal and his supporters held a sit-in in front of the Indian parliament in New Delhi in January to back up his demand that his state government be given greater control over the police. In New Delhi, unlike in the other federal states, this is not subordinate to the state government, but to the federal government. However, the sit-in led to chaos in the city center. Critics complained that an elected head of government should not resort to such protests.
In the December elections, the Aam Aadmi party was actually in second place with 28 seats behind the Hindu nationalist Bharatiya Janata Party (BJP), but with the help of Congress it was still able to form the government. Strengthened by this success, she announced that she also wanted to run for the parliamentary elections in May. According to observers, it could significantly disrupt the Indian party system. The party benefits from general resentment about widespread political corruption.