How can boxers endure so much punishment
Dramas about professional boxers: death trap ring
Five professional boxers have died after knockouts in the past five months. How can that be? And above all: what needs to be done?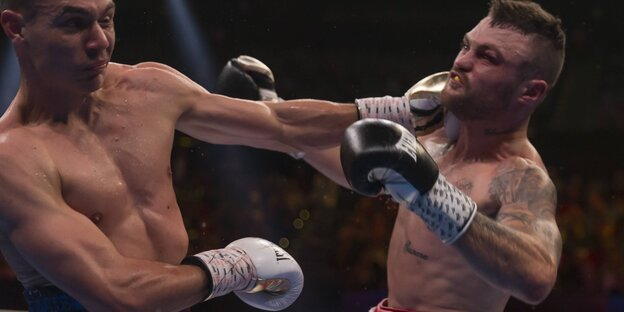 Dwight Ritchie (r.) Boxed his Australian compatriot Tszyu in August this year Photo: imago images / AAP
Dwight Ritchie was 27 years old. The Australian professional boxer, father of three children, died a week ago after taking a body hit in training while sparring and collapsing shortly afterwards. The American Patrick Day was also only 27 years old. He died of severe traumatic brain injury in October, four days after severely killing him in a fight. o. walked and hit his head hard on the bottom of the ring.
In September, the Bulgarian Boris Stanchov received heavy head hits in the fifth round of a fight and died a little later. He was 23 years old. The Russian Maxim Dadaschew and the Argentine Hugo Alfredo Santillán died in July. Dadashev took 260 hits in one fight. The duel was canceled after the eleventh round, but the father of a two-year-old son collapsed on the way out of the ring. Three days later he succumbed to severe brain injuries and was only 28 years old. Santillán died at the age of 23. He collapsed after the award ceremony after a ten-round fight and suffered multiple organ failure in the hospital as a result of severe brain injuries.
Five dead professional boxers in five months. It is terrible. And that raises questions: Why does this keep happening? Can deaths like this be prevented? Can at least the risk of fatal injuries while boxing be minimized? Or should the sport simply and simply be banned?
Bans or toleration of the status quo?
Boxing is dangerous. The fighters, the coaches, the managers, everyone involved know this - and they all don't forget to point it out when they talk about death in the ring.
Boxing is dangerous. Does that mean: Whoever dies is their own fault because they knew the danger? If so, boxing should indeed be banned. Then the sport cannot be helped. No matter if five deaths or one, such cases cannot simply be accepted as fate.
Stephan Bock, ring doctor
"Boxing is an honest sport, people want to see it"
However, a ban always harbors the risk of making something illegal. "Then everything would get much worse," says Bernd Bönte, manager of the Klitschko brothers for many years and today co-owner of the consulting agency PYX Global Sports, which manages professional boxers.
Stephan Bock, general practitioner in Duisburg and ring physician for the Federation of German Professional Boxers (BDB), does not believe in a ban either. "Boxing is an honest sport with good rules, man against man, there is a certain aesthetic in it, that is what people want to see," he says. But of course, professional boxing is not free from grievances. There is often too much money involved and windy (underworld) characters are too often at work.
Ritchie, Day, Stanchov, Dadaschew, Santillán - these five tragic deaths have little in common. The body hit at Ritchie suggests heart failure after an unfortunate blow to the apex of the heart. Day was battered after an initial hit before receiving another fatal blow. It happened so quickly that the referee can hardly be accused of failing to intervene.
Stanchov boxed under a false license, he was his cousin Isus Velichkov, so nothing was known about possible previous illnesses with him. Dadashev continued despite a large number of hits and did not listen to his trainer, who repeatedly recommended termination.
In rusty minibuses
And Santillán fought even though he was not allowed to do so again after a protective lockdown. He suffered a heavy defeat against Artem Harutyunyan in an evening fight in Hamburg in June and had to take an enormous number of hard hits. For his protection, the Bund Deutscher Boxer banned him from fistfighting for two months. Santillán got back into the ring after 34 days.

This text comes from the taz on the weekend. Always from Saturday at the kiosk, in the eKiosk or with a weekend subscription. And on Facebook and Twitter.
Boxing is dangerous. That's out of the question. Some deaths cannot be prevented.
Often, however, it is not just sport that brings death; the framework conditions make it more difficult. For many fighters from many countries, boxing is still primarily a livelihood, an opportunity to earn money, even without a good education. It's not about millions of dollars, like the Klitschkos collected or Floyd Mayweather junior, the absolute top earner in his guild. It's about taking what you need to support the family. Instead, fighters who know they'll never make it onto the big stage get into rusty minibuses and let dark managers drive them to fight nights of great promoters.
The boxers of the great promoters should turn into great fighters, after all, at some point the promoters want to earn more than what is absolutely necessary with them. So the fighters from the minibuses have to lose again and again. That's what they're paid for. You collect blows and a few euros and move on.
"The BDB has high health standards," says physician Stephan Bock. Before a fighter can step into the ring at a BDB event, he must deliver blood (to rule out HIV) and an MRI of the brain (anyone who has significant previous damage is not allowed to fight). Women must use a pregnancy test to prove that they are not expecting a baby.
The problem: fighters who box under a false name or deliver fake MRIs are not always discovered. "And if at some point they are neurologically suspicious, they just box in other countries where people don't look very closely," says Bock. "They take blows all their life, that's just super dangerous." Because usually not one knock-out blow is fatal, but a large number of head hits that increasingly damage the brain.
Protective barriers after tough duels
Bernd Bönte also considers doping to be a huge danger in boxing. "I think a lot of boxers doping," he says. And doped fighters are not only a danger for the opponent, but also for themselves. "If you are doped up to the top of your head, you can hold out much longer and absorb a lot more hits," explains Bönte. The perception of pain is blocked, the natural survival instinct is switched off. The risk is high that the collapse will follow later, because the brain could not withstand all the hits after all.
Doping is forbidden. There are some rules to minimize risk for boxers: the medical checks before a fight, the protective barriers after particularly tough duels, the possibility for the trainer to throw in the towel, or for the referee, in the case of a stricken-looking fighter, the assessment of the To call a ring doctor. There is a problem with observing these rules.
The world associations put the responsibility for monitoring the doping ban on the small associations, for whom the controls are often too expensive. Fighters for whom boxing is a livelihood fail to adhere to barriers or bypass health tests. Promoters organize unequal duels, so-called "mismatches", in order to spruce up the balance sheets of their aspiring boxers.
"Boxing is always on the brink, on television, at the Olympics and in general," says Bock. "We need protection programs that work worldwide."
A few rule changes could also help. The introduction of head protection, for example. Most insiders don't think so. They complain about a limited overview with head protection and fear that this leads to less protection of the head in combat. A shortening of the lap time (from three to two minutes as with the women) or a stronger padding of the gloves are also discussed.
Medical practitioner Bock would like the introduction of a so-called "Concussion Protocol" like in the National Football League (NFL), with which after possible head injuries it is checked whether the player has suffered neurological impairments compared to previous test results. In addition, Bock demands more power for the ring doctor.
"It's about human life"
The man from Duisburg recalls Vitali Klitschko's fight against Shannon Briggs in October 2010 in Hamburg. Briggs was beaten to the last line but didn't fall over. "It was the horror to sit there and not be able to intervene," says Bock. Because only the referee can cancel. "Luckily Vitali had beaten his fists hot and couldn't reach out so tight, otherwise it would have been a catastrophe."
Bernd Bönte calls for the "Standing Eight Count" (counting while standing) and the "Three Knockdown Rule" (termination when a boxer has gone down three times) to be reintroduced. "It's about human life," he says, "we are not in ancient Rome with bread and games to the death".
On the other hand, there is the desire of the audience to see a lot of spectacle, the desire of the television station to sell a lot of break time to advertising customers, the desire of everyone involved to put a lot of money in their own pockets and to spend as little as possible on doping controls, medical checks or expensive opponents.
Boxing is dangerous. But not every death is inevitable.