Salon facial is good for the skin
Make yourself beautiful! - Do-it-yourself beauty tips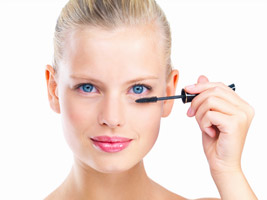 Beautiful skin, shiny hair, accurate nails and soft feet. The better we are styled, the better we feel. For those who do not have the time or inclination to spend their day in the beauty salon, we have put together tips on everything to do with wellness and beauty - without having to leave the house. Find ideas for everything to do with homemade face masks, hair conditioners, the right way to clean the inside and outside and much more.
You don't have to spend a fortune in the salon for this wellness day. With the right tricks, wellbeing and beauty go easily at home.
But first clean the face. And it works like this: Basically, the face should not be cleaned too often. Twice a day - in the morning and in the evening - is sufficient. If you want to put on a mask, you can of course make an exception and that Wash face at the appropriate time. If you don't use make-up and don't have oily skin, you can clean your face with clear water. Soap or wash lotion should be used on a face that has had makeup applied to it or is prone to oily. Make sure that you do not use normal soap, but special facial soap. The pH of the soap shouldn't be too high. Even a neutral pH of 7 is already too high. Soaps and washing lotions with a pH value of 5.5 are more suitable.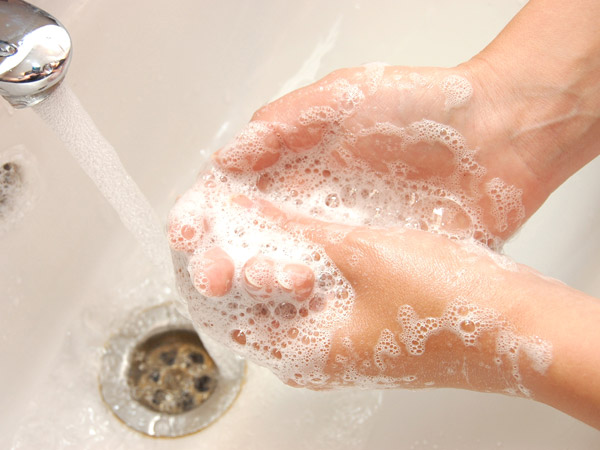 Hand washing soap is not just facial soap
If you want, you can apply the mask for about 10 minutes before applying the mask Steam bath with chamomile tea do. It opens the pores so that they can be cleaned better. And then you can start: Simply prepare your favorite mask yourself.
Make masks yourself - this is how it works:
Ingredients:
2 bags of chamomile tea, some water, 2 teaspoons of honey
Effect:
Chamomile and honey both have anti-inflammatory and antibacterial properties. Irritated and inflamed areas calm down, and the skin appears fresher and firmer.

Honey has an antibacterial effect

This is how it's done:

Briefly bring the chamomile to the boil in the water and let it cool down a little. Pour off the water, but collect it. Then mix the chamomile components with the honey and apply. In order to remove the mask after approx. 20 minutes, the poured off water can be briefly warmed up again. Moisten a towel with it and use it to gently rub the mask off.
Ingredients:
3 tbsp milk (or quark or yoghurt), 1 cube or a pack of yeast
Effect:
Yeast is good for the skin because it supports the oxygen supply to the skin, regulates sebum production, has anti-inflammatory effects and contains various minerals that stimulate cell renewal. The result: a fresher, cleaner complexion.

Apply yeast mask

This is how it's done:

Mix the yeast with the milk or quark. Apply to the face and wash off after 15 minutes. Make-up residues etc. should be removed from the face beforehand. A previous steam bath also opens the facial pores. Tip: Add milk or quark little by little to the yeast and stop when the right consistency is reached.
Ingredients:
Half an avocado, 1 teaspoon honey, 1 teaspoon yogurt
Effect:
The avocado is naturally very fatty and helps to make the skin supple again. Yogurt and honey are soothing and anti-inflammatory and moisturizing.

Yogurt as part of the mask

This is how it's done:

Puree the pulp of half the avocado, stir in the other ingredients until you have a mixture that can be easily spread over your face. Leave on for 15-20 minutes and rinse off with lukewarm water. Tip: The mixture is also suitable as a cure for dry hair.
Ingredients:
Half a cucumber, 3 tbsp low-fat quark
Effect:
Cucumber and quark provide moisture, removing the fat that the skin has too much. If you have oily skin, you should use low-fat quark for the mask.

Cucumber mask also works on the back

This is how it's done:

Do not peel the cucumber as the peel contains valuable ingredients. Instead, simply cut up half the cucumber and puree. Then mix with the quark. This results in the typical cucumber mask color. Leave the mask on for 15 minutes and wash off with warm water.
Ingredients:
Sugar, olive oil
Effect:
The sugar crystals act like sandpaper and gently rid the skin of dead skin cells and dirt. The oil makes the whole thing smooth and makes dry skin glow.

Sugar peeling for those with a sweet tooth

This is how it's done:

Mix and stir sugar and oil until a creamy mixture is obtained. Then apply this to the face or the desired part of the body. Rub the skin in a circular motion. At the end, the sugar-oil mixture can be washed off with clear water. Pat the face dry with a towel. After the peeling, the face can be reapplied with cream.
The bathtub is one of those things. Your warm water is beneficial, the appropriate bath additives pamper your senses. In general, however, it is said that we should not stay in the tub for too long. A bath time of 15 minutes should not be exceeded with bath additives.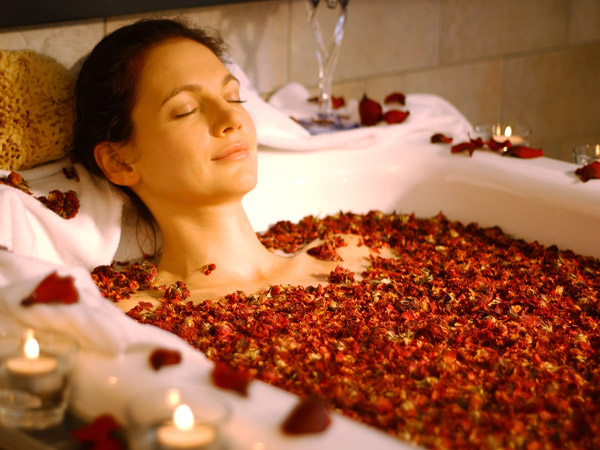 Sugar peeling for those with a sweet tooth
Generally - even without bath additives - you should not bathe for more than 30 minutes. The reason for this is that the natural protective film of the skin is affected at some point. It can no longer protect itself and loses moisture.
Ingredients:
Lavender oil or dried lavender flowers (approx. 70 g), 1.5 l of water
Effect:
Lavender releases essential oils and relaxes you. The bath is particularly suitable after a long, tiring day.

Use lavender flowers as a bath additive

This is how it's done:

Who uses flowers: Boil the lavender flowers in a saucepan with 1.5 liters of water and let them steep for a few minutes. Skim off the flowers and pour the rest of the lavender brew into the bath water. These steps are eliminated with lavender oil. Simply add a few drops of the oil to the bath water. Tip: Add the ingredients to the tub just before you get in, as the essential oils will gradually evaporate.
Ingredients:
1-2 l milk (3.5% fat), 4 tbsp honey
Effect:
Milk and honey are particularly suitable for dry skin. The ingredients make it supple and soft.

Relax in the honey-milk bath

This is how it's done:

Bring the milk and honey to the boil. Let it cool down briefly and add it to the bath water. For a special touch, you can add a scented oil or essential oil of your choice, such as orange oil, rose oil or lavender oil, to the bath. If you have particularly dry skin, you can also replace part of the milk with cream.
By the way: If you want to bathe with oils, you should use an emulsifier (i.e. a substance that ensures that two actually immiscible substances can be mixed), otherwise the oil will not dissolve in the water and float on the surface. Such an emulsifier is naturally contained in milk, and so does cream.
Ingredients:
Rose oil, rose petals, 300 grams of sea salt
Effect:
A salt bath has a detoxifying and disinfecting effect and helps with oily skin. The scent of roses is stimulating and invigorating.

Rose petals can also be used in the bath water

This is how it's done:

Mix the salt with about 20 drops of the oil. The finished mixture needs to steep for 2-3 hours. The salt can then be dissolved in the bath water. To refine the bath, fresh or dried rose petals can be lightly crushed with a mortar and also added to the water. Caution: Salt baths can sting on the skin, e.g. on freshly shaved legs.
Did you know? Hands sometimes like a peeling too. Therefore, simply remove dead skin and dirt from your hands once a week. If you don't have a suitable product at hand, you can simply make the hand peeling you need yourself. The recipes presented here remove excess particles from your hands and, thanks to their high-fat ingredients, ensure smooth and protected hands.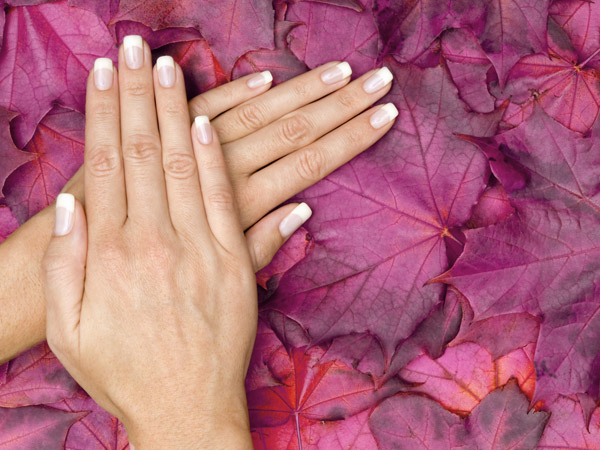 Well-groomed hands look so good
| | |
| --- | --- |
| Ingredients: | Coffee grounds, coconut oil |
| That is how it goes: | Mix a handful of coffee grounds with a tablespoon of coconut oil (or vary the amount so that it becomes smooth). Then rub the hands with the mass for a while as if you were washing your hands. Finally, rinse with warm water. |
| | |
| --- | --- |
| Ingredients: | Avocado, sugar, lemon |
| That is how it goes: | Mix a quarter of the pulp of an avocado, a dash of lemon juice and a handful of sugar to a creamy mixture. Rub the hands with it in movements like washing hands. Then rinse thoroughly with warm water. |
The fingernails are also part of the hand. Long or shorter, painted or natural - it's up to you. Fingernails can still be cared for, however. It starts with filing and ends with polishing. You should always file in one direction. Ideally, the file slides from the edge of the nail to the center.
Especially in summer is the time when we let our feet free again. After being hidden in tight socks and warm shoes for months, they have regained their freedom in the first rays of sunshine. In sandals, pumps or peep-toes, feet and toes emerge. Reason enough to think about the right foot care.
After a long day on your feet, there is nothing better than a foot bath. We'll tell you our favorite do-it-yourself recipes here.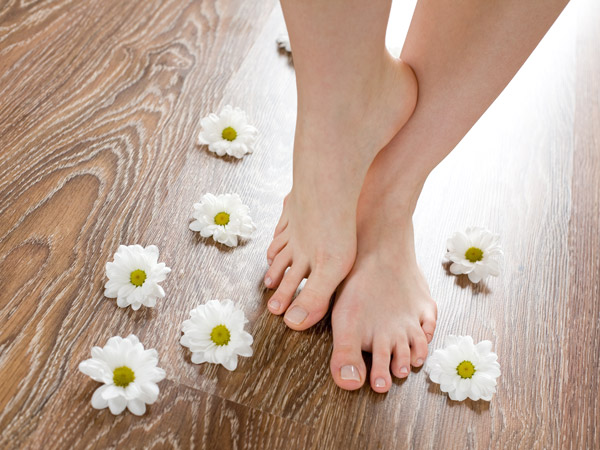 Beautiful feet are especially beneficial in summer
| | |
| --- | --- |
| Ingredients: | Sea salt, olive oil |
| That is how it goes: | Mix a handful of sea salt and a cup of olive oil and then add to 10 liters of water at approx. 39 ° C. Soak your feet in it for 15 minutes. If you want, you can add a few drops of essential oils with the desired fragrance to the mixture. |
| | |
| --- | --- |
| Ingredients: | 8 sprigs of rosemary, 1 liter of water |
| That is how it goes: | Bring the rosemary sprigs to the boil in the water and let them steep for a few minutes. Then add the rosemary water to 4 liters of heated water. The temperature of the foot bath should not exceed 39 ° C at the end. Bathe your feet for 15 minutes and then feel refreshed. |
You should avoid warm or hot foot baths if you suffer from severe circulatory disorders in the legs, severe varicose veins or even a thrombosis. Cold foot baths tend to be counterproductive for urinary tract infections. If in doubt, ask your doctor.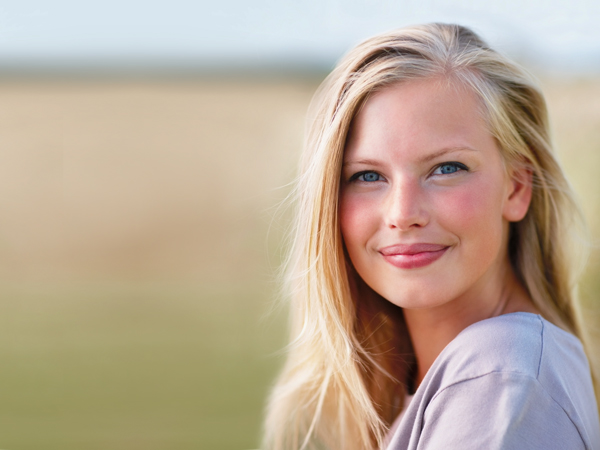 It's not just long hair that needs care
Ingredients:
1 banana (as ripe as possible), olive oil
Effect:
This hair treatment works against dry and split hair. It cares for and prevents at the same time.

Banana and oil make hair beautiful

This is how it's done:

Mash the banana and mix well with 1 tablespoon of olive oil until it becomes uniform. Massage this mass into the hair and leave it on for 15 minutes. This works best with a shower cap that you pull over your rubbed hair. Then rinse or wash out, done.
Ingredients:
1 liter of water, 250 ml of apple cider vinegar
Effect:
Apple cider vinegar is considered a home remedy for dandruff. The acid neutralizes an excessively high pH value on the scalp. The optimal pH value of the scalp is around 5, the use of alkaline products (shampoo, soap ...) increases the pH value and the scalp becomes dry, flaky and itchy. The sour vinegar counteracts this.

Mix apple cider vinegar with water - herbs also go well with it

This is how it's done:

Mix vinegar and warm water. The best way to do this is to put the two liquids in a jar with a screw cap and shake well. After washing, pour the mixture over your head and massage your hair and scalp with it. Tip: Keep your head bent forward so that none of it spills into your eyes. Rinsing is not necessary.
Ingredients:
Avocado, a dash of lemon juice, sunflower oil
Effect:
The fats contained in the avocado give the hair healthy care and protect it from drying out.

Smooth, shiny hair with avocado treatment

This is how it's done:

Puree the pulp of the avocado and mix with a dash of lemon juice and 2 tablespoons of sunflower oil until a creamy paste is formed. Massage this into damp hair and leave it on for 30 minutes. Tip: put on a shower cap or wrap your hair with a towel so that no particles of the avocado oil hair treatment stain your clothes or surroundings. Then rinse well with a little shampoo.
A body should not only shine on the outside, but above all be healthy on the inside. One of the most important factors in health is diet. Here we reveal a few foods that are said to have a positive effect. Get an overview in our personal top 10 list of healthy foods.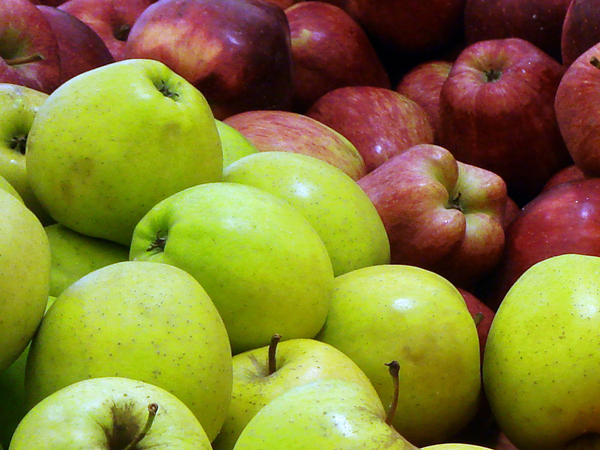 Apples are also on the list of healthy foods
Apples eating regularly is believed to have health benefits. Cholesterol levels are positively influenced by eating apples on a regular basis. Ideally, apples should be eaten with their peel (and seeds), as the vitamins (B, C and E) and nutrients (magnesium, potassium, calcium, sodium and iron) they contain are most concentrated in the skin and seeds.
Avocados are not only good for external use. They also have a positive effect ingested as food. They contain unsaturated fatty acids, which are considered to lower cholesterol.
broccoli In order to preserve all the important nutrients, it should not be boiled, but only steamed. When properly prepared, broccoli can have positive effects on blood pressure, digestion and the immune system. Broccoli is also very low in calories. In addition, it contains the substance sulforaphane, which can support cancer therapy or prevent cancer.
ginger is a real all-rounder. It has an anti-nausea (anti-emetic), anti-inflammatory effect (especially with inflammation of the joints), aids digestion and stimulates. Ginger helps with sore muscles and strengthens the immune system. It contains, among other things, vitamin C, iron, magnesium and calcium.
pumpkin and pumpkin seeds are equally healthy. Pumpkin meat contains a lot of fiber, it has a detoxifying effect and prevents diabetes. In addition, the pumpkin provides beta-carotene, a precursor of the A vitamin, which is particularly important for moisturizing and nourishing the mucous membranes (airways, eyes, digestive tract). Pumpkin seeds are mainly used by men to prevent prostate diseases or hair loss.
dandelion has its various nicknames for a reason. Bettseicher, Piss-en-lit, Pissblume and so on all relate to one thing: the diuretic and digestive effects of dandelions. The bitter substances it contains, which stimulate the digestive glands, are responsible for this effect.
parsley Above all, it contains a lot of vitamin C. It is also beneficial for the digestive process, detoxifies and provides the body with various vitamins and minerals all at once. Including calcium, magnesium, iron, vitamin A, B vitamins, vitamin C, beta carotenes or folic acid.
Smoothies are vitamin bombs. As a mixed drink made from different fruits, vegetables and milk, smoothies are quite healthy and also taste delicious. The daily portion of fruit can also be consumed in liquid form.
Quinoa is an alternative to rice or cereals that is becoming increasingly popular. Quinoa is gluten-free and very rich in protein. Strictly speaking, it contains all nine essential amino acids, i.e. those protein components that the body cannot produce itself but must obtain from food. Quinoa is therefore a good source of protein, especially for vegetarians or vegans.
water Although it comes last, it should be at the top of your daily nutrition plan. Drinking enough is essential for a healthy metabolism. Without enough fluids (ideally taken in the form of water or tea), the blood thickens, the ability to concentrate decreases, the skin loses its elasticity, the circulation goes down and the head hurts. In return, drinking enough helps to be mentally and physically fitter (people with special illnesses who have to forego too much fluid intake are excluded at this point).
By the way: The ideas and tips about body care, beauty and nutrition are based on general experience and do not claim to be complete or general. If your health is restricted, you suffer from allergies or the like.If in doubt, clarify the use of care products and food with your doctor. The same applies of course to long-lasting complaints that should not be cured with "home remedies".