Why do you love tamil nadu
More than just employment
The Indian city of Arni is perhaps one of the most widely studied labor markets in the world. For more than four decades, the location in the state of Tamil Nadu has been the subject of international studies. During this time, the population has grown from 30,000 to more than 100,000. Still a small town by Indian standards, but we know a lot about it from the work of the researchers: for example, that more than 700 independent electricians work there. Only 320 are officially registered, of which the majority have "inherited" the relevant approval from relatives. Only 20 electricians have formal training.
This little statistic illustrates what is called informal employment in economics. A job outside of the legally regulated norm, which is hardly covered by economic calculations and in which companies and private households flow into one another. A job without pension insurance, without health insurance, without health and safety regulations - without any security. Most people around the world are still employed in this gray, even black area. In some countries in Asia and the sub-Saharan region, this even applies to more than two thirds of the workforce, in Latin America and North Africa to more than half. In the OECD countries, too, the proportion is estimated at an astonishing 15 percent. So what we call work happens largely beyond any state order.
Exploitation mostly in informal jobs
In India this affects an estimated 80 percent of all employees, so that the informal sector accounts for a large part of India's gross national product. Accordingly, the British scientist Barbara Harris-White - she also conducts research in Arni - warns that national and international employment policy does not even reach most people if it does not also target the informal sector. It is all the more important to record this with the radar of the state order and to bring it into order, since criminal acts such as child labor, modern slavery or the exploitation of women mostly occur in informal employment relationships and therefore often go undetected.
It is therefore an important goal of international cooperation - and should also be part of national education and employment policy - that more formal employment relationships are created. Where this is not possible or not immediately possible, efforts must be directed towards at least improving the circumstances of informal work. The International Labor Organization speaks of "decent" work that should be focused on. Employment alone is not enough; it depends at least as much on the conditions under which it takes place. This benefits the people themselves, because it gives them better security, but also the respective countries: With the help of formal jobs, they can generate higher tax revenues. And only a healthy national budget has money available for tasks such as education, health or infrastructure. These, in turn, are important economic factors for creating jobs - this is how we come full circle.
Lack of work is not the problem
In addition to social work, work also has great individual importance. It determines our social position and structures our time. Accordingly, it is a frequent topic. An acquaintance likes to enrich this discussion by saying that he has no time for work and that he has to earn money. He is always certain that the bystanders will smile, and yet there is a lot of meaning in this joke. The employment problem is not a lack of work. There is something to do everywhere - what is often missing is a living wage.
"Choose a job that you love and you don't have to work a single day in your life."

Confucius, Chinese philosopher and teacher
Others act the other way around: They don't take the time to make money because they want to do something that makes more sense to them. People like Peter Abualzolof, an American with Palestinian roots, who quit a job in Silicon Valley in 2013 to return to the land of his childhood. He was hired as a project manager at the first start-up incubator in the West Bank, helped build the Palestinian offshoot of the founding platform "Startup Grind" and finally launched his own company, Mashvisor. The company offers analysis and investment advice for the US real estate market. Financially these activities are a step backwards compared to his previous job, but Abualzolof is happier than ever.
This example already shows that the importance of work extends beyond mere money-making. It is considered to be meaningful and an essential element of the fulfillment of existence. Work is important for personal well-being, materially and mentally, and a kind of general key to solving social problems as a whole. The diverse challenges that humanity is currently facing can also be broken down into employment problems.
Justice and a perspective
So what do we mean when we talk about work? We mean a "goal-oriented, well-planned and social activity that brings about results or creates products", as it is called in relevant publications. Work is the basis of the production, but also the distribution of goods and services. Work creates justice and perspective. Having work is considered worthwhile, as shown by the data from the "Integration Barometer" for Germany: According to the respondents, work plays a more important role in integration than practicing religion. "The main thing is work", this catchphrase has always endured.
But this main thing is missing in many places. In the West Bank, for example, one in four people is unemployed, and in the isolated Gaza Strip even one in two. It is especially difficult for young Palestinians with university degrees to find a job. The consequences are frustration and flight. People are leaving their country - not first because they hope to find work elsewhere, but because there is no hope that there will ever be one for them at home.
Young people and women are particularly often excluded from formal employment around the world; this is accompanied by miserable working conditions and precarious or even lack of pay. It was not without reason that the mass of demonstrators during the "Arab Spring" was mainly fed by the well-educated, but unemployed and thus hopeless youth. Unemployment is a dangerous tinder for government crises. It drives people onto the streets and across the seas.
In Tunisia, for example, youth unemployment has risen since the revolution in 2011; according to a study by the World Bank, more than 23 percent of 15 to 29-year-olds in cities and almost every second youth or young adult in rural areas were unemployed in 2014. The proportion is particularly high among university graduates and women. The picture is similar in Egypt: youth unemployment has increased significantly since 2011; in 2014 it was more than 40 percent. Even industrialized countries such as Spain, Greece and Portugal are now recording horrific youth unemployment - social peace rests on unstable foundations.
Poor education as the main cause of youth unemployment
A lack of education is one of the main causes of youth unemployment. This statement only apparently contradicts the fact that in North Africa, for example, unemployment mainly affects young academics. One explanation for this contradiction is provided by a survey of Egyptian entrepreneurs: They stated that less than a third of university graduates and only 16 percent of vocational school graduates have adequate qualifications. How can the much larger group of young people who have not attended university or vocational school meet the requirements?
Nadine Fawzy, project coordinator of the UN Organization for Industrial Development (UNIDO), names vocational training and further education as a means against youth unemployment and the high level of informal employment. GIZ also sees a great need for vocational training in its global activities, i.e. the intelligent coupling of theoretical specialist knowledge with practical experience, and is promoting precisely this model in many countries, not least in the crisis region of North Africa. Thanks to advice from GIZ, around 100,000 young people have been able to complete vocational training every year since 2006.
New, qualified jobs
And, according to Nadine Fawzy, two other aspects play an important role when it comes to pulling people out of unemployment and the informal sector on a permanent basis: technical know-how and start-up financing. UNIDO therefore supports, among other things, small farms in Egypt that create jobs at various levels of qualification and employ unskilled workers as well as university graduates in their entire production process. It was found that, for example, investment aid for greenhouses not only increases agricultural production, but also creates two to three new qualified jobs per 0.42 hectare of greenhouse area and additional workers are booked on more than 350 days a year.
The data sets from the many studies in Arni, India, also provide information on which activities help to improve working conditions over the long term. For example, the establishment of a formal banking system was successful there. Since then, informal workers have also been able to finance their children's education with loans or buy tools with borrowed money. The number of private schools has increased from 25 in 2005 to more than 100 today. With better public transport - another important factor in employment - even ordinary workers can now travel to the industrial areas of Bangalore and Chennai several hours away by car.
Informal employment, which is actually unorganized by definition, has organized itself surprisingly well. The electricians founded a kind of professional association that awards members with certifications that are less based on presentable training diplomas and more on very practical criteria such as professional experience. In addition, the sector shows a remarkable culture of innovation: The electricians are masters at simplifying. Modern devices are often simply unaffordable for the poor. That is why many residents still use outdated electrical appliances that still work with two-phase alternating current, while the power grids or generators have long been distributing three-phase electricity. An electrician in Arni made a simple adapter that brings old and new together and that an industrial company in Bangalore is now mass-producing. Likewise, people in Arni swear by a paste made of cow dung, which, smeared on the contacts of old electric motors, is supposed to make starting easier.
Millions of modern slaves around the globe
These positive developments in the informal sector help to transform employment into formal structures step by step. At the same time, this is a promising way to fight the many hidden crimes in this sector: For example, the non-governmental organization Walk Free Foundation counted around 30 million modern slaves around the globe in 2013. These are workers without any rights who, for example, are traded in Haiti for 50 dollars per person so that they can do forced labor anywhere in the world in construction, agriculture, care or street prostitution.
"What keeps me awake is poverty and unemployment."
Abdullah II, King of Jordan
Around 120 million children under the age of 15 are also forced to work around the world, for example in the gold mines of Burkina Faso, where two out of three children toil without wages. Or the more than 200 million migrant workers in China who, as day laborers without an employment contract, sometimes take on nasty jobs far from their families, for barely 400 euros a month. All of them would be helped if the governments of their respective countries significantly reduced child labor, forced labor and informal employment, thereby enabling their citizens to have a working life under decent conditions.
The world needs new work. But where should it come from? Environmentally friendly technologies, for example, offer opportunities: In India alone, solar energy projects created 24,000 new jobs between 2011 and 2014. Investing in a resource-saving economy has a positive effect on the labor market. Together with the expansion of intelligent power grids and wind energy, the number of new jobs rose to 70,000. If the country achieves its goal of producing at least 100 gigawatts from solar energy by 2022, an estimated one million new jobs would be created.
Some politicians and economists also have high hopes for digitization. How exactly this will affect the labor market cannot yet be foreseen. While some experts fear the loss of millions of jobs, others predict an increase. One thing is only clear: digitization will once again turn our working world upside down and will probably change it as much as industrialization did back then.
Digital platforms provide odd jobs
In the opinion of Deepak Mishra, chief economist at the World Bank, the positive effects of digitization can be seen above all on the highly skilled and the low skilled workforce. Day laborers in the construction industry, for example, benefit from digital platforms for arranging temporary jobs. The need for well-trained specialists to implement the digital transformation is also increasing worldwide - on the other hand, the middle management levels in the corporations are being cut in many cases. A large part of the knowledge in organizations can be centralized through the Internet and thus used at almost every level. As a result, some of the previous administrative tasks and hierarchy levels will disappear. So, of all things, there seems to be no employment effect due to digitization in the emerging middle class in developing countries.
4 hoursIn industrialized countries women spend unpaid housework and care work every day, while men only spend around two hours. And with that, the difference has become smaller.

Source: ILO
Nevertheless, there are many hopes associated with the virtual economy. The German federal government is already aligning its own Africa strategy with a focus on digitization. Not without reason, because wages in the African IT industry, for example, are already up to 200 times higher than those in agriculture or retail. The smartphone is the tool that is changing the employment sector in Africa in the most lasting way. For example, apps for job placement, such as those offered by the South African company "Giraffe", are widespread: employers set their labor requirements, the location and date of assignment and wages, and workers offer their services. In South Africa, migrant workers can use the "moWoza" platform to order food, pay for it and then have it delivered to the families in their home village.
By 2050, more people of working age will be living in Africa than in India or China. At the same time, many of today's jobs will disappear as a result of the transformation from the agricultural to the industrial sector. Agriculture in Sub-Saharan Africa still serves as a livelihood for 62 percent of the population, in Asia for half of the people. After everything that is already emerging today, this proportion will decrease significantly as a result of industrialization, digitalization and urbanization.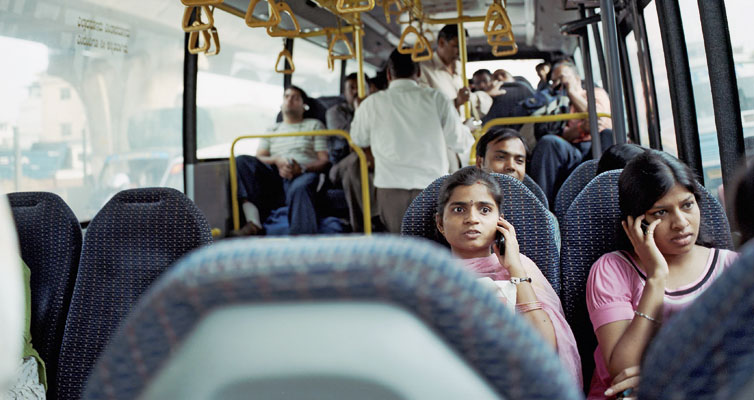 The globalization of employment remains an important future trend. Here, too, the strongest driver is digitization. International software groups already employ numerous developers in Bangalore, India. German companies have call centers in Manila. The Philippines have long been considered one of the global centers for so-called "Business Process Outsourcing", the outsourcing of entire business areas. The demand for such services will increase because, according to a study by the consulting firm Roland Berger, there will be a shortage of more than 50 million skilled workers across all industries in Europe by 2030, especially in the IT sector.
So there is a lot to do. To ensure that enough jobs are created under reasonable conditions, with fair contracts and living wages, a lot of work is still needed, almost everywhere in the world.
from akzente 2/16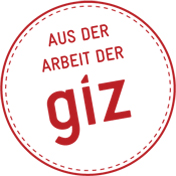 MORE PARTICIPATION
Project: Social standards for the clothing industry
Country: Pakistan
Client: Ministry of Foreign Affairs
Lead executing agency: Provincial Government of Punjab
Running time: 2014 to 2016
The textile industry is the largest industry in Pakistan. However, many people in this industry work under difficult conditions, earn little and hardly have a say.GIZ is advising the Province of Punjab on introducing and implementing the standards of the International Labor Organization.
JOBS WITH RADIATION
Project: More employment through renewable energies
Country: Mena region
Client: Federal Ministry for Economic Cooperation and Development
Lead executing agency: Governments in the Mena region, focus countries: Morocco, Tunisia and Egypt
Running time: 2014 to 2017
The use of renewable energies in the countries of North Africa creates new, qualified jobs. GIZ supports the federal states in equipping future specialists with the necessary skills.
DUAL EDUCATION
Project: Increase employment opportunities for under 25s
Country: Italy
Client: Veneto Region, Italy; European Union
Lead executing agency: Regional Government and Employment Agency of Veneto
Running time: 2014 to 2017
Italy is reforming its vocational training and also wants to introduce parts of the German dual system. The Veneto region, which is suffering from severe structural change, is participating as a pilot region and is receiving support from GIZ.
FAIR TEA
Project: Living wages and income for tea workers and tea farmers in East Africa
Countries: Malawi and Rwanda
Client: Federal Ministry for Economic Cooperation and Development
Partner: Taylors of Harrogate, Jacobs Douwe Egberts, Marks & Spencer, Ostfriesische Teegesellschaft, Tata Global Beverages, Tesco Stores, Ethical Tea Partnership
Running time: 2015 to 2018
The alliance with various private tea companies in Malawi and Rwanda brings workers and smallholders better conditions and higher wages. A project as part of the develoPPP.de program
Further contributions to the focus
The dignity of women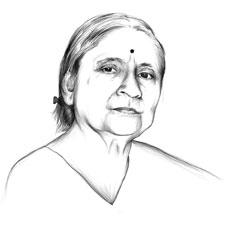 Work opens a better future for women, says Indian lawyer Ela Bhatt.
Jobs, jobs, jobs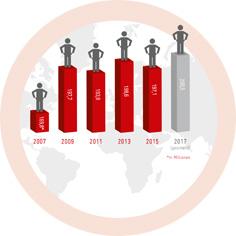 The gap between desire and reality on the job market is widening.