Can people play tennis with gloves on?
Coronavirus: Sport only at a distance
Most of us will have seen videos of treadmill workouts, rooftop tennis games, or paddling pool swimmers. But now it should gradually go back towards normal sport, at least at amateur level.
Deutsche Welle spoke to Radu, who was playing tennis with his playing partner Djon on the extensive concrete of the Tempelhof field in Berlin. "Tennis is not something where you are three feet away from another person," said Radu. "You don't have to get as close as you would in football. The only small risk is that you touch balls. But if you're careful and don't touch your face, that's okay."
In Germany, three of the 16 federal states have allowed tennis clubs to reopen (Rhineland-Palatinate, Mecklenburg-Western Pomerania and Brandenburg). Schleswig-Holstein is to follow next week.
Priority for non-contact sports
Other countries also want to relax sports: Since May 1st, Austria has again allowed sports in which "social distancing" can be practiced, such as tennis and golf. "Individual sports, in which there is no direct contact, will have priority over team sports, in which contact is usually unavoidable, or contact sports," said the country's Vice Chancellor Werner Kogler.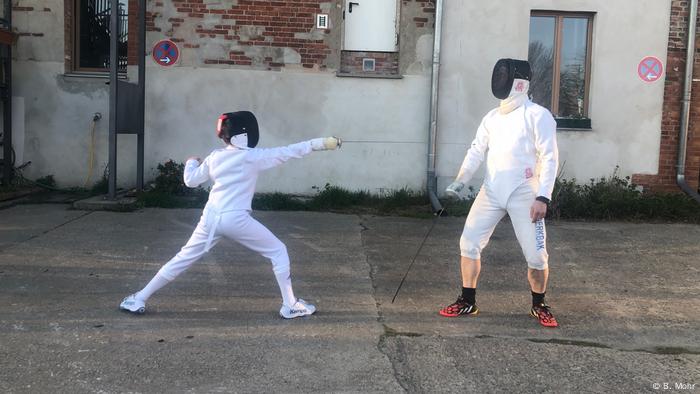 Eleven-year-old Max (left) trains at home with his father in Corona times
While the possibility of physical distance in tennis and golf seems pretty clear, this is not the case with every sport and, above all, not with every person. Max, an eleven-year-old fencer who lives in Berlin, told DW that he thought the ability to maintain social distance in his chosen sport was in need of interpretation.
"It's a bit difficult. There is my arm first and then the foil and the distance to the opponent, so I think it's possible," he said. But when distance is difficult to gauge, health risks are difficult to gauge too.
"In fencing there is a natural distance due to the weapons used, but when you try to land hits you can get pretty close - mask to mask," explained Professor Kai Gutensohn, who runs two hospital laboratories in Germany. "At such moments there is definitely the possibility that particles can migrate through the mesh of the mask."
"Golf is inherently unique when it comes to 'Social Distancing'"
Perhaps golf is the sport that is easiest to meet the distance requirements. Staggered tee times, clubhouse closures and gloved hands are measures that are easy to implement
Although three majors have been postponed, the Ryder Cup, slated for late September, is currently still on the calendar. PGA Commissioner Jay Monahan recently told CNN that if there are no fans around, there is no reason not to return to the game of golf anytime soon.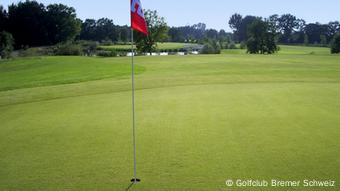 You rarely get too close when playing golf
"Our sport is more suitable than any other for social distancing," he said. "Our players are very rarely less than two meters apart, so we feel like we can return very soon. Golf is inherently unique in this regard."
Only one small problem: shared equipment
However, according to Professor Gutensohn, adjustments are necessary for sports in which objects are shared, such as gymnastics. "If gym equipment is distributed around the room and the number of participants in a gym is reduced, then the sport can be practiced. But athletes shouldn't train in quick succession. And the equipment should be disinfected after the gymnasts have touched it ", he said.
Restrictions quickly became an integral part of their lives for billions of people around the world in 2020. But the few changes will be a minor evil for many when they get their sport back in return.